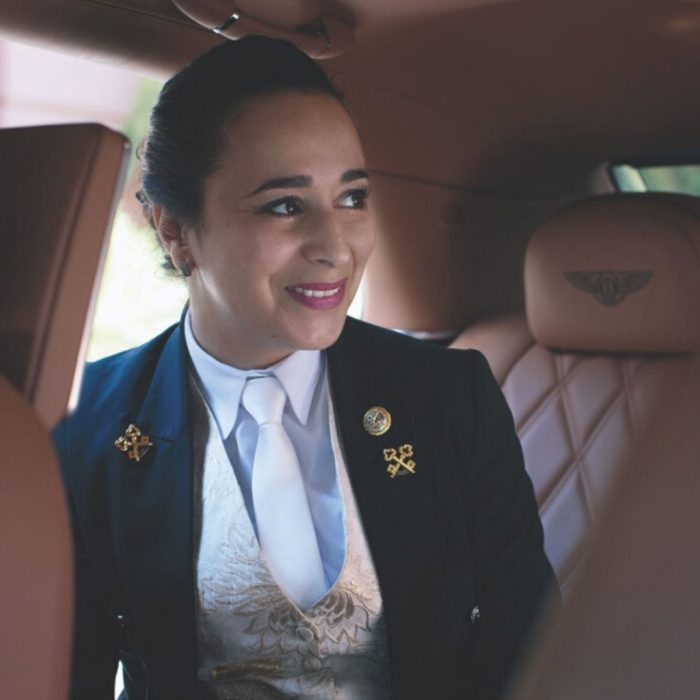 Summer 2020 – We've asked on-the-ground expert Touria El Rhachoui, the Golden Key Concierge of the wonderful Royal Mansour in Marrakech to shine a spotlight on the city and share her heart-felt travel tips.

Best viewpoint?
"The rooftop of the hotel "La Renaissance" has an amazing view – it's the second highest building in Marrakech after the Koutoubia's magical minaret, built in 1952, and refurbished in 2010."
New ways to experience?
"I'd really recommend a vintage side-car city tour. It's great fun and you can nip through some of the colourful alleys and lively atmosphere of the Medina. Remember a hat or scarf for added glamour."
Most photogenic?
"The Bahia Palace is a remarkable piece of architecture. The palace is one of Marrakech's most historic buildings, constructed in the mid 19th century. The scale is impressive and it features intricate tadelakt plasterwork and colourful zellig tiling, making it a superb backdrop for photos."
Favourite park? 
"Le Jardin Secret, located in the heart of the medieval medina, is a little oasis of calm designed in a typical Islamic four-part layout with irrigation channels running through in shallow, tiled channels. The planting is divided into two areas. One is planted as an exotic garden with specimen plants from all over the world, and the other has traditional fruit trees like fig, date, and pomegranate."
Most memorable day trip?
It's wonderful to get out of the city, and escape to the wide-open spaces of the desert. There is nothing like having a private dinner in Agafay, a desert within easy reach of Marrakesh itself. The area is known for it's Berber Villages but at night it's romantic to have a tented camp set up for dinner under the stars.

Secret art gallery, attraction or museum?
"Marrakech is full of fabulous private houses, many of which are completely secret and inaccessible. French perfumer, Serge Luten's house is one of these. It's an architectural masterpiece of Moroccan artisanship and a living gallery filled with many artefact. This special place is filled with tasteful pieces brought together by it's fascinating owner. Whilst not open to the public, Royal Mansour's can arrange for its residential guests to visit."
Best for local life?

"There aren't many open spaces in the medieval medina so one stands out in particular. World heritage site and the main square of Marrakech, Djemaa El Fna, is like an open street theatre, filled with stalls, traditional streetfood and performers. The spectacle attracts visitors and locals alike, and whilst it is perhaps the most famous square in the city, it is unmissable, particularly in the evening when the grills are lit and there is music everywhere!"
Best way see heritage and culture?
"The story of the city is best discovered on foot. The hotel is just steps from the Medina, the ancient medieval city centre, and if you have never been to Marrakech before, it's a perfect puzzle waiting to be solved. So much is behind closed doors or in a windy street. You'll need a very good guide to take you off the tourist trail and introduce you to the best museums and monuments, signpost you to truly talented craftmanship and introduce you to interesting people along the way. Once you've been guided, you can explore on your own…"
Most romantic?
"Private dinners, set up in the riads, accompanied by live band are always a lot of fun to arrange, and it feels really unique. We set up the dinner in a typical oriental style with low, cushioned seating and intimate lighting."
Perfect for families?
"We love to go to the Atlas mountains together, to escape the city. There is hiking, magnificent vistas and welcoming Berber villages – offering plenty of interaction with the local culture. Parents enjoy the opportunity to walk in nature, children love the sense of adventure – and they can always hop on a mule when they get tired."

Favourite anecdote about the hotel?
"For the second time during his stay, a guest asked me to show him the way to his Riad. I thought he was having trouble finding his way around the grounds. Whilst we were walking, I suggested I could give him a hotel map. He answered: "Your hotel is a medina within the medina (referring to the fact that Royal Mansour is a miniature of the old city of Marrakech) and I am so used to have a guide every time I go for a tour in the medina, I should have one every time I go to my Riad."
Favourite spot in the hotel?
"The hotel is made up of private riads, and their rooftop terraces are very special indeed. They are intimate and lamp-lit, with private pools and beautiful flowers – the perfect place to retreat after a busy day exploring."
Biggest challenge?
"One guest requested a grand piano be delivered in the heart of the desert, with less than 24 hour's notice. Let's just say: we managed it."
Must-do experience in the hotel?
"The spa suite is a magical place to spend time in, enjoying Maroc Maroc products and treatments as well as the hammam ritual."

About Royal Mansour Marrakech
 The hotel was born from a vision to create a spectacular showpiece of Moroccan design and to exceed the demands of today's evolving and discerning traveller, whilst reflecting the true essence of Moroccan tradition.
For further information about the hotel, please contact the Mason Rose team: pr@masonrose.com