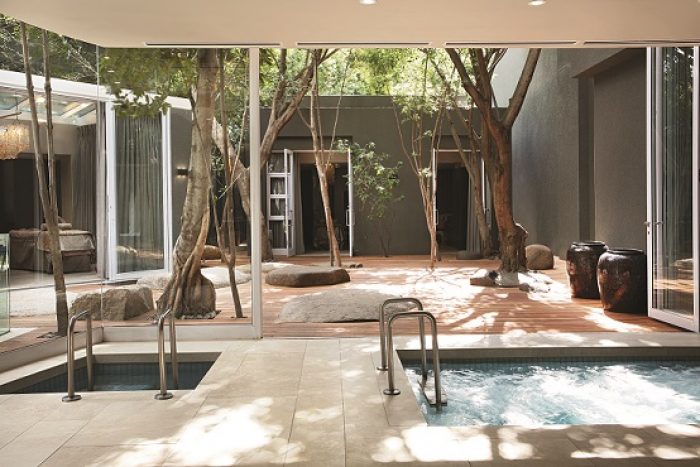 A Q&A session in October 2019 with the Saxon Hotel's award-winning Spa Manager, Tanya Lopes, highlighted spa trends, consumer demands and well-being tips.
How did you develop your passion for the spa and wellness world?
In my teenage years I had a part time job working at the cosmetic counters in a department store and started learning about the benefits of good skincare, and during my university days I did a nail course. Following university, I completed a 2 year diploma in Somatology in Portugal and then decided to work and learn from the best in the industry so I began my adventure in London where I worked in 2 world class spas. My family has always been in business and my core passion was to develop my business skills within an industry I was passionate about.I worked my way up quite quickly in the industry to management level. I learnt the most working with some of the greatest mentors in the industry at a world renowned spa in Covent Garden. The spa had 47 treatment rooms, employed 100 therapists and received on average 600 guests a day. I was privileged to work with amazing team of managers where we shared our knowledge and worked very well together to grow the brand.On my return to South Africa I continued my growth and passion in the industry by building other reputable spas, consulting with businesses who struggling and developing a training module for aspiring managers to teach the valuable information I had learnt over the years.  It was always my dream to be part of the Saxon team and when the opportunity arose it was only my natural progression.  I was exceptionally fortunate to be given the opportunity to develop and build the new Spa and service offering which I am exceptionally proud of.
Could you please summarise your role at the Saxon Spa (including when you started) and your industry award wins to date?
I started with the Saxon in August 2015 in the position of Spa Manager although on an international level my roles and responsibilities are more of a Spa Director. I am fully responsible for the development of the business and the team, as well as all financial management. I have a great passion for creating unique experiences for our guests and have also developed unique signature treatments and fragrances, which make the guests' journey memorable to our spa.'Africa's Best Hotel Spa' World Spa Awards 2017, 2018 and 2019
'South Africa's Best Hotel Spa' World Spa Awards 2017, 2018 and 2019
What are you most proud of introducing to the spa? What have guests responded especially well to?
The build of the luxurious Saxon Spa is definitely one of my proudest moments. Each year we have worked together as a team to develop World Class Signature Experiences that would be unique to any other offering in the world.  These have done exceptionally well and are very popular with our guests and have become some of our most popular services. Our proudest development has most certainly been the launch of the Molton Brown Signature Journey. Molton Brown is a luxury retail brand which is well known world wide, so we were exceptionally fortunate to be given the opportunity to develop its first signature treatment to offer guests the journey of using therapy and luxury fragrance by creating a treatment that relaxes and revives the body.
What do you view to be the most significant spa and wellness trend at the moment in general?
Anti-ageing has long been a huge market trend, however personally I have seen a big movement into very result driven treatments. Initially I didn't feel that a typical relaxation spa would be the correct platform for the more cosmeceutical or aesthetic based services, however we have however noticed that guests wanted these types treatments within the luxury of a relaxing environment. As a result, we have expanded our offering to include some of these services to cater for the needs of our guests.  I have also seen an upcoming trend amongst guests requesting vegan products. Elemis has launched a Pro-Food range, which is suitable for vegans and we are currently waiting for a Vegan range to be launched with Margaret Dabbs.
What are the current wellness fads that we should be steering clear of?
I have definitely seen a decline in slimming based services.  I feel that with the development in the Aesthetics industry as well as plastic surgery, there is far less of a demand for slimming based services within a spa environment.
What do you think is next for the wellness world (especially in terms of sustainability, for example)?
This is a sector that unfortunately we are not well recognised for in the industry. Spas typically have a substantial carbon foot print because of the volume of packaging we use as well as the resources used within the spa environment. As a participating member of the spa business community in South Africa, we are all becoming more conscious about the changes we need to make and trying to align ourselves with brands that have moved towards a more sustainable product. We are also working with the international cosmetic companies to assist us in taking more accountability in planning for the future in the sustainability of the products they supply. In the short term, we have created our own recycling system where we collect all single use plastics which are collected by a professional recycling company that convert the plastic into outdoor furniture items.
What are the most important three things that people can do at home to take care of their own wellbeing when not in the spa?
A good skincare routine is paramount.  There is no use enjoying the benefits of a facial and then using a poor skincare range at home. Premium skincare has a lot of active ingredients, and the technology of skincare has developed greatly over the last 10 years. The benefits of doing this can really play a big role in reducing the skin's ageing process.Take time out for yourself.  The world has become a very chaotic place to live in and we spend most of our days always surrounded by so many different forms of stimulae. Take the time once a week to soak your body in a hot bath with Himalayan salt, some aromatherapy oils or even a relaxing bath soak. Stress is a huge factor in most of the illnesses we see today, so we have to make a conscious effort to separate ourselves from all kinds of stimulae.Take time to meditate. Silence and relaxation are vital to your wellbeing.  Taking a 15 min session daily to align your thoughts and your projection of the day can really help you manage the challenges and anxiety the world throws at you.
Do you have a routine/priorities when it comes to your own wellbeing/beauty/skincare?
Admittedly I am exceptionally good with my skincare and beauty routine. Being privileged to work with some of the best brands in the world, I am fortunate to see how the effects have really impacted and changed my skin. As a mother of two in my forties, ageing is definitely one of my primary concerns and I ensure I use the very best in skincare. In my role, it is paramount that I look the part so I must ensure I represent the brand I work for. My own well-being is probably my weakest aspect. Being a working Mum in the hospitality industry can be challenging, and finding time for myself can be difficult, although when I do get the opportunity, a hot bath with all my mixtures goes down really well!
For further information about the Saxon and its wonderful spa, please contact Fran Gosling at Mason Rose: fran@masonrose.com | +44(0)20 7201 8050