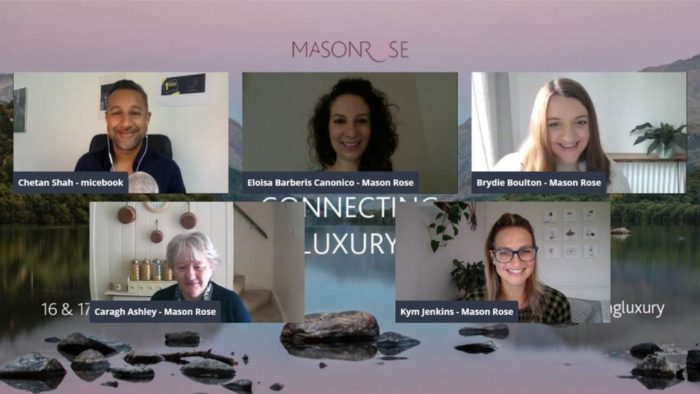 22 June 2021 – Mason Rose hosted its annual spring showcase 'Connecting Luxury' this month, in partnership with micebook, where industry trade partners connected with international hoteliers from our portfolio of hotels (Airelles, AMARA, Armani Hotel Milano, Bahia del Duque, Duetorrihotels, Elysium, Evian Resort, Grantley Hall, Gstaad Palace, JOALI BEING, JOALI Maldives, Lefay Resort & SPA Dolomiti, Lefay Resort & SPA Lago di Garda, Marbella Club Hotel, Nobu Hotel Marbella and Puente Romano Marbella) in a series of one-to-one virtual appointments over two days.
During the event, our PR & Communications Director  Jenni Holman, gave an insight into the value of trade and b2b media, particularly with the trade being such a trusted entity – and even more so now when reassurance and knowledge is everything in this new normal.
Over the course of the insights session, Jenni provided an overview of some of the main international media players that service the three key markets: MICE and Groups,  Luxury Leisure and Corporate, as well as a few top tips on social strategies that build on relations with the all-important luxury travel advisor – which as we know has even more prominence in the US.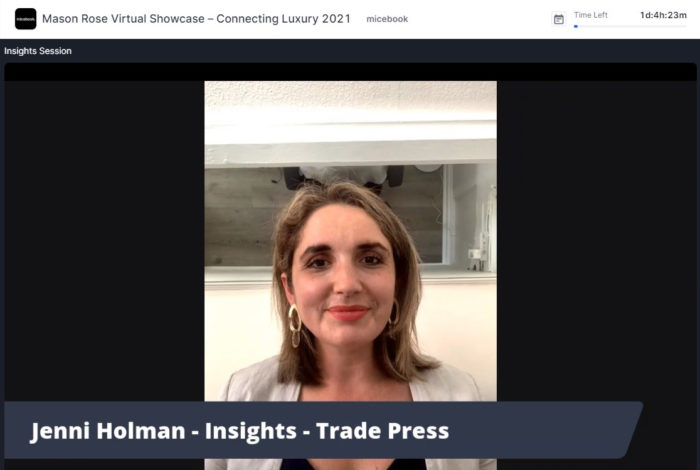 MICE and Groups Media
Who you need to know:
C&IT – a little more skewed towards events / conferences
M&IT – a little more skewed towards meetings / incentives
MICEBOOK – a digital hub for event planners that helps them find global suppliers from all over the world, including convention bureaux, DMCs, hotels, venues and airlines
C&IT US – a little more skewed towards events / conferences
What can they do for you:
Great awards – each one very specific. MICE agencies / bookers can refer to these
Recruitment – a great platform if seeking to hire professionals from this industry
Comments and Interviews -if you've something to say on the industry, there are great many opportunities to say it. Current trends are, of course, the future of events, meetings and business travel and hybrid.
Partner content – dedicated hubs / guides online. Offer specific campaigns depending on what you need e.g. C&IT offers campaigns specific to your KPIs. M&IT is part of CAT network, which comprises a host of other multichannel marketing services specifically aimed at that industry.
Use their websites as online destination guides – ideal whilst people can't travel and a great resource at a glance, curated in a way that appeals just to the MICE booker.
Networking / Events – from fun challenges and events for the industry to participate in, to one of the aforementioned awards ceremonies, these outlets ensure there are plenty of options for the industry to meet and mingle.
Fam Trips – from virtual to in real life travels, a great opportunity to ensure the media outlets team experiences your property for review and word of mouth advocation.

Luxury Leisure Outlets
Who you need to know:
US – Travel Weekly US, SKIFT, Virtuoso Life
UK –TTG Luxury and Travel Weekly Aspire (luxury). Also Travel Weekly and TTG.
What they can do for you?
Meets, networking events and dedicated sponsored fam trips, often in partnership with tourist boards which is an opening for hotel partners to get visibility hopefully without much outlay
Inspiring e-newsletters which often have a great open rate, a sign of how engaged the audience is – also leads to enquiries and bookings. We had an example of where a client was featured last month and it related to three enquiries about it within an hour of it being issued.
Educational website featuring a lot of industry news and opinion and inspirational destination reviews.
Awards – key milestones in the industry calendar and accolades that the trade respond to.
Aspire taps into their Aspire Travel Club for real time data and trends. Can use intel and news for tour operator etc own direct to consumer outlets.
The teams love what they do, the closer you are to them the more they'll champion you in different forums. For example TTG Travel Hour every Friday at 1pm, focus on luxury and wonderful editor cited a couple of our clients under a relevant subject further to a recent conversation.
Other outlets in the UK worth a mention are Selling Travel, ABTA and Travelmole.

Media consumed by the corporate booker
Who you need to know and what can they do for you?
Whilst there are a couple of b2b outlets, the majority is b2c niche outlets, such as First and Business class in-flight magazines, and Business Traveller magazine.
There is a lot of editorial and social media aimed specifically with the business traveller in mind, so think destination city guides, hotel reviews, travel tech and accessory news and round ups.
Some concierge companies (e.g. Ten) have their own editorial outlets and often a dual approach is key with both product and editorial team members, as do banks and insurance firms (Coutts for example has their Expect Better Podcast).
One that often gets cited as offering ROI with PAs is Miss Jones PAs e-news, which has garnered several enquiries, for one of our city properties in particular.
What else?
There are a host of marketing and PR opportunities with tour operator partners, usually as part of a marketing package. There's the odd occasion where you can get earned editorial that can remind the agent all about you and what you stand for. This is a great opportunity for when you're launching a new product or campaign.
Getting Savvy on Social – a couple of top-line strategies to engage with the all-important luxury travel advisor, a dial-mover of prominence, particularly in the US
Create content they can repurpose!
Contact them directly with clear visual highlights that demonstrate policies and offers that they can relay easily to their clients via their own social channels.
Follow and engage regularly with your key contacts – offer support and encouragement. You do this offline anyway.
If they have the right following and if they're a key contact of yours, invite them to contribute in some capacity to your social channels.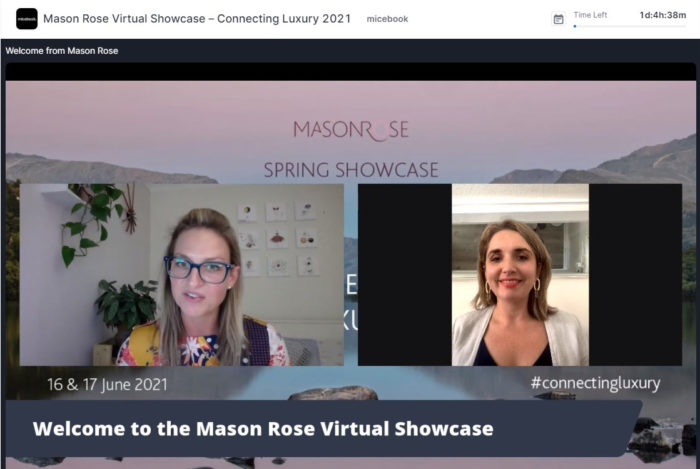 In summary:
The industry, as we know, is an amazing community – the media within it, and arguably anyone with a social channel and/or a considerable following, are an intrinsic part of it. Show support to them and they will gladly provide it back ten-fold.
For enquiries about PR representation or trade media, contact Jenni Holman: pr@masonrose.com 
For further information about Mason Rose events, contact Kym Jenkins: sales@masonrose.com