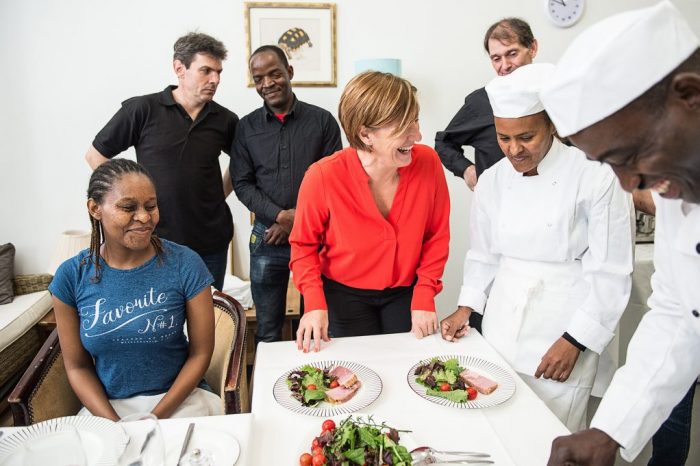 With strong niche and regional publication expertise, the Mason Rose PR team has secured exclusive broadcasts on London television and extensive targeted coverage for Hotel School, resulting in a 'social impact' award and positive awareness amongst affluent residents and businesses, and the wider London community.
Due to its location in Belgravia and hospitality focus, Mason Rose felt a strong connection to Hotel School and in 2017, Maria Pajares (MD) approached Jeremy Goring (Co-founder of Hotel School and CEO of The Goring) with the intention of offering the charity support through PR and social media.
With a focus on creating awareness about the innovative collaboration between The Goring hotel and The Passage homeless resource centre, Mason Rose helped Hotel School take centre-stage in a spotlight piece on BBC London News, which followed the progress of a graduate and aired interviews with co-founders Jeremy Goring and Mick Clarke, CEO of The Passage. A video piece was also broadcast on London Live's television channel and online platforms.
The team were delighted to be recognised as "The School of life" in a celebrated 6 page feature – including the front cover – in The Caterer magazine.
Media were invited to attend an Easter-themed afternoon tea run entirely by Hotel School students which led to valuable coverage in niche publications Victoria Magazine and Positive News. A full page feature resulted in Hotel School being named winner of the Social Impact category at The Blue Patch Sustainable Business Awards 2018.
Objective: To generate interest and awareness for Hotel School among key target audiences, with a view to securing investment and general support for Hotel School
Strategy: Sharing news, general information and profile opportunities with key print, online and broadcast media, inviting target press to exclusive Hotel School events , and creating and sharing content on LinkedIn and Instagram
Results: Key London video and broadcast pieces, 'Social Impact' award winner, awareness through substantial features in niche hospitality and current affairs publications
For more information on Mason Rose PR, please contact Natasha Berg or Jacinta Stevens. 020 7201 8060 | pr@masonrose.com