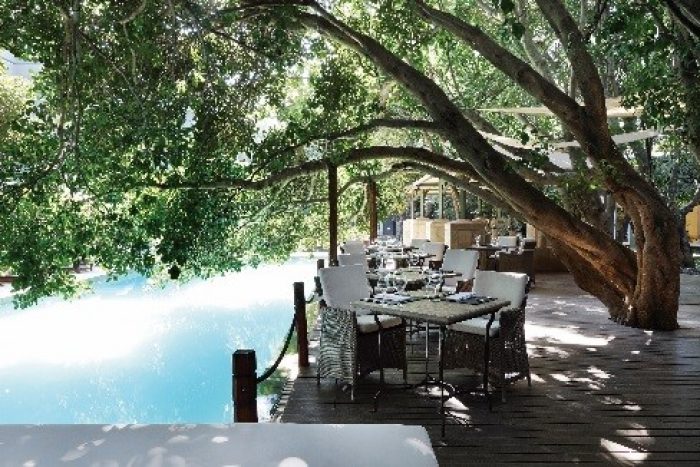 This has been a year of change for travel to South Africa and a new wave of interest has sparked in its overlooked centres, such as Johannesburg.
Masood Sadulla, Concierge at Sandhurst's The Saxon Hotel, Villas & Spa – where Mandela sojourned to finish Long Walk To Freedom following his release from prison – has his finger on the pulse when it comes to the very best experiences that the city has to offer.
For those looking to discover Jo'burgs hidden historic and foodie gems, here are Masood's top six picks:
Follow in the footsteps of Nelson Mandela
The hotel's experts are on-hand to guide history enthusiasts on an expedition through the former president's life and career, including a visit to his once home in Houghton, a trip over the Nelson Mandela Bridge to Newton and Museum Africa, and a visit to Soweto's Nelson Mandela Museum.
Step back in time and watch the making of gold
For a real journey back in time, a visit to Gold Reef City, developed around a former gold mine, is a fun way to discover Johannesburg in the gold rush era. Visitors can enjoy a Victorian fun fair, peek inside a historic miner's house, watch molten gold being poured, venture down the old mind shaft, and witness traditional tribal dance performances.
Learn new skills on safari
Nature-lovers can take their safari experience to the next level with recently launched experiences, such as exotic game research and handling with dedicated conservation specialists, bushveld star-gazing with an expert astronomer and learning how to fish in traditional South African style at The Saxon's sister property, Shambala Private Game Reserve in the Limpopo Province. Stays at both its luxurious Zulu Camp and Nelson Mandela Villa (once a personal retreat for Mandela himself) include game drives and bush walks with opportunities to spot The Big Five, sunset cruises and full board.
Discover South African gourmet at fine-dining fusion hotspot, Grei
Still in its first year, The Saxon's Grei restaurant is delighting visitors with its curious taster menus of fusion delicacies devised by Chef Candice Philip. She draws inspiration from Johannesburg's diverse culinary heritage, combining traditional South African staples and bold herbaceous flavours sourced from the restaurant's organic rooftop garden, with the Portuguese concept of warm convivial dining, and a touch of chic Scandinavian minimalism.
Pick your own tour guide, from a game ranger to a wine expert
Travellers can unearth a plethora of hidden worlds with the new "Meet Your South Africa" campaign from SA Touirsm, which has recruited 12 passionate local experts to act as personal tour guides. Holidaymakers can book guides – which include a game ranger, marine biologist, chef, wine expert and outdoor adventure leader – for tours, packages and general insider tips. Visit www.southafrica.net/meetyoursouthafrica for more information.
Support local artists and enjoy authentic fare at Maboneng
With mindful tourism becoming an increasing concern for travellers, Johannesburg's trendy Maboneng Precinct is the perfect place to truly discover the city's eclectic underground culture and support local communities. The bustling, colourful quarter – a symbol of the city's rapid regeneration – is devoted to promoting regional artists and cultural inclusivity, welcoming visitors to a vibrant hub of art, fashion and an unrivalled street food scene, with offerings ranging from European-inspired brunch spots, to traditional braai outlets, to African-infused sushi masterclasses with the chefs at Blackanese Sushi & Wine Bar.
Find out more about Saxon Hotel, Villas & Spa 
Read about the hotel's Nelson Mandela Platinum Suite
For further information, contact the Mason Rose PR team on +44(0)20 7201 8050 or email press@masonrose.com