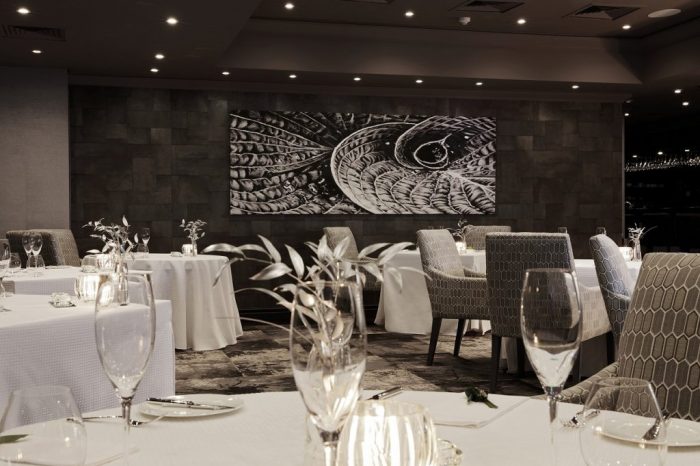 The Saxon Hotel, Villas & Spa is thrilled to launch its brand new fine-dining restaurant, Grei, under award-winning new head chef, Candice Philip.
The Scandinavian-inspired outlet – named after a Portuguese term loosely translated as "a society of people" –opened in April in place of the former Luke Dale Roberts X Saxon restaurant.
Chef Candice, who has worked at The Saxon for more than a decade, has devised an entirely new selection of dishes combining her passion for colourful and unusual flavour pairings that make herbs the star of the show, with her signature stylish presentation techniques.
The new menu has been designed to take guests on a multi-dimensional gastronomic adventure throughout the six-course set menu, with each dish focusing on a fresh colour and three key flavours.  Diners can look forward to sampling the likes of ostrich, red cabbage, sorrel; sweetbreads, smoked potato, liquorice; duck, apricot, thyme; Beester, ginger, lavender and guava, beetroot, hibiscus.  There are also dedicated pescetarian and vegetarian menus available.
Grei promises a feast for all the senses, opening with a chic redesign of the intimate 32-seater space influenced by Scandinavian minimalist design. Smart grey tones are interspersed with fur and beaded feature walls and textured tablecloths and carpets, allowing the food's vibrant colours to leap from the plate.
Chef Candice said: "Since joining the Saxon, I've been privileged to work alongside some of the country's best chefs – including Chef David Higgs and Chef Luke Dale Roberts. I'm excited to bring my own long-held vision to life in the form of Grei. I really want people to come and appreciate what we're doing – to take the time and enjoy the journey.
"We've always worked with the garden and its produce, focusing first on organic and heirloom, and later looking to the proteins," she says. "But for me, the herbs are often the little things that are overlooked. Not only do they bring an enticing aroma to the food, but also great flavour and colour."
Grei will be open Tuesday-Saturday from 18h 30 and bookings are essential. To book, call: +27 11 292 6000.