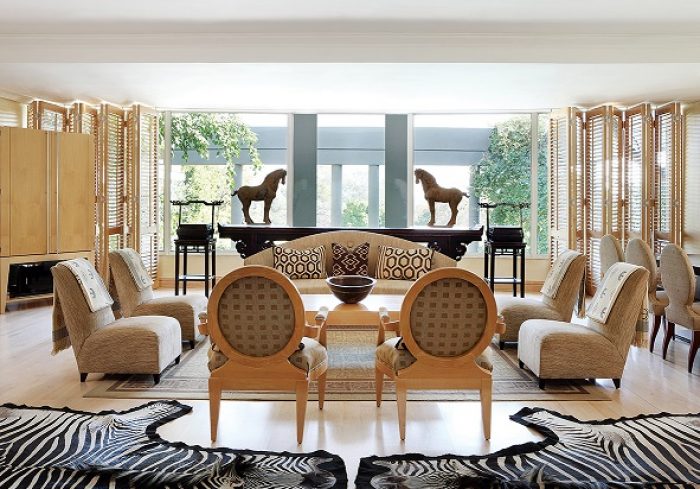 January 2020 – The Saxon Hotel, Villas & Spa, Johannesburg, is celebrating 20 years of luxury hospitality and South African history. Over two decades we have seen the prestigious hotel double in capacity and welcome late South African president, Nelson Mandela, as a revered long-term guest.
First opening its doors in April 2000 as a 26-suite luxury boutique, The Saxon Hotel, Villas & Spa was originally built in the 1980s as a private home by the country's famed international insurance magnate Douw Steyn.
It was later transformed into the intimate luxury hotel destination of choice for some of the world's most celebrated personalities, including Nelson Mandela, who resided at the Saxon for six months following his release from prison while his own residence was under construction and used the hotel's serene surroundings as a peaceful setting for editing his autobiography, A Long Walk to Freedom.
The premium suite occupied by the beloved elder statesman was later named the Nelson Mandela Platinum Suite in his honour and was creatively refurbished in 2018 with a serious of striking fittings and poignant artworks by Dean Simon, chronicling his political legacy.
The Saxon has since expanded, with the award-winning two-storey Saxon Spa first launching in 2006, before a redesign in 2016. The turn of the last decade also saw the hotel unveil its three elegant Villas, comprising private dining libraries, boardrooms and terraces with heated plunge pools, bringing the property's total suite number to 53.
Commenting on The Saxon's lauded service ethos, long-serving Managing Director, George Cohen, said:
"The Saxon has a fabled history within South African culture, a historic landmark with a notable past and a heritage we are proud of. This year we look back on 20 years of hospitality, service, excellence and the luxury we are synonymous for. Our experience is an authentic reflection of our surroundings which imparts a sense of harmony and wellbeing and delivers lasting memories to each guest that enters through our doors. Our unique sense of hospitality is what sets us apart. It is not what we do, but it is the way in which we do it. We continuously strive to create an environment for our guests where they can embrace a sense of value and belonging; a place where your surroundings form a natural extension of your own life. It is our intuitive and anticipatory service that forms the foundation of their experience whilst creating timeless memories."
Looking ahead to its landmark anniversary season, The Saxon will be sharing a series of stories with guests, reliving the hotel's fascinating history at the forefront of luxurious, innovative and sustainable South African hospitality.
For further information and imagery, please contact Francesca Gosling at Mason Rose on fran@masonrose.com / +44 (0)20 7201 8074