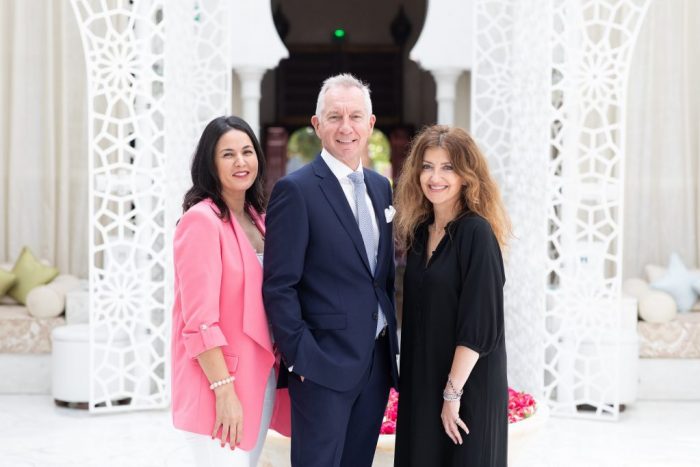 January 2020 – Since last Autumn, the Spa Royal Mansour has been showcasing wellness cures and health-based spa breaks, created in partnership with Valérie Espinasse, a leading French micro-nutritionist.
Valérie Espinasse offers individual consultancy sessions to Spa Royal Mansour customers, who can  benefit from tailored programmes focusing on improving their digestive system, emotional or hormonal state. As a micro-nutritionist, she offers a personalised approach to nutrition by regularly monitoring each guest and conducting food allergy tests throughout their 'wellness cure' break, so they leave with recommendations to suit their needs.
The combination of the 'Wellness Cure' programme and the tailored treatment and nutrition plans at Spa Royal Mansour aim to improve intestinal flora, which is essential for the immune system. Working closely with Jérôme Videa, Executive Chef at Royal Mansour, Valérie Espinasse has developed a 'healthy' menu at the Spa Restaurant.
She has also worked with a herbalist to incorporate medicinal plants with therapeutic properties, such as lemongrass, peppermint and sweet orange from Royal Mansour's new vegetable garden, into a menu of infusions for spa guests.
"Well-being and trying to be healthier are very topical issues" underlined Malika Rojhani, who has been head of the Spa Royal Mansour since April 2019. "It is therefore important to us to respond to an increasing demand for tailored nutrition and treatment protocols" she added.
The Spa Royal Mansour has also asked Valérie Espinasse to raise awareness amongst its employees on the importance of a healthy and varied diet.
"At Royal Mansour, our staff's health and well-being is our primary concern" said Managing Director Jean-Claude Messant.
This new initiative from the Spa Royal Mansour aims to make the Palace a destination in itself for well-being, developing treatments that aim to improve health and highlighting the benefits of looking after oneself.
Wellness Cure Stay at Royal Mansour:
A 3 night stay for two people costs from 43 000 MAD, including:
Accommodation in a Superior One-Bedroom Riad (140 sq.m)
A health consultation upon arrival to determine a tailored diet regime (by appointment)
One physical fitness test with Royal Mansour's sports coach
Three healthy meals each day, including detox juices and digestive infusions
One 60 minute Hammam treatment
One 60 minute Chi Nei Tsang
One 60 minute facial
An individual consultation on departure to measure progress and a tailored diet programme to put in place
Fast track service upon arrival and departure at Marrakech Airport
Private transfers to/from Marrakech Airport
Complimentary access to Fitness activities and unlimited access to water therapy facilities
The cure treatments included in this package are valid for one person. An additional guest may experience the treatments for an additional 6,400 MAD per day. 
The wellness break will be available from 28th February to 1st March and from 26th to 30th March 2020, subject to availability. 
Click here to read the initial news piece about the partnership between Royal Mansour and Valérie Espinasse.
For further information, please contact the Mason Rose team on +44(0)20 7201 8050 or email pr@masonrose.com