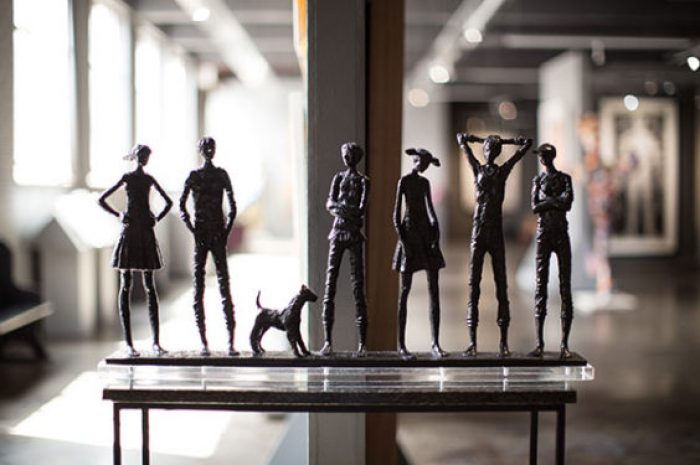 The Saxon Hotel in Johannesburg is collaborating with independent city galleries to offer private guest tours in a bid to support and promote the voice of South African artists.
The luxury hotel's latest partnerships include ArtEye, one of the country's largest commercial galleries where owner and founder, Tyrone Selmon, takes visitors on an intimate journey through the artists' own private studios, as well at the expansive display spaces.
To further support ArtEye's mission, The Saxon is hosting annual exhibitions featuring key pieces and installations from resident artists, including the likes of sculptor Phumzile Buthelezi, whose pieces dramatically reflect the transforming political and social roles of women in South Africa, and Thokozani Mthiyane, who uses "rubbish" found discarded across Johannesburg's townships and slums to produce stunningly colourful masterpieces.
An expert in Johannesburg's burgeoning arts movement, Tyrone provides complete funding for the space and materials required by a select rotation of artists from all ages and backgrounds, and can advise visitors on how to safely transport unique and limited edition purchases home with them.
He commented: "We are a young country and we don't have money to support the arts, so we wanted to build something that would be sustainable and allow us to grow.

"Johannesburg in particular is such an inclusive community, made of people from all over the world, and that's what makes it beautiful. We wanted to showcase how an appreciation of local art can create conversations."
Art enthusiasts are perfectly catered for at The Saxon, where everything from the lobby to the private suites and newly refurbished villas are decked in sleek modern colours beautifully blended with traditional African materials and designs. Its extensive private collections include works by Hilton Edwards, Fiona Rowett, Titia Ballot, Errol Watson, Amalie Von Maltitz and world-renowned Dean Simon, who also provided the skilful designs behind the hotel's recently revamped Nelson Mandela Platinum Suite.
The hotel's expert concierge can also organise private tours among the city's largely undiscovered artistic hotspots, including the dedicated Design Quarter, the African Craft Market of Rosebank and a range of acclaimed galleries.
For further information, contact the Mason Rose team on +44(0)20 7201 8050 or email press@masonrose.com