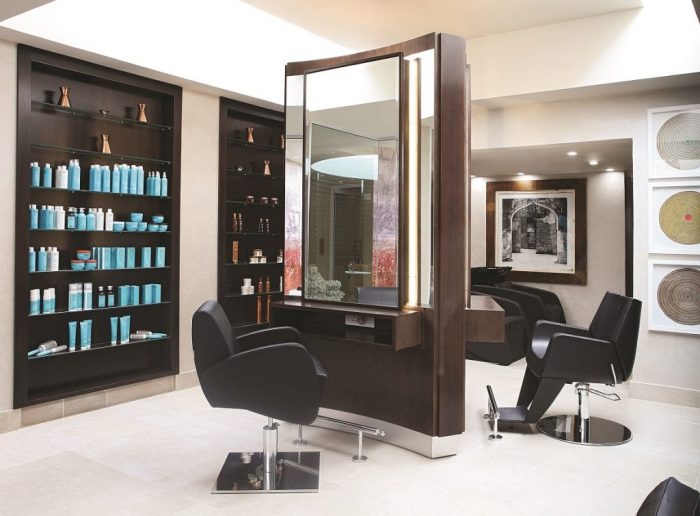 The Saxon Hotel, Villas and Spa has teamed with ethical hair specialist, Kevin Murphy, to launch a new Hair Spa with exclusive treatments designed to revive and transform all hair and skin types.
New offerings at the Saxon Hair Spa, part of the hotel's acclaimed two-storey wellness emporium, use an innovative combination of technology and natural skincare ingredients to create bespoke and relaxing therapies that combat a range of issues while enhancing every visitor's essential glow.
These include:
Kevin.Murphy Treat.Me – An intensive molecular treatment working as a "facial for the hair" by using natural fruit acids to replace lost moisture and improve hair texture, shine, strength and overall health
Treat.Me Moisture – A personalised rebuilding hair treatment and massage especially for dehydrated, frizzy or chemically treated hair, using precious oils and plant extracts to regenerate and restructure from the inside out
Treat.Me Strength – Inspired by the immortelle flower, praised for its everlasting and healing properties, this deep ritual and massage restores natural luminosity, resilience and youthful lustre to brittle, damaged and prematurely ageing hair
Hair Styling – For an extra special occasion, the Saxon Hair Spa also offers a full range of styling services for all hair types, lengths and ethnicities using a curated selection of gentle and environmentally conscious products.
Led by award-winning spa manager, Tanya Lopes, the Saxon Hair Spa also provides a curated menu of indulgent signature treatments customisable to address every individual's haircare concerns, including a regenerative Moroccan Oil Mask, abyssine-based Caviar Chronologiste and a Kérastase Fusio-Dose.
Kevin.Murphy prides itself on sourcing ingredients produced via micro cultivation, organic growing practices and ecologically sound wild harvesting techniques to create an entirely paraben, sulphate and animal cruelty-free range recognised by PETA. The Australian brand is also working towards a fully circular supply chain with a new line of UN-approved recyclable packaging made entirely from plastics reclaimed from the ocean, which is projected to save more than 360 tonnes of new plastic each year.
For further information, please contact Mason Rose on +44(0)20 7201 8050 or email pr@masonrose.com