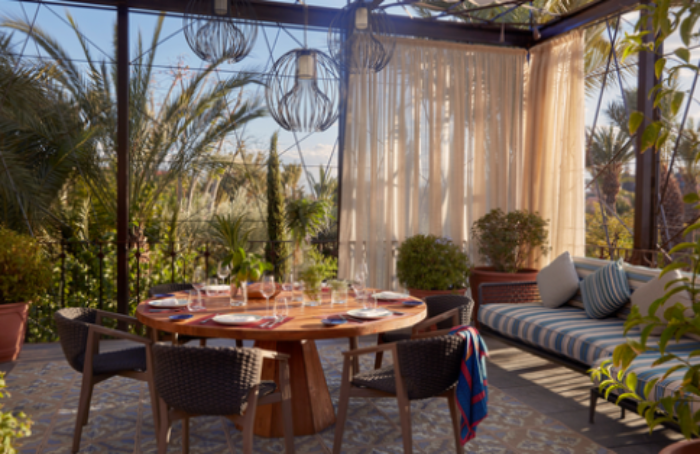 New for September 2021, the inimitable Royal Mansour Marrakech will officially be introducing the following for its guests:
A brand new, fully holistic wellness offering (comprising multi-day programmes, retreats, and new spa partnerships)
A beautiful extension of their landscaped gardens by celebrated landscape designer Luis Vallejo, including a kitchen garden filled with herbs, spices and fruit
An enhanced gourmet offering with the addition of new "treehouse" style private dining space, that overlooks the hotel's gardens, the Atlas Mountains and the tower of the Koutoubia Mosque
New cultural experiences including a dedicated Artist in Residence programme
Read on for further information about these exciting new plans.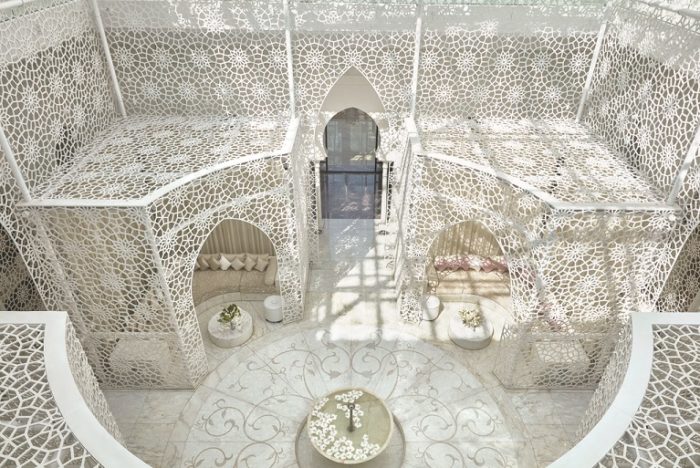 A 360° HOLISTIC APPROACH TO WELLNESS
New multi-day wellness retreats – available to guests from September 2021
To further cement its position as a leading wellness destination, Royal Mansour will be offering all-inclusive, multi-day wellness programmes allowing guests to immerse themselves in a transformative experience. Available as three-, five-, seven- or 14-day retreats, guests can choose between four programmes – Rebalance, Weight Control, Rejuvenation, and Immunity Boost – with the goal of improving both mental and physical wellbeing.
Industry experts from around the world
New programmes will also be rolled out in 2021 led by industry experts including osteopath and massage therapist Ana Mattos, holistic therapist Isaac Vidjrakou, Ayurvedic Aromatherapist Suraj Varma, Acupuncturist and massage therapist John Sanchez and celebrity Pilates trainer Hollie Grant.
Partnerships with revered skincare brands
Alongside the above wellness programmes, Royal Mansour will also be debuting a revitalised spa offering marked by three renowned skincare brands – Intraceuticals, Subtle Energies and Burgener Switzerland – each known for their innovative techniques, sustainable practices and results-driven treatments.
A BEAUTIFUL GARDEN EXTENSION AND MAGICAL 'TREETOP' STYLE PRIVATE DINING SPACE
At the end of 2019, Royal Mansour launched their decadent new Italian restaurant SESAMO – headed by renowned chef Massimiliano Alajmo – the youngest chef in the world to earn three Michelin stars. To further bolster their gastronomic offering in 2021, the hotel will open an elevated, private dining space overlooking the new, 3 hectares of gardens. Cascading plants and shrubbery will hide the walls and stairs leading up to the raised dining platform, creating for guests a sense that they are floating. Guests will also be treated to fantastic views of the Atlas Mountains, the tower of the Koutoubia Mosque, and of course the hotel's beautiful gardens. It will be the perfect hideaway for families and couples looking to enjoy the hotel's sumptuous cuisine in the utmost privacy and peaceful surroundings. The menu will be from Le Jardin – the al fresco restaurant headed up by 3 Michelin starred chef Yannick Alleno that serves up a unique fusion of Asian – Mediterranean cuisine.
As mentioned above, the hotel's gardens have been extended to incorporate a beautiful kitchen garden for the hotel's four restaurants (along with a space for beehives), where chefs can source such items as herbs, spices and fruit.  These gardens will also host a vibrant 'Maison d'artiste' or Artist in Residence programme (details of which are still being finalised), yoga classes, and much more! In these gardens currently, guests can enjoy a large swimming pool, seven stylish poolside pavilions and al fresco restaurant Le Jardin where three Michelin starred chef Yannick Alléno creates innovative menus offering a delicious fusion of Asian- Mediterranean dishes.
For further information, please contact the Mason Rose PR team: pr@masonrose.com