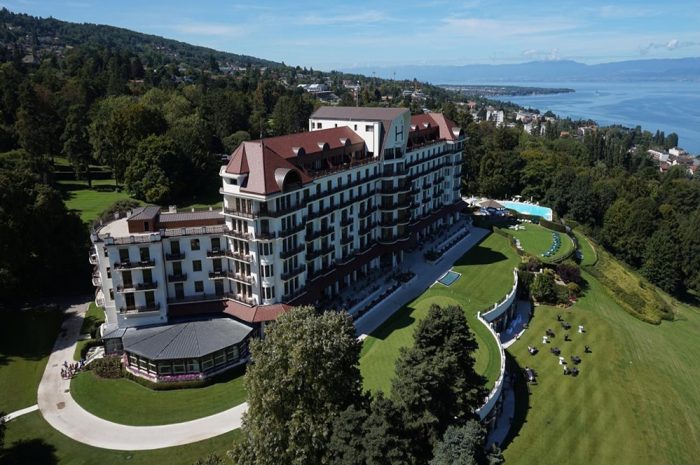 On the edge of vast Lake Geneva flanked by the foothills of the Alps, Evian Resort – home to the source of the mineral water – is the perfect base for those on the lookout for a little adventure this summer.
Evian Resort is the ideal playground for sports enthusiasts, offering a range of activities from yoga, e-bikes, tennis, padel and running routes.
Perfect your tennis swing with a Pro
This Summer (17 – 21st August), in partnership with LUX Tennis, Evian Resort will offer private lessons and intensive programmes taught by former professional tennis player, Martina Hingis. Martina, the first Swiss player to win a Grand Slam and attain a No.1 ranking, will be on-site this August to coach children and adults of all skill-levels.
The Evian Resort has also recently announced the introduction of Padel-Tennis to the activity agenda. With a smaller court, rackets, and balls that bounce less, guests can discover the new way to play tennis. Guests are also able to book a training programme or private lesson with the resident LUX Tennis professional.
Discover a 'Hole' new Ball Game
Evian Resort has one of the most beautiful golf courses in France. An ideal playground for beginners and experienced golfers alike, with two sublime courses: "The Champions Course" (18 holes), a legendary course that hosts one of the major tournaments of the women's world golf circuit every year, and "The Lake Course", a 6-hole course offering a breathtaking view of the lake.
The Academy has also partnered with the world's leading golf instructor, David Leadbetter and is equipped with several training modules and teaching tools using the latest technologies, including Trackman, Boditrak, SAM PuttLab, MySwing, as well as an indoor putting green.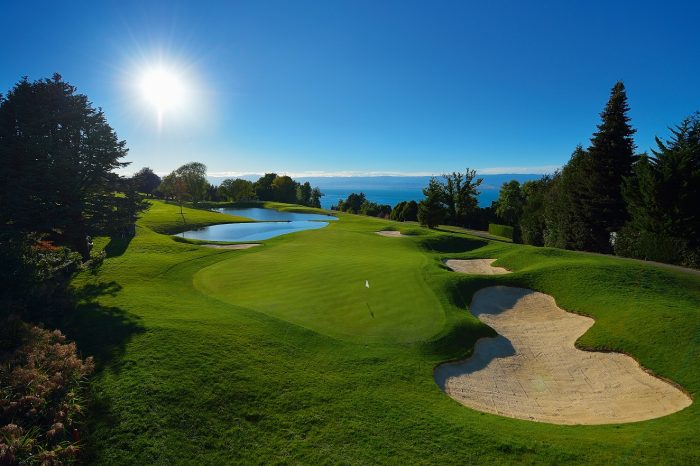 For the adventure-seekers
The resort's very own Adventure Concierge team can also pull together a selection of outdoor interests that suit the whole family – from forest hiking and wildlife-spotting in the leafy and secluded surroundings of the resort, to more adventurous pursuits such as white-water rafting in nearby Dranse rapids, mountain biking (and e-biking for the more reluctant) and watersports such as paddleboarding and kayaking.
For the culture vultures
Evian Resort is home to many treasures: a casino with its own theatre, a concert hall (La Grange au Lac), and it also boasts a remarkable architectural hermitage stemming from the talented work by leading architectural names such as Partick Bouchain, Jean-Albert Hebrard, Herni Martinet, and more.
Henri Cartier-Bresson: The Gianadda Foundation pays tribute to this leading figure in 20th century photography via the Sam Szafran collection. This great photographer of "the decisive moment" was above all a humanist (10th June to 20th November 2022)
"The Kids": This exhibition celebrates Chaplin through a look at his childhood and his incredible career (until 25th September 2022)
Les Arpenteur de Reve Drawings from the Musée d'Orsay: this collection from the Musée d'Orsay provides a rich insight into 19th century drawing (2nd July to 1st November 2022)
Montreux Jazz 56th Festival: This year's festival is packed with music icons, current artists, and new talent (1st to 16th July 2022)
Recontres Musicales d'Evian: The Recontres Musicales d'Evian reveals a new incarnation: the spotlight shines on the orchestra, the music of Debussy which is dedicated to it, and also the concertante repertoire which flourished in the romantic century (25th June to 2nd July)
For further information, please contact the Mason Rose PR team: pr@masonrose.com