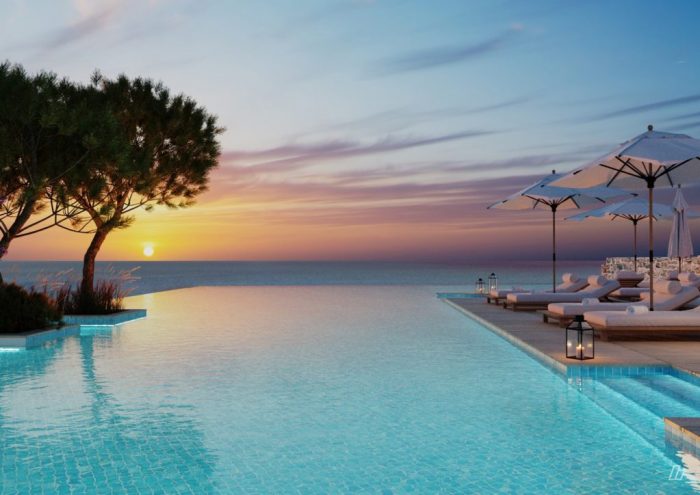 May 2022 – Family-owned hospitality group the Lesante Collection announces the launch of Lesante Cape, as it continues on its mission to shine a luxurious spotlight on the Ionian Isle of Zakynthos.
Opening on the 28th May 2022, the arrival of  Lesante Cape represents the latest addition to its collection of five-star abodes, located within the historic Akrotiri village, where the manors of the island's noblemen were once situated. The family-friendly, village-style resort with its own private beach, comprises 55 suites and 10 villas inspired by the traditional architecture of yesteryear, whilst neutral colours, natural fibres and local art sit at the heart of the soothing interiors.
All elements of the property have fully considered its local environment – from an onsite Bio farm to ecologically designed buildings nestled within purposely natural and untouched surroundings to natural, ecological products used within its sumptuous spa.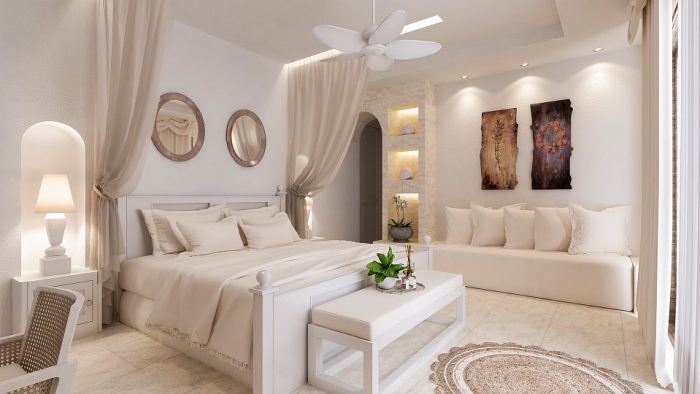 TRADITIONAL GREEK OFFERING
Built to mimic a traditional Greek village, with an Agora at its centre, Lesante Cape features a café, taverna, artisanal shops, a folklore museum and even a church, transporting guests back in time. Whether it is enriching culinary experiences, wine-tasting gatherings or specialist Greek nights with live music and dancing, Lesante Cape boasts a luxurious getaway steeped in Greek tradition.
A wander through the local village provides a glimpse into Zakynthos' proud historical past through charming architectural monuments, Greek Orthodox churches and monasteries, museums, natural parks, and nostalgic villages peppered with hidden pathways and ancient bell towers.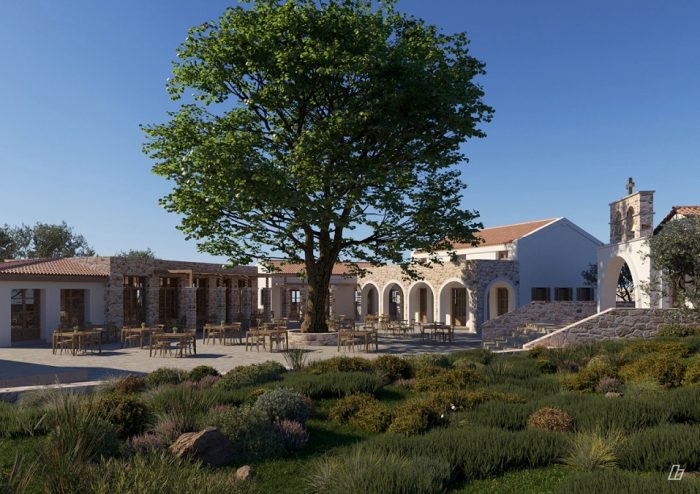 SPA & WELLNESS
The state-of-the-art Armonia Wellness & Spa – taking its name from the immortal goddess of harmony – provides a relaxing refuge for treatments and therapies harking back to ancient Mediterranean healing practices. Taking inspiration from the ancient Greek Loutron – a space dedicated to washing and bathing – the spa is decorated minimally, with the indoor pool leading to an open plan olive garden.
Underpinned by a spa philosophy that seeks to help guests to unwind, restore and elevate spiritually, the spa features an indoor heated pool and jacuzzi, fitness centre, sauna, hammam and adventure shower. A treatment couple suite and two treatment suites offer the perfect setting in which to experience a range of indulgent treatments from the signature Island Facials promising to firm and hydrate skin to the Santorini Lava Clay treatment, all using products from luxury brand The Ariadne Athens.
Aside from the serene, secluded beach belonging to the hotel, Zakynthos is home to a variety of stunning beaches – some of which boast wellness properties, including Xygia Beach, where the sulphur-rich water is effective in addressing leg pain, arthritis and even cellulite. Elsewhere, Porto Azzuro Beach offers a creek wherein bathers can enjoy a rejuvenating mud bath in a sea of clay, with its natural exfoliating properties.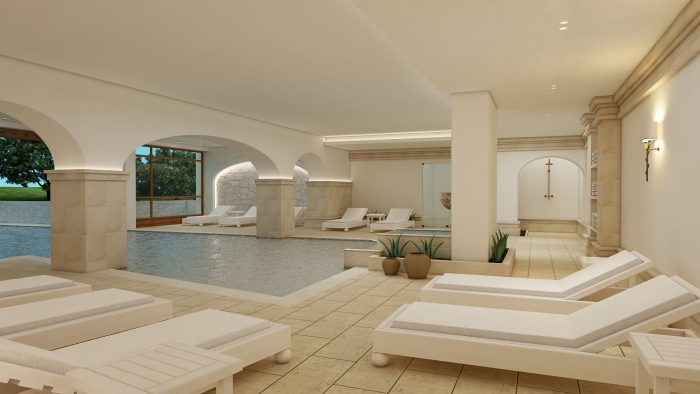 FINE DINING
Epicureans will, quite literally, get a true taste of traditional fare in one of four restaurants headed by Greek culinary marvel Aggelos Bakopoulos:
Elea Restaurant: An elegant and nostalgic venue serving artisanal, regional cuisine, from Greek breakfast classics to a medley of Mediterranean gastronomy.
Novita All-Day Restaurant & Bar: This emblematic Mediterranean dining experience serves provincial dishes, locally sourced farm products and fresh seafood.
Fiore Fine Dining: An adults-only restaurant framed by panoramic seascape views where internationally renowned classics meet local produce and refined techniques.
Taverna: An ode to Greek's culinary culture, Taverna offers cooking lessons alongside themed nights hosting live music and dancing.
Among the hotel's other food and drink venues is Kafeneio, an all-day destination for coffees, teas, and sweet treats – immortalised in a nostalgic setting paying tribute to a traditional Greek café. For signature cocktails and light refreshments, The Noble Bar – situated in the hotel's lobby – and Novita Pool Bar – a meditative poolside sanctuary – offer just the thing.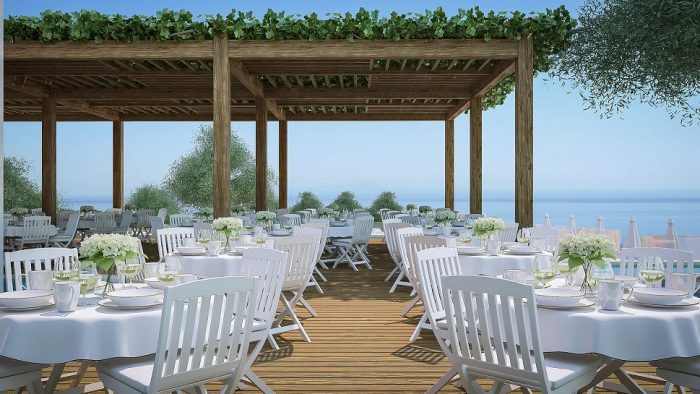 KIDS' ACTIVITIES
Creating fun moments for the whole family, Lesante Cape offers a colourful children's play area with a natural backdrop – the Lesante Outdoor Playground – and a free Kids Club, allowing parents to relax while the hotel's highly skilled, specially trained staff entertain children with educational activities, both outdoors and indoors. What's more, the hotel's Kids Service – a team of experienced babysitters – is on hand to help parents should they want to enjoy moments alone.
A dedicated Kids Menu provides a wide selection of balanced yet delicious meals and desserts, from risotto served with vegetables to grilled fresh fish of the day.
EXCURSIONS: EXHILIRATING AND CULTURAL
Like all the Lesante properties, Lesante Cape offers a curation of thrilling excursions – whether it is venturing into protected marine parks, scuba diving, private yacht cruises to a Shipwreck beach, or mountain hiking – alongside enriching cultural experiences – spanning wine tastings, ancient architectural tours, and unearthing Zakynthos' illustrious heritage within the myriad of museums that span the isle.
For further press information, images, and media inquiries, please contact the Mason Rose PR team: pr@masonrose.com