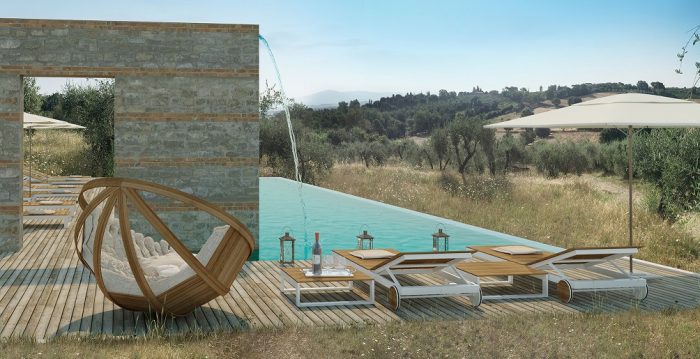 Paolo Kastelec and Philip Robinson, the British-Italian design duo behind Tuscany's gorgeous Fontelunga Hotel & Villas, are poised to launch an intriguing new accommodation concept marrying the benefits of an expert concierge and service team with the privacy of self-catering to form the perfect formula for luxurious yet environmentally conscious travel.
Borgo 69 is a collection of 12 chic and cosy individually designed 1-3 bedroom villas in the heart of the Valdichiana countryside – just outside the historic village of Pozzo – built around a picturesque communal infinity pool framed by olive trees, and an extensive organic allotment supplying new boutique deli restaurant and market shop, Emporio Di Ines.
An ideal sanctuary for the slow, multi-gen and experiential traveller alike, Borgo 69 allows guests the freedom to plan their own Tuscan adventure while minimising on waste by collecting their freshly prepared and locally sourced breakfast (included within the villa rate) and zero-kilometre ingredients for the day, before exploring the rustic region's lesser travelled gems, thanks to insider advice and tips from Borgo 69's experienced staff team and a fleet of free-to-hire bicycles.
Evenings can be spent getting to know fellow guests and local visitors over wine and chicchetti at the Emporio's convivial dinner parties, reducing the need to travel every night to sample central Italy's finest fare. Committed gastronomes can even go behind the scenes and discover the art of authentic Tuscan cuisine themselves with intimate gourmet cookery lessons.
Opening on 2 May and available on a minimum 3-night hire basis, Borgo 69 villas feature:
Split levels with a luxury bathroom per bedroom and open-plan living area with bespoke kitchen with dishwasher, washing machine and dining island overlooking the gorgeous country skyline peppered with cypress trees
Minimum 65.7 sq.m plan with private terrace or garden (approx. 30 sq.m) planted with Mediterranean aromatic herbs
Refillable amenities
Individually designed interiors in a "contemporary country" style centred on up-cycled furniture, antique adornments and natural materials of wood, marble, travertine, local stone and linens in earthy colours synonymous with traditional Tuscan aesthetics
Access to the outdoor pool, gardens, games and conference studio, and all the facilities of the nearby Fontelunga Hotel
In addition to the expertly designed self-catering facilities, guests will be looked after by Borgo 69's dedicated concierge team; on-hand to provide personal meet-and-greets and a daily advice and reservations service for key destination highlights, such as:
Hot air balloon rides, wine-tasting, falconry and classic car tours through the vineyards with Avignonesi Winery
A range of winery visits and wine-tasting opportunities around the Chianti, Montalcino and Montepulciano regions
Truffle-hunting tours joining expert teams and their trained dogs foraging for Cortona's most treasured export with Villa Magna
Shopping sprees making the most of famous Italian high-street and high-fashion brands with discounts of up to 70% at the Valdichiana Outlet Village (www.valdichianaoutlet.it)
Horse-riding lessons with trails taking in the stunning scenery of the Chiana Valley and surrounding Apennine Mountains
Regional guided tours covering all interests: from the best foodie spots and historic landmarks among the surrounding medieval villages of Lucignano and Cortona, to the renowned cultural landmarks of nearby Siena and Florence
Bespoke on-site wellness experiences, including in-room massage, alfresco yoga and trekking excursions over the surrounding natural landscape with an expert guide
Visits to Tuscany's "city for wellbeing" in Chianciano and try out the mineral-rich thermal baths while admiring a wealth of 14th century art and architecture
Water sports and boat trips on the nearby Lago Trasimeno, Italy's fourth largest lake
Borgo 69 will open in Spring 2020 with a limited special introductory offer for early bookers. Villas will then be available from EUR 595 / approx. £512 per night for a one-bedroom villa on a minimum three-night stay basis, including breakfast.
For further information, please contact the Mason Rose team on +44(0)20 7201 8050 or email pr@masonrose.com