July 2020 – Natural and organic skin and spa brand ilā is delighted to announce the launch of Maison ilā, Le Trésor – a healing space in the heart of the Aude, Languedoc Roussillon, France. A former chambre d'hôtes in the charming village of Sonnac, the seven-bedroom property has been given new life as ilā's first dedicated permanent wellness retreat location.
Set in verdant, blossoming gardens in the picturesque village and bucolic surroundings where time is marked by the gentle sound of the village church bells, Maison ilā (also known as Le Trésor) is home to a main house with five bedrooms, communal dining space, snug, treatment room and yoga & sound healing studio. It also has a separate cottage with a further two bedrooms, living space and kitchen. Denise and her husband, John spent lockdown at the property and so were gifted this time to really pour their heart and soul into Maison ila. They lovingly added their own special touches, creating a treatment room and yoga studio, as well as planting a soul garden full of healing herbs and plants, such as St John's Wort, Roman Camomile, Geraniums, Sage, Verviene, Lavender, Jasmine and Honeysuckle, which Denise uses in both food and treatments.
ilā's French home is a sanctuary of healing based on ila's core belief that healing starts from the inside and that by giving ourselves space and time, consciously relaxing the nervous system, the body and mind are able to rest, naturally rebalance and reconnect to our inner essence of radiant health and a peaceful mind.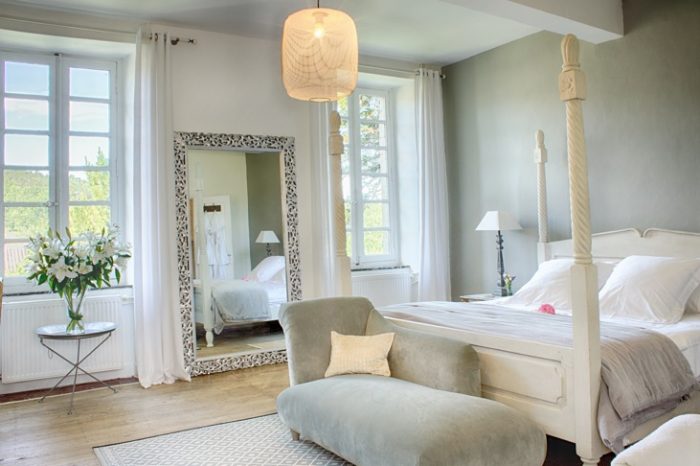 Maison ila offers a curated menu of face and body therapies and shamanic journeys, including Flexbeam red light therapy and treatments created especially for the brand-new CBD collection which launches at the end of July.
Yoga, meditation and sound healing will be complemented by wild swimming in neighbouring natural pools, and wild movement specialist Alli Suddaby will guide guests through a playful outdoor practice that honours the fundamental movement of the body. Guests can expect seasonal, predominantly plant-based, cuisine that uses the abundant local seasonal produce and is nutritious, nurturing and full of flavour. In addition to its openhearted resident team, Maison ilā will also welcoming visiting practitioners throughout the year to offer their expertise and wisdom to guests.
An intimate setting that means a highly bespoke experience for every visitor, Maison ilā is a true sanctuary to heal, restore and revitalise. Founder, Denise Leicester, says:
"As I have French heritage, John and I had always imagined a home in the south of France. When we happened across 'Le Trésor' – the treasure – as it was called, we knew we had found our place; although a little unexpectedly, we felt it was too special to keep it to ourselves! There is a magic here that lends itself perfectly to the creation of a dedicated ilā space and we are so excited to welcome guests to escape here with us for heartfelt rejuvenation."
Room-only Rates from 150 EUR per night.
Bien Être retreat packages include:
(3 nights from 1000 EUR | 5 nights from 1600 EUR | 7 nights from 2240 EUR)
Arrival and departure wellness consultations
2 Daily Therapies (1 x 60 / 90 mins and 1 x in-room ritual)
2 yoga sessions
1 sound healing session
1 daily activity (cycling, wild swimming, forest bathing)
An organic vegetarian diet (intermittent fasting)
1 – 2 natural movement session(s) with Alli (depending on length of stay)
5 & 7 night stays: 120 minute therapy – Shamanic healing or Chakra Wellbeing)
Extra activities such as morning yoga, breakfast at Rennes les Bain or hot springs and supper plus fire by the river
For further information and enquiries, please contact Jacinta Stevens: pr@masonrose.com