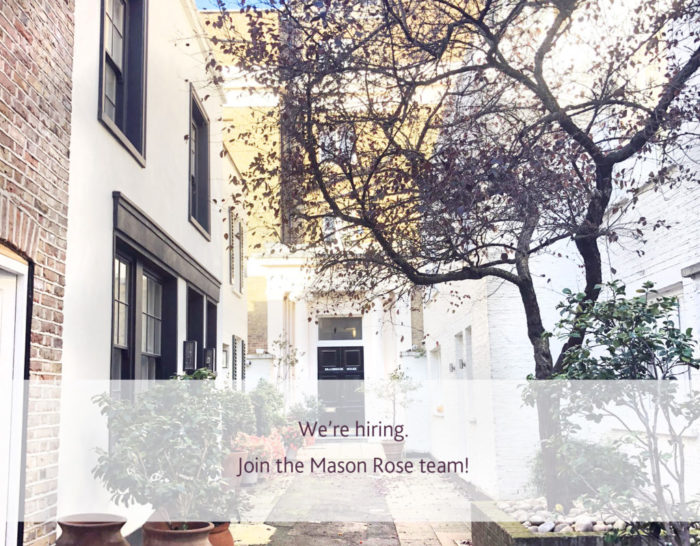 LEISURE SALES MANAGER
This position is ideal for a passionate, experienced and independent, hard-working professional. The role will predominantly involve working within as dynamic sales team and acting as an extension of our hotel clients' own sales teams – proactively increasing and requalifying our extensive leisure sales database. Main responsibilities will include developing business from travel agents, concierge / lifestyle companies and tour operators as well as helping to increase the hotels' visibility and sales in the UK market through events, sales calls, and familiarisation trips. Computer literacy is essential, as well as being a confident communicator. Luxury hotel / travel experience an advantage.
If you'd like to find out more, please get in touch and send your CV to Kym Jenkins: hiring@masonrose.com
DIGITAL COMMUNICATIONS DIRECTOR
The main responsibilities of this role include devising and implementing exciting digital communications campaigns for new and existing clients –that aims to grow brand awareness and generate sales leads across digital channels, manage digital partners to implement campaigns, develop reporting process that demonstrates quantifiable results, monitor and respond to all digital trends, provide in-house and external training where required, creatively edit imagery / video for social content purposes and growing our digital influencer database. Required experience includes implementing lead-generating digital campaigns, working with creative platforms, managing partner agencies and expertise in team training.
If you'd like to find out more, please get touch with Jenni Holman:hiring@masonrose.com 
About the company: Mason Rose is a leading international sales and communications representation agency for travel and hospitality, property, luxury lifestyle and wellness brands with offices in London, Madrid and Munich. We represent many of the world's most well-respected luxury independent hotels and hotel collections, amongst other highly regarded travel and wellness brands.
Our Guiding Values: Integrity || Collaboration || Innovation || Influence || Knowledge || Proactivity || Passion
At Mason Rose, you will find a friendly team environment where people feel valued. We offer hybrid options between the office and home and flexible hours, competitive salaries, and training and development support.