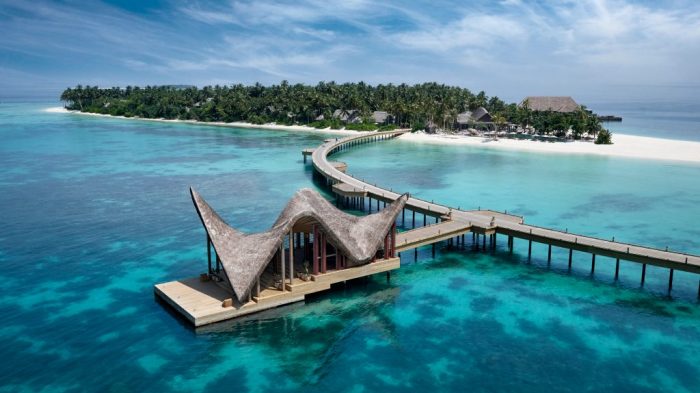 Launched at the end of 2018, a tiny dot in the Indian Ocean's vast and remote Raa Atoll, Joali stands out from the crowd of luxury resorts in the region with its focus on the human story and nature, preserving and protecting the place that the team love the most by shining the spotlight on sustainability. Set on the picture-perfect Muravandhoo island, Joali comprises 73 elegant and private beach and over-water villas and residences, showcasing the way in which luxury travel and sustainability can effortlessly go hand-in-hand with impeccably stylish design.
Sustainable Glamour
Joali is the epitome of sustainable glamour. Even before guests have arrived, the luxury resort offsets all carbon emissions from their stay by working with local communities to re-plant trees. In designing the resort, construction was designed around the island's trees to preserve the natural flora of the island. This conscious decision saved over 1,000 original palm trees which remain throughout the resort today. Away from Muravandhoo, Joali's owners have also bought neighbouring islands, keeping them completely untouched in order to preserve their natural environment as well as stop any further hotel development, thus keeping the resort's exclusivity and privacy intact.
Joali is devoted to taking necessary steps to ban single-use plastic, offering suitable alternatives to all guests and staff. All bathroom products are vegan and chemical-free to protect corals and sea life. Helping to benefit local communities, the team has a policy to source local goods, especially goods from neighbouring islands, where possible, and many vegetables and herbs are grown on-site. Joali's focus on eco-luxury means that all plastic used on-site is both recyclable and recycled, food waste is recycled using an innovative rocket composter and the resort is investing in rainwater-powered energy supply. Joali is home to a desalinating water bottling plant which allows the resort to produce its own drinking water in glass bottles for all guest use. Rainwater is currently collected for gardening purposes.
Joali supports local CSR projects including educating local schools on the importance of sustainability and helping empower women in the Maldives. Joali has a commitment to hiring local women at all levels, from beach cleaners to senior management, and funds volunteer work with local schools to help girls and women gain skills needed for employment. Guests are encouraged to participate in local CSR projects, from distributing food packs for World Food Day on 16th October to planting corals with Joali's marine biology team.
Joali is proud to be part of EarthCheck, the world's leading scientific benchmarking, certification and advisory group for travel and tourism. Since 1987, EarthCheck has helped businesses, communities and governments to deliver clean, safe, prosperous and healthy destinations for travellers to visit, live, work and play.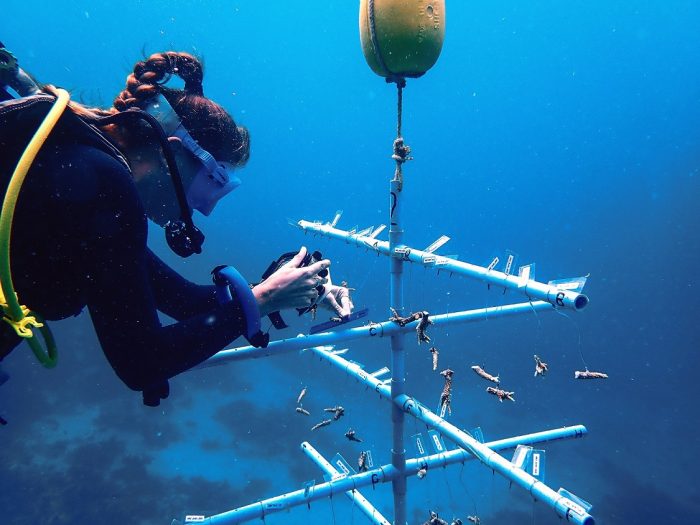 Marine Conservation
Joali is striving to help do its part in restoring and protecting the planet's reefs. In 2016, as a result of an extreme El Niño event, the reefs in the Maldives, and worldwide, experienced extended elevated ocean temperatures. In response, up to 95% of the corals in the Maldives were bleached and unable to recover leading to mass coral mortalities. In response to this ecological crisis, Joali has created its own pioneering Reef Restoration Project whereby Samantha Reynolds, an international Marine Biologist, is heading up their on-site coral nursery. The team are dedicated to nurturing what Samantha calls her 'fragments of hope' – tiny corals that she hopes will eventually transplant onto the existing house reef to help it regenerate.
Joali is a firm believer in sustainable fishing working closely with local Maldivian fishermen from the Raa Atoll to supply all of their locally-sourced fish. These fishermen do not use nets and therefore help to protect the rich seas of the Maldives. In June 2019, Joali started working with the local government to track catches with their on-site Marine Biologist to help track local fish numbers. The luxury resort also encourages guests to go out line-fishing with the local Raa Atoll fishermen to learn local fishing techniques and learn about the importance of sustainable fishing practices.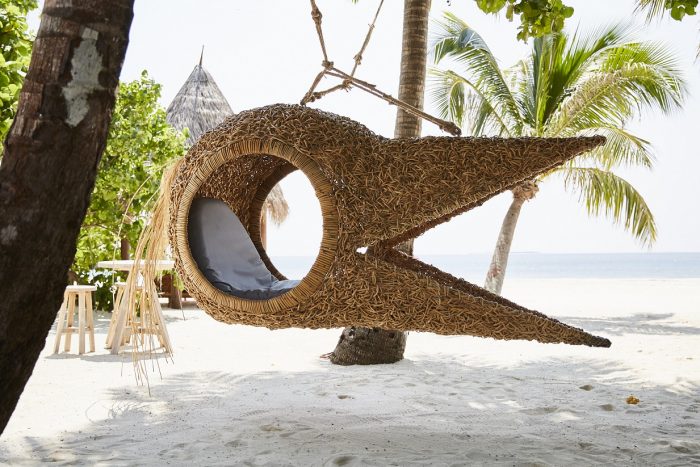 Eco-Inspired Artwork and Sustainable Design
Conceived as an immersive art retreat, Joali has opened as the first of its kind in the Maldives with an array of original, experiential works of art and dynamic design, reflecting the beauty of nature, and with sustainability at their core. Dotted around the resort, adorning villas and hidden beneath the waves are a collection of extraordinary works by 13 international up-and-coming artists, hand-picked by curators and concept developers of No LaB; Ala Onur and Zeynep Ercan. From sculptures to design and experiential pieces, No LaB has chosen pieces which capture and conserve nature both visually and materially. Each artwork is thoughtfully integrated into their natural surroundings: some pieces were created by artists on-site with recycled local materials, others were created using recycled and sustainable materials from around the world and specially adapted for the resort's tropical climate. Vernacular architect Porky Hefer, who recently partnered with the Leonardo DiCaprio Foundation at Art Basel, displays his signature passion for local wildlife and endangered species, with his hanging 'Heron' chairs, which overlook the beach. The grey heron is the national bird of the Maldives and Joali's signature, spirit animal. Hefer's astonishing Manta Ray hideaway, woven in-situ from natural materials is suspended in the trees, experiential dinners in the treetops. His imaginative, nature-inspired works are designed for functionality as well as style, and have a message of conservation.
Joali has rooms from $1,924 (approx. £1,520) per night based on two sharing a Beach Villa with Pool on a B&B basis.
Read more about JOALI's coral nursery and the action being taken to protect the reef.
For further information, contact the Mason Rose office on +44(0)20 7201 8050 or email press@masonrose.com