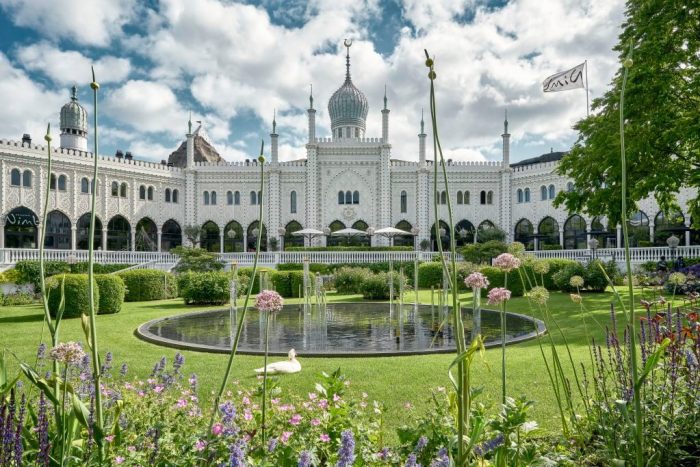 A Moorish-styled palace with a striking Venetian marble façade facing Copenhagen's iconic Tivoli Gardens, Nimb Hotel retains a warm and friendly boutique feel as it offers just 38 elegant rooms and suites – 21 of which were added at the end of 2017.
With the help of New York based architects Pei Cobb Freed & Partners, Nimb Hotel is pursuing an extensive expansion plan that will culminate at the end of the summer in a brand-new roof terrace (complete with rooftop pool and bar), a sports club (equipped with the latest high-tech equipment), and new treatment rooms.
At the end of 2017, Nimb Hotel completed its exciting expansion of rooms, adding an additional 21 suites in the newly built Tivoli Corner – resulting in a new 2,000 sq. metre wing to the hotel. As well as Nimb Hotel, Tivoli Corner houses several restaurants and the Tivoli Food Hall, which features 16 different food stands, and Scandi-favourite Illums Bolighus – a shop that offers an exclusive range of Danish and international home décor brands (including Georg Jensen, Royal Copenhagen, Stelton, City Lassen, Glerup and Rains).
Iben Marburger, General Manager at Nimb Hotel commented that:
"The expansion of Nimb Hotel by a further 21 rooms and the roof terrace allows us to reach for even greater heights in regard to the service we can offer guests. We now have the exotic charm of the old building and the bang up-to-date design experience of the new one, giving us a perfect opportunity to create authentic experiences to suit each individual guest."
LOCATION:

Nimb Hotel is located in the iconic Tivoli Gardens in central Copenhagen. Guests staying at Nimb Hotel receive private access to Tivoli Gardens – a special perk during the spring and summer months when musicians from around the world flock to the Gardens for small gigs and large, open air concerts.
The young and sophisticated have been gathering at Nimb Hotel since the early 1920s. In the 1930s, the state radio broadcasted live transmissions from the hotel, and Nimb became known nationally for its glamorous parties and support of up-and-coming artists.
INTERIORS
Designed by Tivoli director and architect Knud Arne Petersen in 1909, Nimb Hotel is a seductive fusion of Arabian nights-style opulence and a Hans Christian Andersen fairy tale, with a soupçon of chic Scandi minimalism embedded throughout.
Featuring Italian marble stucco flooring, crystal chandeliers, Danish antiquities and spinning wheels hung on walls, Nimb Hotel is a design lovers' paradise.
ACCOMMODATION
Part of Nimb Hotel's renovation project (to be completed summer 2018) included the expansion of rooms from 17 to 38. Completed at the end of 2017 by design expert René Jasper Thomsen, the 21 new suites (housed in the newly built Tivoli Corner) have been individually designed with hand-picked art adorned on the walls and carefully selected antiques on display. Each suite also includes a private balcony that faces the Gardens.
Each room (including the 21 new suites) has been designed with the motto 'feels like home' at the forefront, so that they warmly embrace the Danish meaning of 'Hygge'- a trending term that can be applied to special moments, people, or experiences that evoke a sense of cosiness and/or cute charm.
Featuring double sinks, large bath tubs (complete with Meraki spa products), B&O sound systems, classical art, unusual antiquities and cosy fireplaces, all of the rooms at Nimb are designed to feel like a stylish home away from home.
For the ultimate luxury, guests can book the Executive Suites 'Vilhelm and Louise'.  Featuring a four poster bed, open-plan dining and living area, private terrace, and two bathrooms (For Him and For Her), guests can enjoy the best possible views of the open-air stage in Tivoli Gardens in maximum comfort.
With Chinese pagodas, a boating lake with a pirate ship and cherry trees strung with fairy lights, Tivoli Gardens' after-dark illuminations bring a little dazzle to Copenhagen, and guests can gaze over this magical scene from their Corner Suite.
RESTAURANTS
Boasting seven restaurants and bars, Nimb Hotel offers a gourmet adventure to suit all tastes, ranging from traditional open-faced sandwiches at Fru Nimb and French brasserie classics at Nimb Brasserie, to organic greens 'with a culinary twist' at Gemyse and sumptuously grilled meats and seafood at Nimb Bar'n'Grill
NIMB VINOTEK
FRU NIMB
GEMYSE
CAKENHAGEN
NIMB BRASSERIE
NIMB BAR 'N' GRILL
NIMB BAR
WELLNESS
By the end of the summer, as part of the hotel's extensive renovation project, guests will be able to enjoy a new rooftop pool, sports club and chic new treatments rooms.
Highly trained therapists are available on request for such treatments as massages and facials. There is also an on-site gym, complete with cardio equipment and free weights, and guests can book private yoga sessions through the Concierge.
To speak to the Mason Rose PR team about the Nimb Hotel, please call 020 7201 8050