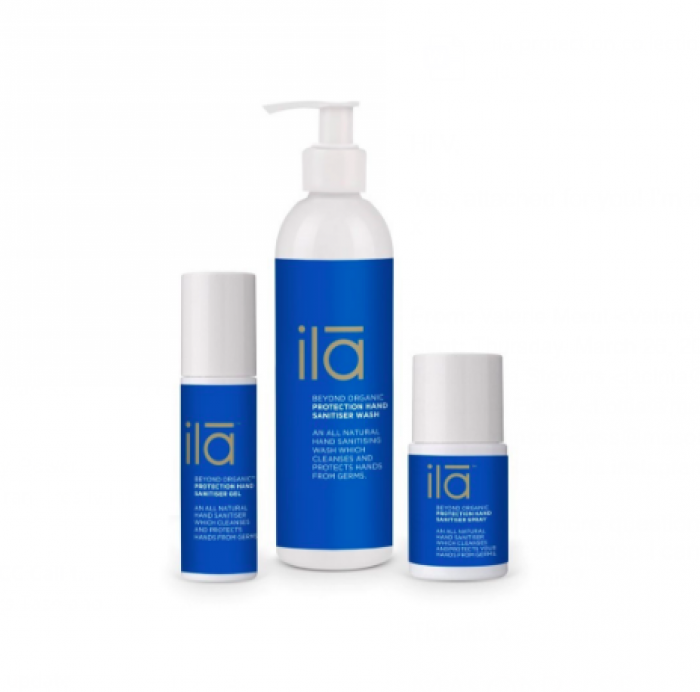 In response to current global health concerns, ilā has gathered its extensive knowledge of natural ingredients to develop and launch three protection hand sanitiser products in-keeping with their commitment to the highest standards of ingredients-sourcing and care for the emotional wellbeing of their customers.
Using a simple but powerful formula of oregano, thyme and tea tree without any chemical nasties, the three sanitiser products cleanse and protect hands, keeping them clean and fragrant.
Protection Hand

 Sanitiser

 Wash

 (250ml

. RRP: £15)

 

Protection Hand

 Sanitiser

 Spray

 (30ml

. RRP: £12

): handbag-sized. Spray as required onto hands, rub in thoroughly and let dry 

 

Protection

 Hand

 Sanitiser

 Gel

 

(30ml

: RRP: £8

): handbag-sized. Pump onto hands, rub in thoroughly and let dry 

 
To complement these, an oregano, tea tree and eucalyptus hand and body lotion is also in development and will soon be added to the collection to soothe and protect.  
Harnessing the power of nature, ilā's protection collection uses oregano oil, thyme oil and tea tree for their inherent defensive properties:  
Oregano Oil

: an effective natural antibiotic and anti-fungal oil that has been shown to stop the growth of several different types of bacteria. It supports the immune system and protects against toxins. 

In addition to fighting off bacteria, some test tube studies* have found that oregano and its components may also protect against viruses; in particular, carvacrol and thymol are two compounds that have been associated with antiviral properties. Research has found that oregano essential oil carries strong antioxidant properties and it has traditionally been used to treat fevers and respiratory symptoms associated with the flu. Additional studies have also found that oregano essential oil can inhibit viruses in vitro in both humans and animals.  
Thyme Oil

: an antiseptic and antibacterial with known calming properties. A strong antioxidant that inhibits bacterial 

growth. 

Research continues to support that Thyme and its constituents – such as thymol, camphor, borneol, cavacrol, terpinenes, pinenes, cymene, terpineonols, citral and cineoles – can inhibit viruses by interfering with the glycoprotein molecule-lined envelope that surrounds many of the most virulent viruses, and are particularly effective in combination – as is found in the thyme plant.    
Tea Tree

: 

studies have shown that tea tree

 kills several common bacteria and viruses; it is also anti-inflammatory, antivi

ral and antifungal. Its germ-fighting properties make tea tree a valued natural remedy for treating viral conditions, preventing infection and promoting healing.

 
For further information and imagery, please contact Jacinta Stevens at Mason Rose: jacinta@masonrose.com / +44 (0)207 201 8060