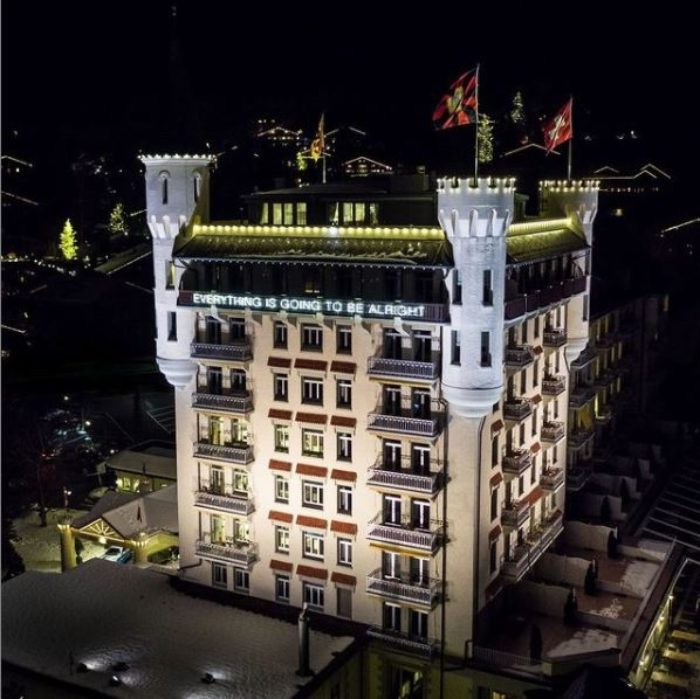 This winter season (until 7 March 2021) as a beacon of hope during these challenging times, the façade of the grand dame Gstaad Palace will be illuminated every day by a new neon work by acclaimed British artist Martin Creed – 'Work No. 3485 EVERYTHING IS GOING TO BE ALRIGHT'. This is part of an ongoing collaboration between the hotel and Hauser & Wirth since 2019.
Awarded the Turner Prize in 2001 for 'Work 227: The lights going on and off', Creed has become known for hugely varied work, which is uncompromising, entertaining, shocking and beautiful.
The work at Gstaad Palace is one of Creed's most well-known installations: the phrase 'Everything is going to be alright' has been used by the artist in a series of large-scale neon works since 1999. They have been installed across internationally renowned institutions and buildings, including the façade of the TATE in London, and most recently Braemar Castle in Aberdeenshire, Scotland.
The phrase draws on the comforting words Creed was offered by a friend:
"No one can really tell you everything is going to be alright, but despite that, many times in my life I have been very comforted by people saying something like that to me."
As we look ahead, Creed's words offer an optimistic message and encourage a contemplative response from the viewer.
The installation on the Gstaad Palace follows last year's project with US artist Jenny Holzer, who projected large, scrolling texts, known as her truisms, onto the building and the surrounding landscape.
For further information, please contact Natasha Berg at Mason Rose: pr@masonrose.com