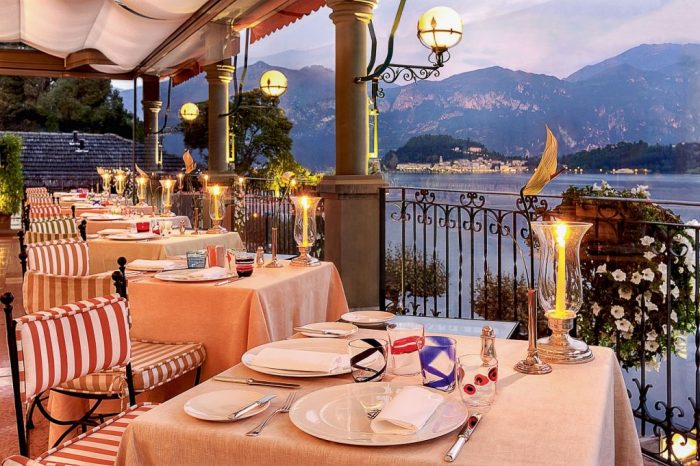 Lake Como's luxurious historic gem on the water's edge – has unveiled a beautiful lakeview kitchen in memory of late chef and Italian culinary maestro, Gualtiero Marchesi.
Decked in Carrara and French red marble, Venetian terrazzo flooring, beautiful copper-embellished ceramic tiling, and featuring wall-to-wall windows overlooking the Bellagio peninsula, the kitchen provides an extraordinary work space for both the hotel's chefs and guests enjoying first-hand cookery masterclasses.
Comprising separate areas for meat and bakery preparation, as well as its own miniature gelato and chocolate workshops, the kitchen is overseen by Osvaldo Presazzi: Executive Chef at Grand Hotel Tremezzo for more than 25 years.
To celebrate his passion for the inimitable Italian cuisine delivered across the hotel's restaurants, Chef Osvaldo welcomes visitors for private kitchen tours, pasta and patisserie-making sessions, or simply to take a break from the Italian summer sun and enjoy freshly-prepared gelato while discovering the culinary magic behind the swing doors.
In particular, the expert team occupying the new cucina are the masters behind the hotel's fine-dining restaurant, La Terrazza Gualtiero Marchesi, this year renamed in memory of the gastronomic star that devised its original gourmet menu.
Now the only place in the world where fans can indulge in Chef Gualtiero's signature dishes prepared in his own authentic style, this season's launch comes with a new menu concept celebrating his best-loved "works of art". Highlights include:
Rice & Gold: the classic Milanese risotto decorated with gold leaf
Dripping: a seafood melange influenced by the chef's friendship with Jackson Pollock
Red & Black: a striking entrée inspired by Lucio Fontana
Grand Antipasto: an elegant fish and lobster platter paying homage to Lake Como
Overseen by Chef Gualtiero's son-in-law, Enrico Dandolo, La Terrazza Gualtiero Marchesi will welcome guests seven days a week until Grand Hotel Tremezzo's seasonal closure on 10 November 2019, reopening in March 2020.
Read more about Grand Hotel Tremezzo's new villa and spa partnership.