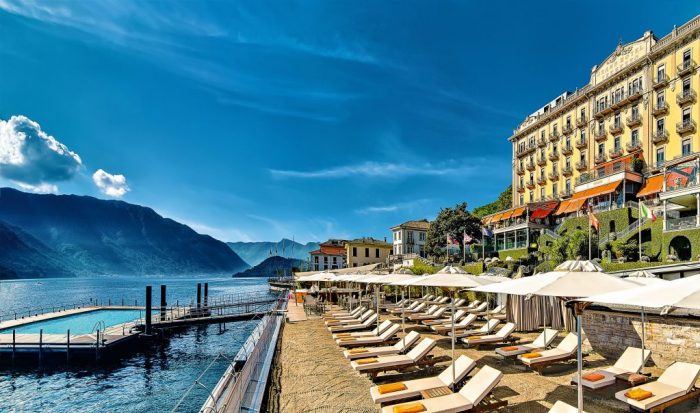 Grand Hotel Tremezzo – Elegance & Charm
It really does not matter how you arrive at the Grand Hotel Tremezzo: by private boat, car or ferry, the first impression of the hotel is something to behold. The location and the views over the lake are spectacular. Situated on the shores of Lake Como, opposite the village of Bellagio and surrounded by the beautiful Grigne mountains, the name conjures up images of grandeur and elegance.  As a first time visitor, I was not disappointed.
Upon arrival, we were escorted to our room, which had a stunning lake view. It was comfortable, classically furnished with an elegant, marble bathroom, furnished with luxury bath products. After a quick freshen up, we ventured downstairs for drinks and dinner. The beautiful terrace was a fabulous vantage point from which to enjoy an aperitif with the view of the lake and mountains, accompanied by candlelight and a piano.
The hotel actually has two restaurants and three snack bars from which to choose, although some are open during the day only. We ate at the La Terrazza restaurant, which showcased the fresh, locally sourced food on offer. The attention to detail and the food itself was second to none, which really demonstrated the pride and love the hotel takes in its customer experience.  The sommelier always offered a choice of interesting and carefully considered wines.
The following day, we were keen to try the sandy beach, which has been created on the shore of the lake. This has to be one of the highlights of the holiday. It was a special experience to sunbathe surrounded by mountains, as well as to swim in the floating pool on the lake. It meant that the holiday could be combined with total relaxation, as well as sightseeing in the beautiful villages dotted around the whole area. There is also another outdoor pool situated at the rear of the hotel, set among sumptuous gardens, as well as a heated indoor pool in the spa. We had lunch at the 'beach' on two occasions and found that the food was simple and well made.
Later that afternoon, we both had treatments at the T spa, situated on the lower ground floor of the hotel. The facial treatment was superb and I returned looking younger (I believe!), refreshed and ready for another gorgeous meal at La Terrazza.
We spent four nights at Grand Hotel Tremezzo in total, and have decided we will definitely be returning. This family run hotel, formerly an Art Nouveau Palace, is the ultimate in luxury and opulence. It manages to maintain its classic and timeless charm while at the same time, providing twenty first century service and attention to detail. We cannot wait to return next Easter.
By Lisa Farrow and Julian Farrow, Art, Luxury & Lifestyle Consultant