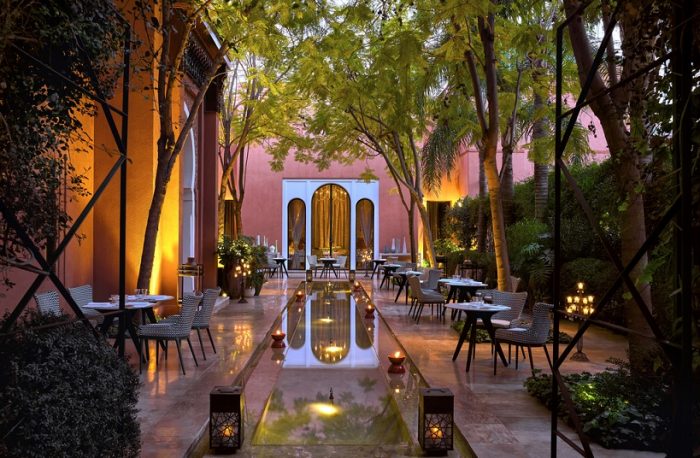 Marrakech is the perfect summer destination for foodies in search of a gourmand getaway and Royal Mansour Marrakech has a plethora of attractive gastronomic offerings to discover.
Guests can choose from the finest Italian delicacies at SESAMO, to the modern French cuisine served at the brand-new French brasserie, LA TABLE. For more privacy, THE NEST offers just the thing, a 40 square metre, open air dining space acting as an extension of Le Jardin.
Among the hotel's more established venues are LA GRANDE TABLE MAROCAINE serving unforgettable Moroccan delicacies and LE JARDIN, with its delicious Asian-inspired dishes.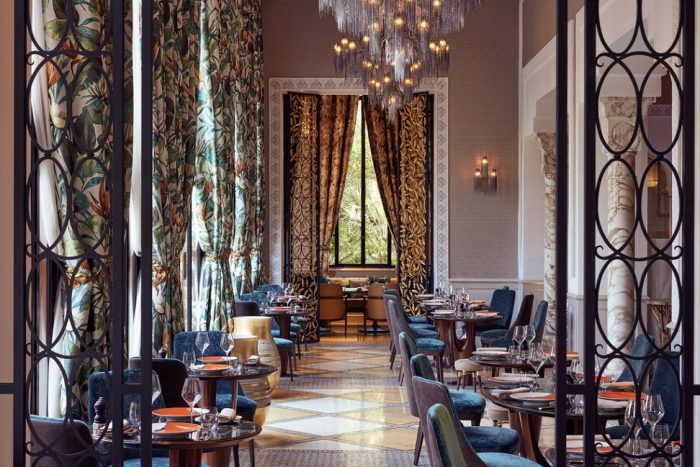 Delicious gastronomic experiences to enjoy in summer:  
Cuisine at Royal Mansour is led by 3 Michelin starred Yannick Alléno who creates delectable cuisine across LA GRANDE TABLE MAROCAINE, LE JARDIN, THE NEST and LA TABLE. Meanwhile, Massimiliano Alajmo – the youngest chef in the world to have received three Michelin stars – heads up SESAMO, a wonderful Italian restaurant launched at the end of 2019.
LA TABLE represents Yannick's modern reinvention of the French brasserie, an ideal dining location for any occasion. An ode to both land and sea, the menu combines magnificent flavours from the French culinary tradition and local products drawn from the gastronomic heart of Morocco, from matured prime rib to monkfish escalope (and its condiments of lemon, capers, fennel, and tarragon seasoned with parsley oil) and a selection of traditional French desserts, such as flambéed delights and fruity sweets. The venue offers several private spaces, including The Sommelier Table, Le Salon Écrin, The Guest Table and The Patio.
SESAMO is the hotel's Italian gastronomic restaurant launched in partnership with the ALAJMO group. Drawing on locally sourced produce grown with the help of an Italian agronomist, the menu blends Massimiliano's classic dishes, such as fried langoustine involtini in a lettuce sauce and crispy risotto with saffron, with innovative creations, such as garlic, oil and red pepper spaghetti with vegetables from the Royal Mansour gardens and even a signature dessert "Open Sesame, Apriti Sesamo", a sesame and almond nougat sphere filled with saffron, neroli and almond foam with a passion fruit and citrus sauce.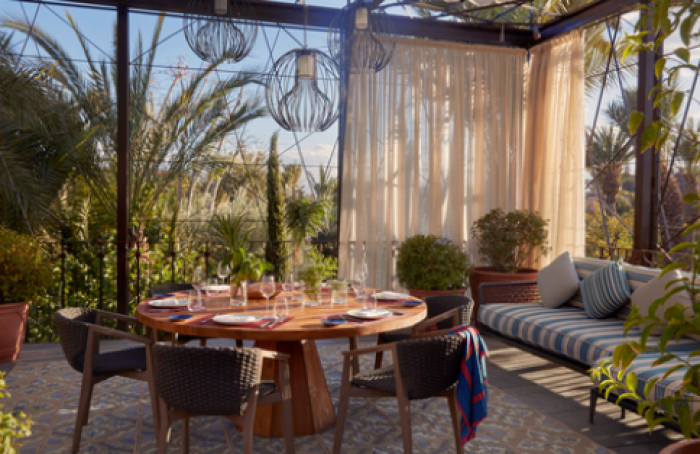 For dining above the Red City, THE NEST offers a new, private dining experience for up to eight guests, nestled within lemon and palm trees, elevated 5 metres above the gardens with uninterrupted views over Marrakech. This hidden sanctuary features a Mediterranean and Asian-fusion menu by Michelin-starred chef Yannick Alléno including royal sea bream ceviche, sirloin beef wagyu and a frozen coconut dessert.
Just a stone's throw from the medina and a short distance from the Yves Saint Laurent Museum, the hotel is conveniently situated near to many fantastic restaurants, including the panoramic Dar Yacout and the traditional Dar Zellij. For a less traditional experience, guests of the hotel can book lunch beneath a Bedouin tent in the Agafay Desert through the exceptional Concierge.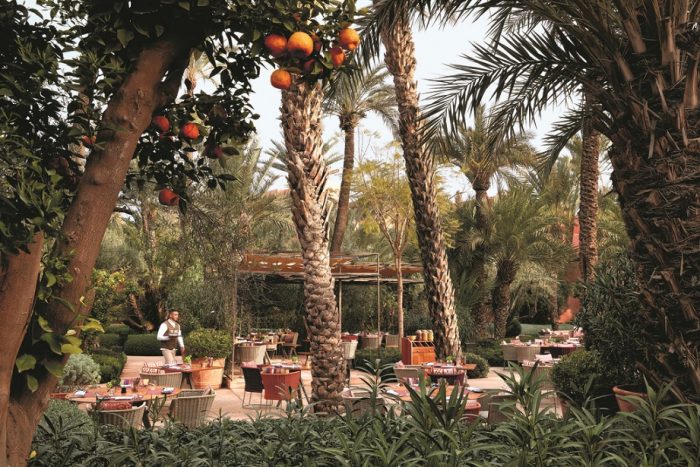 About Royal Mansour: Royal Mansour is a palatial oasis crafted by over 1,500 local artisans as an ode to traditional Moroccan architecture. A quiet retreat just steps from the Medina, guests are welcomed with an open-air courtyard, nearly four acres of lush gardens (which have recently been extended to incorporate a beautiful kitchen garden, Atelier d'Artiste and an elevated, private dining space) and private multi-story riads dotted along petal-pink pathways. No carts; no rooms; no crowds. What's more, it has an exceptional spa which – amongst its myriad relaxing treatments – offers one of the best hammam experiences in the world.
For further information about visiting Royal Mansour Marrakech, please contact Becky Wickerson in the PR team: pr@masonrose.com