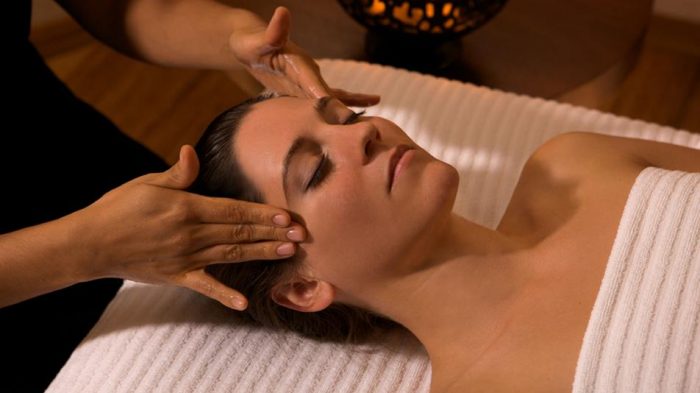 The Peninsula Shanghai Sleep Ceremony was exclusively created and designed by ESPA's founder and renowned spa authority Susan Harmsworth to meet the wellbeing needs of globetrotting travellers. The Peninsula Sleep Ceremony recognises that a restful and rejuvenating night's sleep is an essential part of the guest experience.
The exclusive 120-minute Sleep Ceremony enables guests to relax body and mind in the tranquil, candlelit surroundings of a private spa suite at The Peninsula Spa. The journey begins with an aromatic bath using ESPA's Soothing Bath Oil, a pure blend of Sandalwood, Rose Geranium, Myrrh and Frankincense, to ease tired and aching limbs. Guided meditation and breathing techniques release physical and emotional anxiety, and a hot stone body massage focusing on the vital energy points of the body releases harmful toxins and muscular tension. The sleep-inducing treatment is completed with a soothing face and scalp massage to relieve tight jaw and forehead muscles and calm the mind.
After the Sleep Ceremony, guests can relax and unwind in a relaxation bed in the tranquil sleep room before enjoying a light, nourishing lunch from the Naturally Peninsula Menu.
The Peninsula Sleep Ceremony is priced at RMB 1,680 (£200) and is available for booking at a special introductory price of RMB 1,380 (£164) until 31 December 2016.