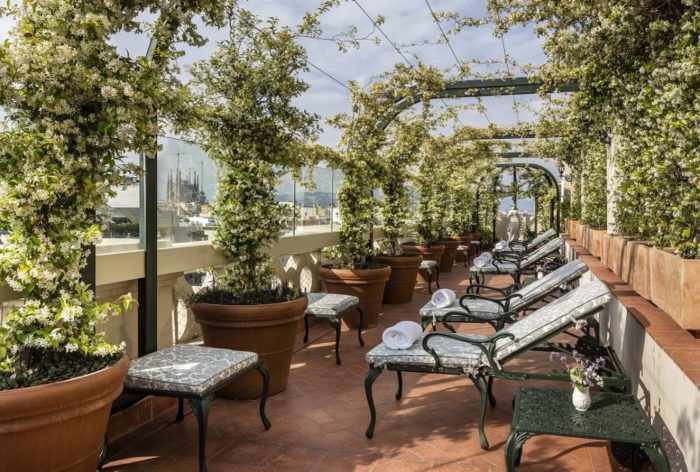 Re-opened on 1st April 2021, the iconic 5-star hotel in the heart of Barcelona is welcoming back its overnight guests and locals with an array of special offers and experiences, including complimentary transfers to and from the hotel (including Josep Tarradellas Barcelona-El Prat Airport or Barcelona Sants train station), a new signature pop-up experience on the Rooftop Garden, luxurious welcome gifts, and an exclusive insider's guide to Barcelona with top tips from the hotel team. 
To celebrate the reopening, El Palace Barcelona is transforming its seasonal roof garden terrace into a new pop-up dining restaurant  – La Masia El Palace, which is open throughout April. Named after the rural Catalan houses and restaurants, guests will feel like they are in the surrounds of the nearby countryside. Rustic catalan-inspired signature dishes are on offer, including truffled meat cannelloni and almond bechamel sauce, xató salad with romesco sauce, slow cooked lamb with ñora parmentier and garlic, and a delicious traditional Cadaqués tap (Catalan cream), rum syrup and vanilla ice cream. A three course menu will be available for lunch and dinner – with the latter exclusively for hotel guests.
Daily à la carte breakfast will also be served on the Rooftop Garden with indoor and outdoor seating options available, enabling guests to enjoy the warmer weather in the garden's beautiful setting, with its blossoming jasmine and panoramic city views.
Friedrich von Schönburg, General Manager, commented: "We are thrilled to welcome back our overnight guests and to continue providing memorable moments at El Palace Barcelona. Over the past year, we were fortunate to have our vast Rooftop Garden, and offer locals immersive experiences which have proven immensely popular. We look forward to continuing to provide the same level of quality service and experiences for our overnight guests and international travellers when they visit us soon."
To help guests make the most of their time in Barcelona and enjoy a truly authentic local experience, the hotel team has created an Insider's Guide to the city, which features their favourite tapas bars, where's best to watch a beautiful sunset, the coolest art galleries and peaceful squares hidden away from the crowds. The guide is included in El Palace Barcelona's new opening package 'Loving Barcelona.
El Palace Barcelona has implemented rigorous protocols for the cleaning and disinfection of private and shared spaces with monitored social distancing and digital solutions for guests such as online check-in, online room service, and digital concierge access, so they can continue to personalise their stays safely. Thanks to these initiatives, El Palace Barcelona received the "Hostelería Segura" certification of Hospitality of Spain and the international GBAC (Global Biorisk Advisory Council), and continues its commitment to the safety and health of its guests, team members and partners.
For further information or any enquiries, please contact the Mason Rose team: sales@masonrose.com