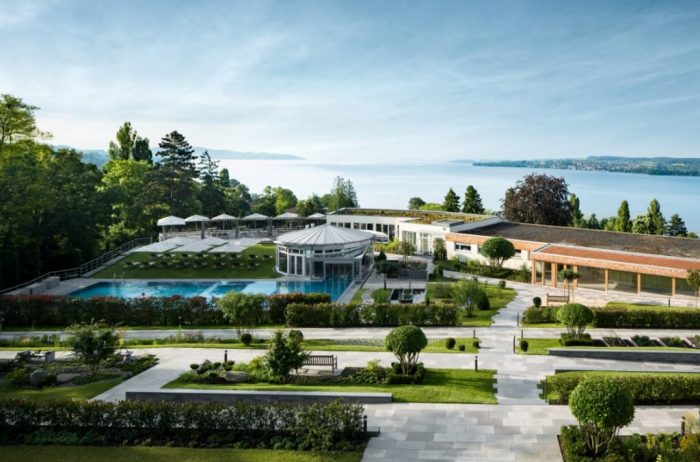 Morning:
Throughout the stay, guests receive individual medical care from a doctor and an attentive nurse provides support; the day begins with a morning health check:
On getting up or after a morning walk, a trained nurse will check blood pressure, blood sugar levels and weight, depending on the doctor's instructions. Guests can talk to the nurse about their general state of health and their daily programme as well as medical and therapy appointments.
After this morning tea is served to guests' room. If guests are not fasting, have not yet started or have completed the fast, they can enjoy a delicious breakfast in Buchinger Wilhelmi's bright and friendly restaurant.
As well as countryside walks, yoga and Pilates is offered in the mornings to help give circulation a gentle boost. Courses on relaxation techniques and meditation also take place regularly in the mornings.
Midday:
While fasting, the daily diet generally comprises healthy liquids: approx. 1.5 to 2 litres of mineral water, as well as fruit juices, vegetable consommé and herbal teas with honey.
Guests who are not fasting are served a vegetarian wholefood menu of organic gourmet cuisine in the restaurant. Whether fasting or not, at Buchinger Wilhelmi, all mealtimes are considered "precious" moments in the day for culinary delight and social interaction.
After the midday refreshment, there is time to relax where the nurse will apply a warm liver pack to guests in-room to stimulate the metabolism and provide a feeling of blissful relaxation.
Many guests use this "siesta" to read, listen to music, write, sleep or simply relax and let their thoughts drift.
Afternoon:
The second, more active half of the day begins with a beneficial herbal tea with a spoon of honey. Guests can take a stroll or a guided walking tour; depending on fitness level, choose between a moderate or a challenging pace get the heart pumping and build strength while experiencing the beauty of the surrounding countryside.
For those who would like to see more of the region of Lake Constance, guests can join Buchinger Wilhelmi's half-day excursions.
Alternatively, take an art class or gain inspiration for the new phase in life after fasting with some cooking lessons or simply do nothing and enjoy free time without any obligations.
Evening:
The day is wrapped up with a light evening meal of vegetable consommé for guests who are fasting or a wholefood menu for non-fasters. This is followed by a varied programme of cultural fare:
Buchinger Wilhelmi organises concerts, literary evenings, visits to exhibitions and festivals, lectures on medical, philosophical and socio-political topics before a good night's sleep.
All day
The balance between relaxation and exercise is immensely important for holistic wellbeing, which is why Buchinger Wilhelmi's gym, fitness area, tennis court, sauna and heated swimming pool are open all day.
In addition to Nordic walking, water gymnastics and fitness, guests can choose from activities which combine physical activity with relaxation and mental concentration like yoga, Qi Gong or Tai Chi.
The wide range of therapies, treatments, baths and massages that focus on the body are also conducive to the interplay between stimulation and relaxation, as are autogenic training, meditation or psychotherapy for the mind.