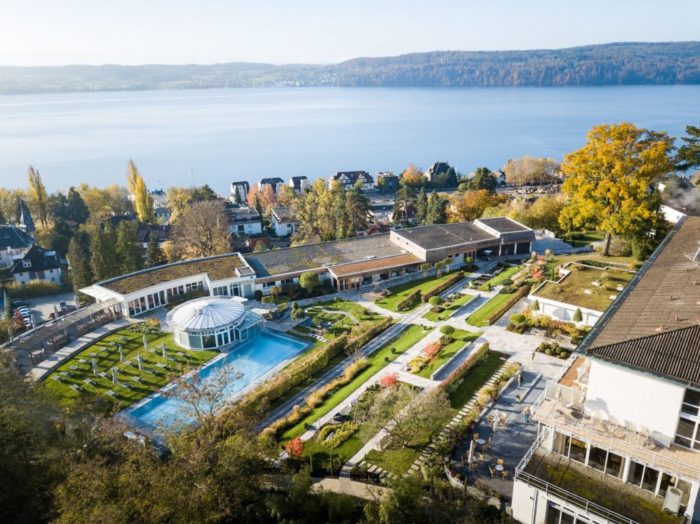 September 2020 – Empowering people to live a long and healthy life, world-leading therapeutic fasting and integrative medicine clinic, Buchinger Wilhelmi, on Lake Constance in Germany has launched a new Immunity+ Programme.
An add-on to any fasting or wellbeing stay at Buchinger Wilhelmi, the Immunity+ Programme aims to strengthen both body and mind, with the specific target of reducing the main risk factors for severe cases of coronavirus and chronic disease (such as obesity, cardiovascular diseases, diabetes, liver disorders), and to boost the immune system.
Buchinger Wilhelmi's medically-proven methods – with a fasting programme that was first developed over 100 years ago – is continuously honed, both in cooperation and response to university research centres and rapidly evolving international scientific findings, which the clinic itself often leads. The present-day Buchinger Wilhelmi Programme is based on classical Buchinger therapeutic fasting, with added elements and methods from integrative medicine and inspiring incentives for the mind and soul.
Dr Francoise Wilhelmi de Toledo, Scientific Director at Buchinger Wilhelmi and an expert and published academic author on fasting therapy and integrative medicine, explains the benefits of intermittent fasting and immunity:
"When you fast, all your digestive processes are in rest. Without needing the energy to digest, all stresses are diminished and you actually need less immunity. During this time, you change your microbiome. You stimulate the lungs, skin, kidneys, liver and the system itself triggers autophagy; an extraordinary capacity of the body to eliminate damaged cellular structures. When you fast, you activate stem cells to rejuvenate immune cells."
The Immunity+ Programme contains the following and costs 110 € (approx. £98) as an add-on to the Buchinger Wilhelmi fasting programme:
Essential equipment
Analysis of coronavirus status: one throat swab
Individual risk analysis (anamnesis, physical check-up, blood test including metabolic risk profile)
Special supporting plan to strengthen your body, psyche and immune system
To further minimize individual risk factors, the clinic also offers the following additional services, among others, depending on individual health requirements:
Prolonged blood pressure measurement
Stress ECG
Pulmonary function test
Micronutrient infusion (including vitamin B,C and D infusions if needed)
Individual hiking
Stop smoking programme
Dr Francoise Wilhelmi de Toledo's top tips for boosting immunity:
Quality and quantity of food is crucial. Eat enough quality food to stimulate a good anti-oxidant status.
Practise fasting and intermittent fasting to lose weight.
Avoid junk food. The sugar and cheap fat in junk food enhances metabolic stress which reduces immunity.
Eat foods rich in Omegas 3 and 6; fatty fish, eggs, flaxseeds, walnuts
Oxidative stress from pollution, radiotherapy, radioactivity, drugs, pesticides etc. is counterbalanced by food rich in antioxidants
Eat brightly coloured food including berries, pomegranates, grapes, apricots, carrots
Ensure Vitamin D levels are sufficient
Get enough sleep; too little sleep causes high levels of cortisol in the blood which affects weight loss
Try and get in sync with nature's rhythms. Early to rise, early to bed enhances immunity
Life events like a sudden death seriously deplete immunity. Seek bolstering emotional health support
While social distancing is important, some social contact is vital or immunity decreases. Loneliness lowers immunity
Watch your emotional balance; stop toxic mental activity like self-criticism and ruminating on the past. Meditate. Consciously breathe
Don't lie in the sun too much. Exercise in the sunshine instead
Practise gratitude as a means to joy. Higher emotional wellbeing stimulates immunity
The clinic has managed to successfully stay open throughout the current crisis thanks to its testing system on arrival, distancing measures and privacy throughout a stay. Upon check-in, all guests are tested for coronavirus with a quick blood test, relaxing in a private room while the results – which take just a few minutes – are made available. After clear results from the laboratory, guests are able to go to their rooms to begin their stay.
Buchinger Wilhelmi offers 10-day fasting programmes from £2,340 per person. The price includes two consultations with a doctor, daily nurse check ups, food/drink, fasting provisions and daily activities. Shorter, non-fasting stays are also available from £218 per night. 3- and 7-night health-focused breaks are also bookable.
For bookings, please call +49 7551 8070