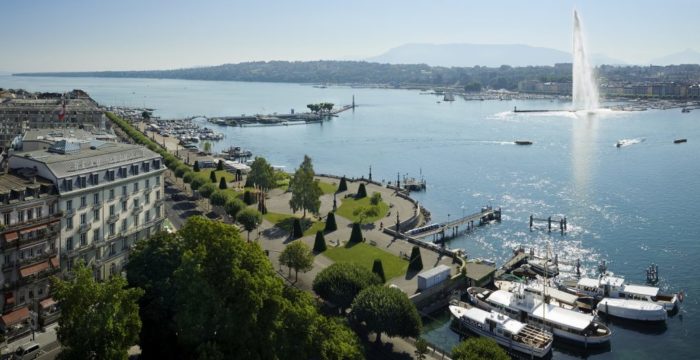 From Cycling and Surfing to Mountain Foraging and Cheese Tasting
July 2021 – Beau-Rivage Genève is excited to kick-off the summer season with an inspiring programme of seasonal outdoor pursuits including adrenaline-fuelled activities on the Lake and surfing in The Alps through to more genteel mountain foraging and birdwatching experiences.  The storied hotel provides the perfect post-lockdown escape with its prime location on the city's leafy Quai du Mont Blanc, overlooking Lake Geneva with The Alps and Swiss countryside all within easy reach.
In keeping with the current trend for nature-based activities, the hotel has curated a carefully-selected choice of summer activities themed around Lake, Mountains, On The Road and Sky, designed to appeal to all types of travellers from adrenaline junkies and intrepid adventurers through to culinary connoisseurs and culture seekers.  Summer programme highlights include:
Glide across Lake Geneva on The Wing, the brand new board-riding craze, which is a hybrid between windsurfing and kite surfing.  The sport involves standing on a compact board equipped with a hydrofoil, allowing individuals to fly over the water while being pulled by a very light wing with an inflatable structure. No previous experience of windsurfing or kitesurfing is required. Full tuition is provided according to levels of experience. Stand up paddle boards are ideal for beginner or intermediate riders and more accomplished riders can use a foiling board. This activity is in partnership with Geneva's Tropical Corner Watersports Centre. Prices start from CHF 75/£58 for a junior session (individuals under 20 years of age) or CHF 90/£70 for adults for a 55 minute lesson including all equipment.
For something a little more tranquil, guests may wish to try their hand at a new sunrise Stand-Up Paddleboard Yoga Session in partnership with local Yoga Shop Genève.  Enjoy the early morning serenity of the lake whilst benefiting from a great core workout which combines balance and flexibility.  Participants will be gently guided through their practice by an expert instructor.  Sessions start from CHF 50 per person for a group session with up to 5 people or CHF 140/£109 for a one to one lesson.  This includes tuition and all equipment.
Try your hand at surfing Swiss Style with a day trip to the new Alaïa Bay surfing pool.  The 8,300 sq.m surfing pool opened this month and is located a few moments from Crans-Montana.  This is the first man made surf pool of its kind in Europe, powered by the revolutionary and sustainable Wavegarden Cove technology which is capable of producing between 300-1000 waves per hour.  There is a surf school which provides instruction for complete beginners through to more accomplished surfers as well as hire of surf boards and wetsuits.  Price start from CHF 114/ £89 per lesson for children aged 6 to 12 years old and from CHF 129/£100 for adults.  Prices include tuition and all equipment.  Beau-Rivage can provide return transfers if required.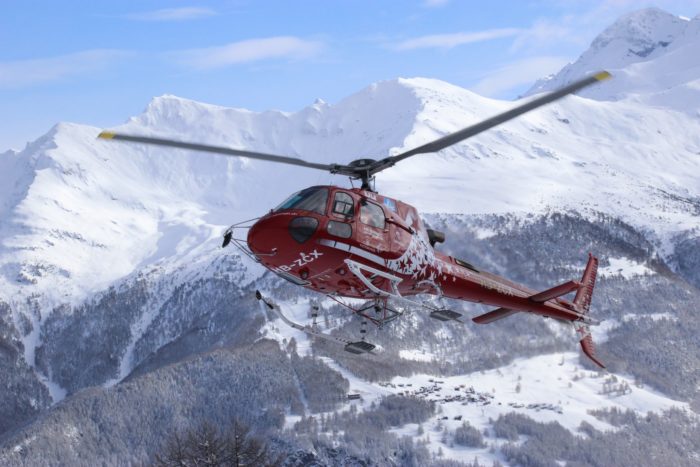 Enjoy an exhilarating ride in a helicopter to the summit of Mont Blanc or the Matterhorn, soaring above Lake Geneva and The Alps.  Land on the glacier and enjoy a glass of Champagne whilst taking in the incredible Alpine views.   The helicopter trips can take up to five people and start from CHF 3,800/ £2,975for the 70 minute excursion.
Wildlife enthusiasts will love the opportunity to observe the many species of migratory birds in Geneva Harbour, which due to its geographical location provides an ideal habitat for these creatures.   Guests can enjoy a one-to-one session with an expert ornithologist who will provide a fascinating insight into the many species.  Prices start from CHF 600/£470 for a four hour birdwatching session.
Early risers can enjoy the meditative Les Aubes Sunrise Concerts taking place from 1st through to 29th August.  The mesmerising 60-minute performances take place from 6am, accompanying the spectacular sunrise over Lake Geneva. The concerts are free of charge. 
Geneva's local mountain, Mont Salève, located 900 metres above the Jet d'Eau is home to a variety of colourful flora growing in the meadows, forested areas and along hedges.  These plants are known to have many health benefits.  Guests who are interested in learning can enjoy a full day or half day tour of the picturesque Mont Salève with a local expert discovering these medicinal plants and their benefits and how to prepare them.  Prices start from CHF 250/£195 for a group of two people for half day and from CHF 500/ £391 for a full day with the option for a picnic lunch at an additional cost.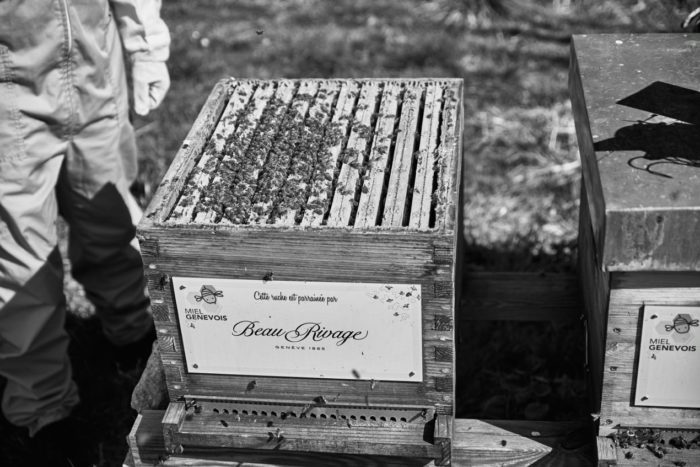 Discover the Beau-Rivage Bees
Take the half an hour trip to Satigny, Switzerland's largest wine producing region and home to the hotel's very own beehives. The trip begins with a visit to the Beau-Rivage beehives, providing the hotel with organic local honey, where an expert will provide an overview of the delicate honey production process and why bees play such a vital role in our eco system.   There will also be an  opportunity to sample and purchase some of the delicious golden produce.  This is followed by a picnic lunch in one of the region's picturesque vineyards with many seasonal delicacies to enjoy, and of course a glass of local Satigny wine.  Prices start from CHF 250/£195 for a half day visit or CHF 500 /£391for a full day visit including a picnic lunch. Price excludes transport.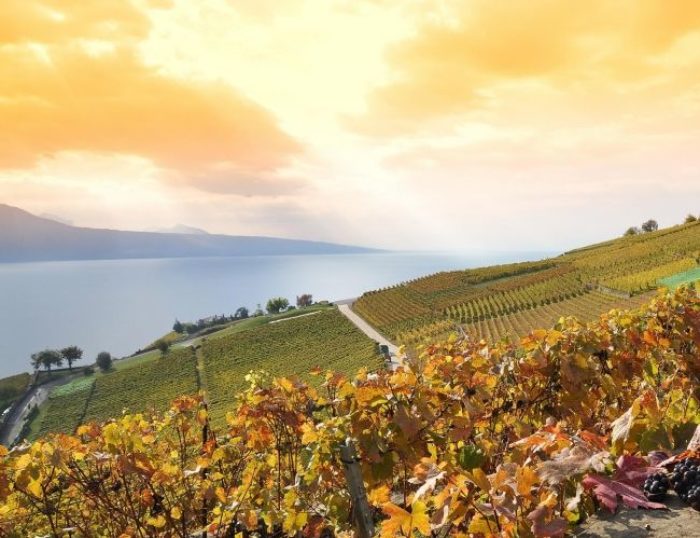 Farm & Cheese Experience
Passionate foodies will love this opportunity to gain an insight into local agriculture and farming with a half day visit to local organic farm, La Touvière. The visit will include a comprehensive tour of this family-owned far collective, covering its extensive fields of crops, vineyards, herd of dairy cattle, milking sheds as well as the opportunity to meet the resident goats. Guests will enjoy an exclusive tasting session of the organic seasonal produce from the farm including wine and goats cheese. The half day visit starts from CHF 350/£275 for up to four people.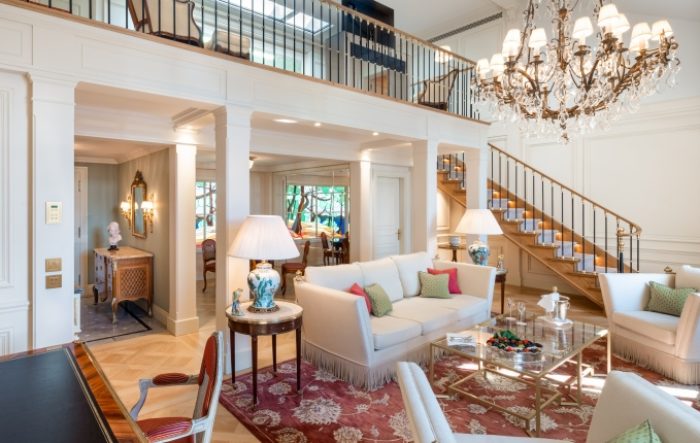 Exploring Geneva on two or four wheels
Beau-Rivage is encouraging guests to go out and explore Geneva and the surrounding countryside on two or four wheels this summer with two brand new packages for the season following partnerships with innovative Swiss-made MILOO e-bikes and TESLA:
The new Bed & Bike package is valid for bookings between 28th June and 31st October and includes:
One night in a classic room for two people including breakfast
The use of a Miloo e-bike for half a day (morning or afternoon) Suitable for individuals aged 16 and above. (Speed limit is 25 km/h for safety)
Recommendations from the Concierge team on suitable routes based on preference/ability
Option to add a picnic basket with local Swiss specialities
Rates: The Bed & Bike package starts from CHF430 based on two people sharing a classic room.  Flexible cancellation policy, up to 24 hours prior to stay
The Tesla Experience Package is valid for bookings between 1-31st August and includes:
A one-night stay in a deluxe Lake View room with full breakfast
The use of a TESLA, Model 3 for up to 300km for a maximum of four hours (minimum age for driver is 25). Including the Tesla e-introduction
Recommended driving routes based on preference – provided by the Concierge
Option to add a luxurious picnic basket of local Swiss delicacies and half a bottle of Champagne
Welcome amenity
Rate: The Tesla Experience Package starts from CHF 930 in a deluxe lake view. ( Please note that the car is not available for use on a Sunday.  Car hire offer can only be used once during the stay)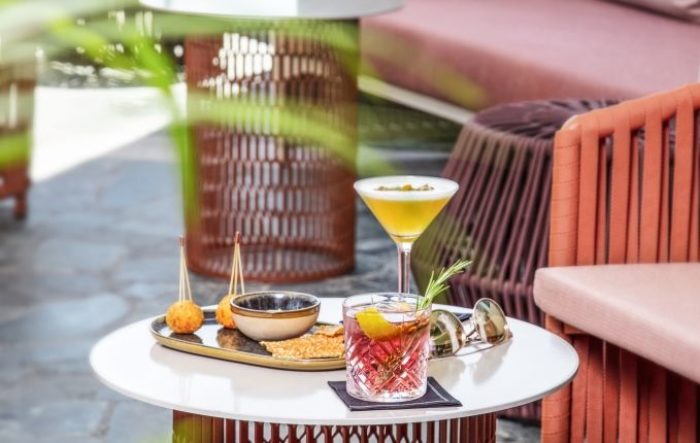 Other summer highlights at the hotel include live DJ sets on the terrace of the stylish Albertine's Lounge from 17th June through to 6th August.  Guests can enjoy cool electro beats with views over the Lake and a tempting selection of creative cocktails and delicious Asian and Mediterranean-inspired tapas plates on offer. Further culinary delights can be enjoyed at the hotel's pop-up restaurant, La Terrasse by Dominique Gauthier which returns for the summer (open for lunch and dinner Tuesday to Saturday).  The highly-acclaimed chef who presides over the hotel's Michelin-starred Le Chat-Botté restaurant in the winter months has created a menu of light Mediterranean-style dishes using the freshest local and seasonal ingredients.
Those with a sweet tooth will enjoy the summer pop-up patisserie in Albertine's Bar with French pastry chef, Philippe Rigollot, recipient of the World Pastry Champion accolade in 2005.  From 11th June to 12th September, the esteemed chef will be tempting guests with his world famous sweet creations and mouth-watering ice cream. Guests can look forward to a sensational selection of three signature sundaes, created with handcrafted ice cream with flavours including chocolate, pistachio, praline, passion fruit and caramel.  There will also be four specially created pastries including The Smith Tart featuring sweet pastry, almond cream, apple marmalade, vanilla mousse and Manzana topping.
Beau-Rivage Genève has rooms starting from CHF490 (approx. £400) per night, based on two adults sharing a Classic Room on a room-only basis.
For further information on Beau-Rivage or for bookings please visit beau-rivage.ch/en or telephone +41 22 716 66 66. The hotel is currently operating a flexible booking policy of up to 24 hours prior to arrival.  Information on the current Covid protocols can be found here