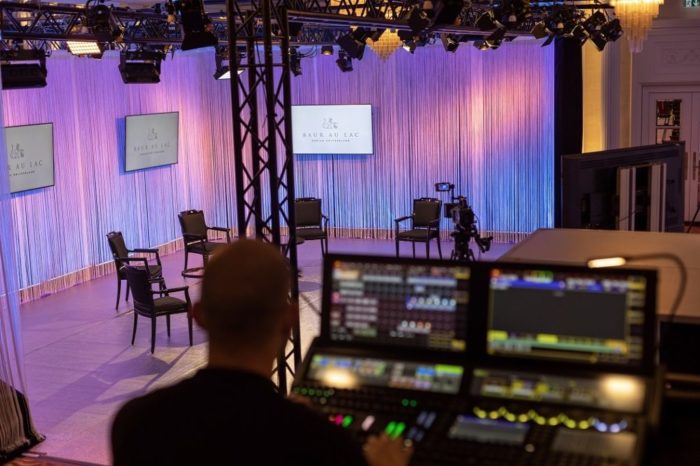 The coronavirus pandemic has revolutionised our global and everyday communication methods in an unprecedented way. Communicating digitally via video has become the norm, which led to an increased demand in hybrid meetings amongst many industries and companies. Zurich's grand dame icon, Baur au Lac, reacted instantly to this with the creation of its own hybrid meeting space with expansive state-of-the-art facilities and a dedicated IT-support team to help facilitate all client needs. Once again, Baur au Lac is adapting to the times and reinventing itself with the creation of Studio Baur au Lac.
Located in Baur au Lac's historic 206 sq.m ballroom "Le Petit Palais", Studio Baur au Lac has been created this January as the first permanently installed streaming studio in a five-star hotel in Switzerland.
From now until the end of April 2021, the studio has been set up as a multifunctional and elegant hybrid event venue and TV studio. Events such as product presentations, lectures, press conferences, interviews or even concerts can now be live streamed or pre-recorded thanks to this new facility in Zurich. In addition to live streaming and videoconferencing, interactive feeds of guest speakers, live voting as well as live translations and Q&A sessions are possible.
The 60 sq.m studio stage features video screens and a flexibly coloured background. From the stage, events may be transmitted in real-time to websites or social media platforms using the latest video, sound, lighting, interpreting and webcasting technology. Virtual content and dynamic lighting scenarios make it possible to switch between different settings in a blink on an eye.
In addition to the state-of-the-art equipment, a professional team of studio and streaming technicians from Baur au Lac's partner for event technology "bluetrac" ensures the smooth running of the transmission or recording.
"Hotels are and have always been the meeting rooms of people. The personal encounter is and remains the royal class for which the Baur au Lac has been standing for over 175 years. In the age of digital possibilities and constraints in the currently restricted freedom of movement, technological developments have very quickly enabled new forms of encounters. In a good tradition, Baur au Lac also wants to offer its guests and customers new opportunities for digital and hybrid encounters in this leap in innovation," says Wilhelm Luxem, Director of Baur au Lac.
Rates at Baur au Lac hotel start from CHF 695 per night, based on two adults sharing a Deluxe Double room on a room-only basis.
For further information, please get in touch with Clare at Mason Rose: clare@masonrose.com