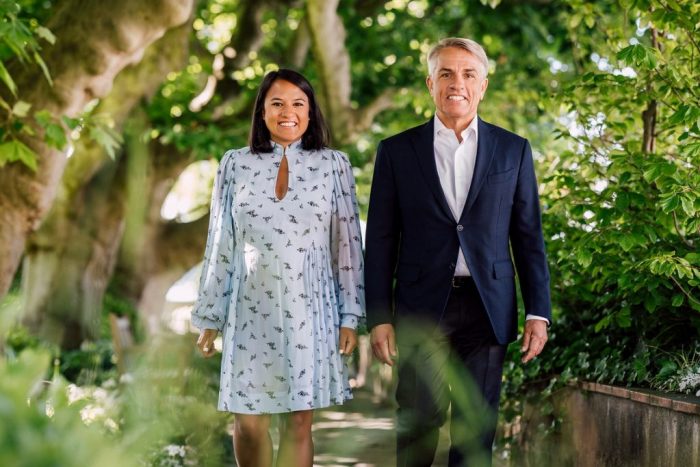 July 2022 – Baur au Lac is excited to announce two significant leadership changes with the ushering in of the seventh-generation family ownership along with the arrival of a new General Manager.
Throughout its impressive 178-year history, the Baur au Lac has been in the hands of the Baur-Kracht family who continue to run the hotel with a keen sense of innovation and unique understanding of tradition. Today, the Baur au Lac is one of the world's most prestigious hotels still owned by its founding family.
This summer will see the hotel move into its seventh-generation of family ownership, as Marguita Kracht joins her father, Andrea Kracht, working side-by-side guiding the Baur au Lac into this exciting new era.
Kracht joins her father in the management and strategic direction of the Baur au Lac. After studying at Boston University, she completed the General Manager Programme at Cornell University in New York. Kracht then immersed herself in the hospitality management culture by joining the leading luxury goods group LVMH, which was followed by valuable experience at some of the world's most prestigious hotels, including the Four Seasons Hotel George V in Paris, the Lanesborough in London, Aman Resorts, and the project team of The Peninsula London. Kracht looks forward to applying her wealth of international expertise to bring new inspiration and perspective to this exciting new chapter at Baur au Lac.
New General Manager
Since being founded in 1844, just four General Managers have led Baur au Lac's management alongside the Kracht family. In July 2022, the hotel introduced its fifth General Manager, with the welcoming of Christian von Rechenberg.
Since 2013, Wilhelm Luxem has been working with the Kracht family as General Manager. Under his expert guidance, the hotel has undergone extensive renovations and achieved numerous international awards, including Winner of 'The Best Hotel in the World' in the Condé Nast Traveler Readers' Choice Awards 2020.  After nine years as General Manager, Luxem is now taking his well-deserved retirement and is handing over the reins to Von Rechenberg.
Von Rechenberg fell in love with the Baur au Lac and hospitality industry as an intern more than 20 years ago. After growing up on Lake Zurich, he attended the prestigious Ecole Hôtelière de Lausanne. Following this, Von Rechenberg travelled the world working at prestigious hotels in London, New York and Hong Kong, before returning to the Baur au Lac where he has held managerial positions in the Food and Beverage team. He became Luxem's second-in-command as Deputy Director of the hotel in 2018. After being fortunate enough to work across three continents, Von Rechenberg brings his passion and knowledge for understanding international clients and their cultural needs to Zurich.
In their new roles, both Marguita Kracht and Christian von Rechenberg will be focused on continually driving innovations in digitalisation and sustainability; and optimising the highest level of experience for both guests and employees.
For further information about Baur au Lac, please contact the Mason Rose PR Team: pr@masonrose.com