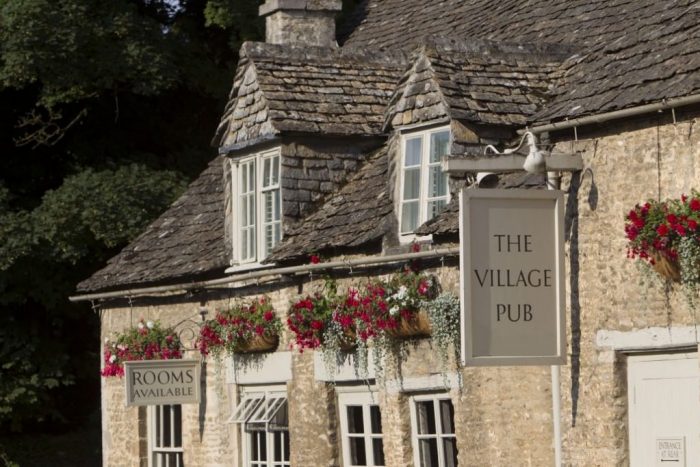 by Maria Pajares, MD 
I generally find January and February a bit of a slog so I jumped at the opportunity of a Friday night escape to The Village Pub in Barnsley when a well-timed promotional email from the clever team at Calcot Collection arrived in my inbox. I had the pleasure of bumping into Michele Mella, one of my favourite GMs, whilst there. After an interesting chat at the bar about what makes Barnsley House, the Village Pub and the rest of the Calcot Collection so special, Michele kindly agreed to share his thoughts below.
When we bumped into each other recently (during my very enjoyable 24-hour escape to The Village Pub) we were chatting about what makes Barnsley House and the Village Pub so special and you referred to 'soul'.  Can you explain what you mean when you talk about a hotel's soul?
We believe that each hotel in our collection must have its own personality at the heart of its operation. Individuals then become as much part of the hotel's DNA as its branding, values and goals. Personalities give a soul to the building.
You also mentioned a very healthy occupancy all through January, renowned for being a quiet month. What do you put this down to?
We have a mature business with a loyal following which helps. I think our marketing strategy has been great, focusing on quirky packages promoted in snappy, image-led e-blasts.
Has your client mix changed much over time – in terms of customer profile, geographical source markets etc? I know you have been with the group for a long time so must have experienced many changes.
Our leisure business comes primarily from London and the home counties. 5% of our business is from Europe and 10% from the US. Our wedding market remains strong with about 30 exclusive use weddings each year. We cater for a wide range of age groups. I think this is partly because our design is timeless and we don't fall for the trappings of the latest fads, instead we focus on delivering all-round good hospitality. We achieve this by applying gentle pressure to the team, learning from trends and aiming for marginal improvements in everything we do. We've always believed in evolution.
Have you worked in a city location in the past? If so, how does this vary from your current location in the Cotswolds?
I worked in London, Munich, Verona and Venice before Calcot and Barnsley. My managerial experience limits itself to properties in the country and it's hard to say for first-hand experience. I think the challenges are very similar though. If you do put your staff first: helping them with training, development, instilling passion, reminding them that they can have fun at work and teaching them about loyalty, they will deliver good hospitality. The outcome is always the same- stronger sales, better cost control and untimely better return for investors.
Is your outlook for 2019 a positive one?  Do you foresee any issues/challenges?  If so, what plans have you got in place to counteract these?
Yes, it is. Partly because I think I tend to be positive in my outlook…although my wife might beg to differ!
In terms of challenges of course Brexit is an issue and we are as ready as we can be in the current climate. In recent months, I have paused and taken the view that ultimately, whatever the outcome is, we will embrace it, challenge ourselves to find solutions and come out stronger.