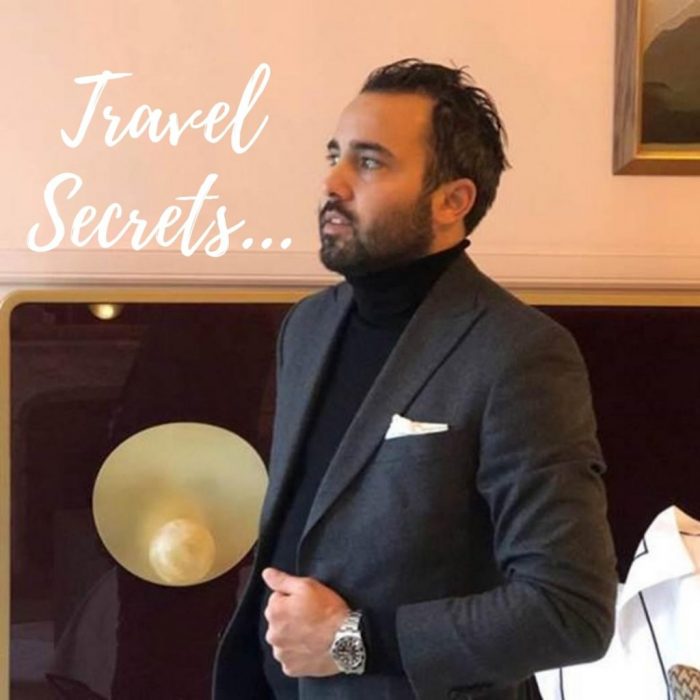 General Manager of the Parisian boutique hotel Grand Powers, Matthieu Teyssier d'Orfeuil, is no stranger to small, luxury hotels and has been at the helm of this beauty since it re-opened in 2019.  With an impressive CV that includes Relais & Chateaux's Whatley Manor as well as the Plaza Athénée and Park Hyatt Paris Vendôme in Paris, he knows the City of Lights like the the back of his hand. Here, he offers his favourite coins, culinary experiences and cultural moments in this much-loved capital.

Best restaurant you'd recommend to a best friend
I would highly recommend the tasting menu at Shabour, a seductive and tiny restaurant in the 'deuxieme' (Bourse), serving imaginative Israeli food by chef Assaf Granit, who has acclaimed outposts in Jerusalem and London. The experience is very much about sharing and generosity, food is served on fine china, but there is a sense of informal theatricality as diners are on high tables with a view of the kitchens.
Favourite street food

I adore a really good burger, but I'm very picky and precise about it. The perfect burger in Paris can be found at Dumbo on rue Jean Baptiste Pigalle in the 18th arrondissement. Street food obsessives, Charles Ganem and Samuel Nataf set up this counter and launched the iconic 'smash burger'. Every detail has been considered, everything is made to order and absolutely delicious. Even the fries are made from a particular type of potato and the whole thing just works.

Favourite park
The Parc Monceau, in the 8th arrondissement (Champs Elysees), designed and created in the 17th century is one of my personal favourites. It's really delightful as it's filled with lots of little details like statues, archways and ornamental ponds. The main reason Parisians love it, though, is that it is a peaceful and graceful place, and it's popular with locals. If the weather is good, our concierge team can arrange a lovely, traditional picnic to take with you. It's a great way to be part of Parisian life, people-watch and relax in the open air. Musée Cernuschi (the Museum of Asian Arts) is located in a mansion next to the park and well worth a visit too.
Best day out
A river-side walk by the Seine is simply a brilliant way to see the city. It's free, you don't need a guide as you can't get lost! It's a nice way to take in the history of Paris in an enjoyable, laid-back way. The section I enjoy best is where all the booksellers are on the Left Bank. I'd recommend the walk from Notre Dame to the Eiffel Tower, which is about three and a half miles. This includes iconic bridges like the Pont Neuf, which is the oldest bridge in Paris, and the Pont des Arts. You'll pass the Musee d'Orsay and Invalides, two of the most recognised monuments in Paris. Make time to stroll. Have an icecream along the way.

Best bar
A great bar is Le Dragon in Saint Germain: a tiny, hip place opened earlier this year by the acclaimed chef Cyril Lignac. (Aux Prés, Le Bar des Prés and Le Chardenoux). Housed in a former Saint-Germain-des-Prés chocolate factory, the decor is intimate and a little arty. The black lacquer and purple scheme with bamboo and rice paper lighting and aquarium give it a bohemian, Asian feeling. A little further away, Japanese fish swim in an aquarium. The stage is set. I love their Negronis, served strong and classic with a peel and hand-carved ice-cube.
Most photogenic part of the city
It has to be a Parisian rooftop – you can't beat it. There are so many to choose from, with panoramic vistas and an unmistakeable skyline. You just have to have a cocktail on a Paris rooftop, when you visit.

Most secret museum
The Musée de la Vie Romantique. This little gem is located in Pigalle, set in the house of the painter Ary Scheffer. The curators have meticulously recreated a complete historical 'set' of the Romantic period and the house is filled with portraits, furniture and artefacts from the 18th and 19th centuries. It is like stepping back in time. The museum also hosts some cool temporary exhibitions, musical concerts, readings and imaginative activities for children. It is considered a best-kept secret by Parisians, who inevitably follow a visit with a stint in their Rose Bakery tearoom and enchanting garden.
Best street art
It has to be Montmartre. Now the steps and cobbled alleys that trace the hillside of this arty district have become an open air museum of street art, as well as offering the more traditional, touristy art stalls near the Place de Terte. This pretty (but sometimes crowded) village-within-the-city historically housed the studios of artists including Picasso, Manet, Toulouse-Lautrec, Renoir and Van Gogh and bohemisans who roamed, caroused and inspired many a tall tale. Discover new graffiti art and pop into some of the more ground-breaking contemporary galleries for a dose of modernity…

Favourite anecdote about the Grand Powers hotel

'C'est si bon' was written at the bar of the Grand Powers in 1960 by Henri Betti. It's a very stylish song, that has been sung by by a host of international talent, including fantastic versions by Louis Armstrong, Eartha Kitt, Barbra Streisand and French legend, Yves Montand.

Favourite spot in the hotel
Our restaurant the Café 52, is a neighbourhood meeting spot for Parisians as well as guests. It has a relaxe dvibe and we offer a healthy, organic menu
Favourite thing you offer guests
A personal pick-up with flowers at the airport, by our concierge team. It's a nice little touch, people seem to appreciate.

A quintessentially Parisian and extremely chic boutique hotel is situated in the heart of the glamorous 'Golden Triangle' close to the Champs Elysees and fashion district. Following a complete refurbishment that was masterminded by owner Alexandra Marang, and the Parisian architects Arnaud Behzadi and Cathy Crinon of Artefak, it re-emerged in 2019 showcasing 50 stylish, cosy rooms with luxurious details like marble bathrooms, original historic features, antique fireplaces, bespoke furniture. Known for its informal-but-impeccable service, arty atmosphere, lovely detailing – it's an exceptional hotel that is world's apart from Paris' Grand Dames.
www.hotelgrandpowersparis.com
@hotelgrandpowers