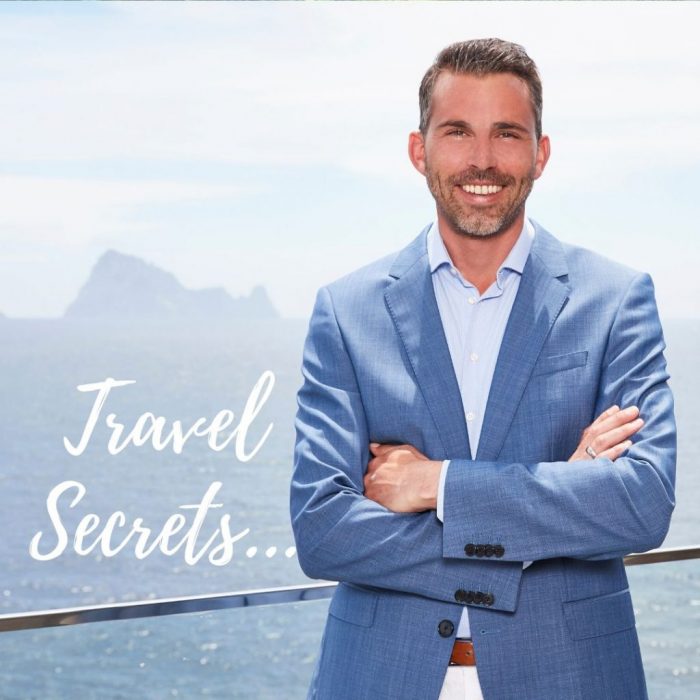 Summer 2020 – 7 Pines Ibiza's Managing Director Markus Lueck shares his White Isle travel tips with us. Bohemian and beautiful, Ibiza is the perfect host to both the best parties as well as the most laid-back beaches as long as you know where to find them…
What is your favourite viewpoint?
"We've got an incredible view from the hotel. My daily highlight is when I walk through the lobby to the Pershing Yacht Terrace and look out our stunning 50-metre, turquoise-coloured infinity pool to the azure sea and mesmerising rock island of 'Es Vedra' in the distance. It's really magical."

Restaurants you'd recommend to a best friend
"My favourite restaurant is called 'Sa Caleta' which does the absolute best paella on the island in surroundings that are really stunning. It showcases the authenticity of Ibiza as it is essentially a chic beach shack."
Where would you go with your partner if you have an evening to yourselves?
"As my wife and I love sushi, I would book a table at Nagai, a restaurant in the centre of the island. The sushi there is the best in Ibiza and the atmosphere is intimate and cosy – perfect for a romantic evening for two."

Most memorable day trip
"Charter a boat and sail to the neighbouring island Formentera, for a fantastic day trip. Anchor in a beautiful calla (bay), swimming and snorkelling from the boat in crystalline turquoise water. When you get hungry, simply take the dingy boat to one of the beach restaurants for fresh seafood and a cool beer."

Where do you like to take your family on a day off?
"This depends on the season. During wintertime, the family loves to go for walks in the north of the island. We follow hidden paths that no tourist knows. The point is really to enjoy the nature and purity of our pine-covered island. After a couple of hours of hiking, we usually have a lovely lunch in one of the local restaurants. In summer, we often spend the day on the east coast and visit a beach called 'Aguas Blancas'. Due to its hard-to-reach location, it never gets overcrowded. This beach is at its best in mornings and midday, as the high cliffs cast shade in late afternoon. As we like to wake up early, it's a fantastic spot to watch the sunrise."

Favourite spot in the hotel?
2Sitting on the terrace of our Cone Club restaurant, enjoying the most incredible sunset and listening to our DJ who finds the perfect choreography in the music to make every sunset unique and memorable."
What is the most challenging thing a guest has requested before?
"During the summer season in Ibiza, it is very difficult to get reservations in the most favourite restaurants and clubs unless you have pre-booked weeks in advance. Hence getting a reservation for 10 people for the best, stage-facing table at the world-famous 'Lio' restaurant – 2 hours before dinner started – is a nearly-impossible ask. It was a challenge that took all the connections and powers of persuasion of our head concierge and myself combined."
Do you have a favourite thing to arrange for guests?
"We love to organize things for our guests that are out of the ordinary, in line with our mission to provide 'infinity at your service' – be it yoga sessions in hidden coves, limousine pick ups at the door of your private plane or creating unforgettable itinerary by boat."

About 7Pines Ibiza
Nestled on the edge of a pine forest across a space of 56,000 sqm, 7Pines Kempinski Ibiza is the perfect hideaway to re-energise in a spacious environment surrounded by nature. The all-suite clifftop resort offers the height of laid-back luxury and Ibizan flair with privacy and beautiful surroundings for guests in its 185 suites. Completing the offering, the resort also encompasses exceptional food and beverages, a comprehensive spa and wellness offering and unparalleled discreet, personalised service. 
For further information about 7Pines Ibiza, contact our PR team: pr@masonrose.com