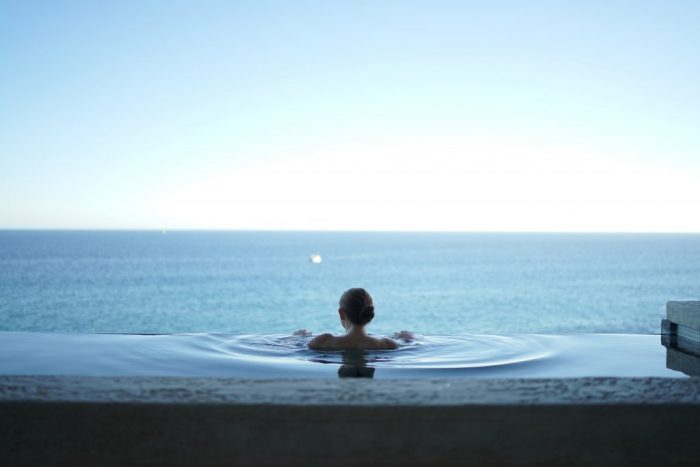 We were joined by Times and Sunday Times journalist Susan d'Arcy, Wellbeing Escapes Founder, Stella Photi and founding editor and publisher of European Spa magazine, Sarah Camilleri to provide their insights into the future of wellness travel to our clients. Hosted by Senior Account Director and wellness expert Jacinta Stevens, they discussed impacts on wellness businesses and what teams can do now to prepare to meet the new needs and demands of guests whilst retaining the core nurturing element of a wellbeing break.
Here are the themes considered, key points and practical advice:

The appetite for spa and wellness travel:
Stella Photi (SP): Despite continued uncertainty around the practicalities of travel post-COVID-19, there is a pent-up demand for wellness-focused getaways. At Wellbeing Escapes we are seeing new requests coming through and the majority of our existing bookings have moved their holidays – frequently to the same dates for next year – rather than cancelling them outright. People are recognising the need of a holiday to look forward to.
Sarah Camilleri (SC): I'm hopeful that this will mean that spa and wellness services become more of a necessity and more mainstream for individuals' physical and mental health. It won't be the same as it was before and so now is a time for wellness businesses to look at their communications and reframe them to appeal to prospective clients – a pool which has widened. The global lockdown has proven that people need connection and that touch is important; luxury hotel spas beginning to reopen have been reporting that massage is in high demand.
Susan d'Arcy (SdA): People want to feel healthy and happy and this is an opportunity for an intelligent approach from spas and wellness businesses. Obesity and related diseases such as diabetes have been shown to increase the risk of severe COVID-19 symptoms, so look at supporting healthy eating – not calorie-controlled but with a focus on food that increases metabolism, fresh, simple ingredients and inspiring home cooking. This is an opportunity to pivot thinking around how to lose weight healthily and for the long term.
We've also seen that more men are affected than women, so think about appealing to a male audience: take a more scientific approach, expanding on the proven benefits that particular therapies have, think about treatments and programmes that are evidence-backed and results-driven such as immune-boosting, stress management and respiratory resilience. Also address mental health concerns for both men and women as this time will have resulted in a lot of anxiety for many; SP added that she is receiving increasing enquiries from men looking for ways to deal with an overactive mind.

Considerations for wellness programming:
 All: Health and safety guidelines will largely be dictated by countries' own governments, but (if mandated to do so) delivering massages with gloves defeats its purpose, and it's likely that facials won't come back for some time – unless they predominantly use machinery. So what other wellbeing services can you provide if you aren't able to deliver high-touch treatments?
SP and SdA: Broadly, there is a lack of good coaching in luxury resorts and this could be a great opportunity to give guests access to teachers in various disciplines such as meditation & mindfulness, life-coaching, nutrition etc., providing lifestyle toolkits that people can take home with them. However, it's important to research and invest in experienced practitioners – don't just send a member of the team on a weekend course!
The perfect time to offer coaching, this can be conducted one-on-one, in privacy – even in the guest's own room – and while individuals are more relaxed, and perhaps more receptive, on holiday.
Sound therapy is another possibility that has tangible benefits and longevity as an additional offering; it can also be provided in socially-distanced groups. Workshops, too: teaching massage therapy to couples, cooking classes (healthy/ fermented foods), meditation – all are doable as individuals, as a family or in responsibly-spaced groups.
Additionally, it has been found that chlorine and ozone/ UV-treated pools are safe; consider water-based therapies (although Watsu probably requires a bit too much close contact as a short-term solution of this kind).  Sauna and steam is also viable as the virus has a lipid coating that can't tolerate high temperatures of over 55 degrees.
Positioning and communicating these additional offerings and their benefits to existing and prospective clients will be key, so close coordination with sales, marketing and PR teams is important.
SC: The demand is there, and spas have always been incredibly hygienic places; hopefully with additional measures that will be implemented and fostering gentle reassurance amongst both teams and guests will mean that we can return to touch treatments sooner rather than later. Innovations are already under development for spas to reopen, such as Italian wellness specialist LEMI who are developing 'massage shields' that provide protection between the client and therapist.
In the meantime, operators should walk through the guest journey and look at high touchpoints and high traffic area throughout the physical space and what can be done to reduce these.
SdA: Are there offices or unoccupied guestrooms that could be transformed into additional therapy spaces? With more pre-consultation a necessity, use this as an opportunity to move people through reception more efficiently; often an area that has been designed spaciously, consider other ways it could be used, such as for group workshops. Don't spend a lot of money on unnecessary purchases that are unlikely to be useful in the longer term.
SC: Conversely, if there are suppliers that you have been looking to explore partnerships with, now is a good time to do so to see what benefits they could bring to new audiences. Also, talk to your existing suppliers who will offer a wealth of new ideas in terms of equipment use and new protocols. The industry needs to work together to provide solutions; we will be reporting on this and all the latest thought-leadership emerging in European Spa magazine in the coming months as spas prepare for reopening.
Additionally, if exploring the potential to take treatments outside of the spa, consider therapist safety as a priority and encourage people to use the spa space.
All:
Look at what activities can be done in nature: being outside will be even more popular than ever as people have been restricted for so long and fresh air will be important. It's a great way to extend the experience beyond the spa in an innovative way as well as a means to conduct (distanced) group activities and involves less cleaning!  Geodomes for small or private yoga, meditation or sound healing sessions and treatment cabanas are two – relatively inexpensive – examples of structures that bring the indoors, out.

Empowering teams and maintaining a nurturing experience:
SC: Getting teams ready for reopening will be paramount; those who are on furlough are still allowed to undertake training, so now is the time to ensure that staff are both prepared and empowered. Include teams in the decision-making process since they are the ones who will have to deliver day-to-day and it may also help alleviate anxieties that they might have about returning to work.
SdA: Ensuring that staff feel safe is key as if they don't, they in turn won't be able to make guests feel safe. There's now even more to think about and they will have to be supported so that they are equipped to meet potentially increased guest needs and queries as well as executing new SOPs and providing a restorative treatment. There will be a lot of theatre around making the place look clean (even more so than before), but that's not the point of an individual coming to the spa – it's relaxation. So there needs to be a balance and we mustn't lose sight of the fact that guests want to leave feeling wonderful, not just that they haven't caught COVID in the process!
Lastly, there has been so much progress on sustainability, though there is still much of a way to go and we don't want to set things back; try to think of ways of reassuring that doesn't involve wrapping everything in plastic.

Good communication with guests
All: Instil trust. There will need to be thought given to preparing guests in advance – which will help manage their expectations, gather valuable information for the therapists and reassure both parties. It will also save valuable time in the spa since more turnaround time will be required; some hotel companies are building in up to an hour's buffer time between treatments to clean rooms, change linens, therapist clothes etc. Pre-booking of treatments will be more important than ever, and communication at every stage – but particularly beforehand – will be key.
SdA: There may be varying constraints dependent on different government guidelines and guests might make their own assumptions; ensuring awareness of what the experience will be like will be essential. People are really tolerant of the measures that need to be taken as they are desperate to come back, as long as it's communicated well in advance.
SP: It has been interesting to see the consumer perspective so far; the requests we have received for information have been around where and what programming or location would suit them best, but fascinatingly, not one person has yet asked about hygiene or how protocols are going to be delivered. I'm not surprised that the demand and bookings – where possible – for massage has been high as from our enquiries, this is what people are longing for. Although people don't ask certain questions, it's down to us to really communicate what's to come so that they know what it's going to be like (and to understand what the team has to do to ensure their wellbeing too). Finding the best way to do this – striking the balance between providing the information and delivering it with a light touch is what we are working on at the moment.
SC: In this delivery of information, I would urge everyone to look at their digital path – how can these communications be given in an experiential way; one that matches your brand tone and the offering you will be providing. Guest demographics may shift for a period of time or widen; consider that older audiences may be more risk-averse and preventative healthcare could be particularly appealing to the demographic spectrum.
SdA: Appeal to the core 40s – 60s market through attractive programming: think immune-boosting with your own point of difference (as this term is bound to become overused) and supporting a well life. Importantly, it has to be fun as people are coming to have a lovely time and get healthier; the world wants to be both happy and reassured, to have the good time they've been missing out on. Also consider things that unite and bond families. Coming out of lockdown it will be all about experience and connecting in a safe way. Although keeping in touch with your audience online has and will remain important, don't give away too much on virtual platforms – keep a bit of mystery and give them a reason to come to you.
SP: I believe that wellness hospitality will become the second front line, providing tools for life, supporting nutrition, immunity and mental health. It has been wonderful to see the country pulling together to get behind the NHS and I think that people will take more of a positive and proactive role in their own health. People are beginning to realise this and although it will take some time for the industry to recover, it's an opportunity.

For more information about our wellness division and its services for spas, hotels and brands, please email jenni@masonrose.com 
INFORMATION
Wellbeing Escapes' Wellbeing at Home Series: tune into weekly zoom sessions with various practitioners from leading wellness resorts and retreats around the world. Sign up to Wellbeing Escapes' newsletters and see the blog on www.wellbeingescapes.com
Spa Leaders at Home: European Spa Magazine is offering spa and wellness professionals a free 6 month digital subscription to the publication. Click here to subscribe: http://tiny.cc/gqj3nz
In conjunction, @eurospamag on Instagram broadcasts 15 minute live interviews with industry leaders offering personal and professional advice and perspectives at 6pm every Monday and Wednesday            
About our panellists:
Susan D'Arcy 
Susan is a true expert in luxury travel and spas having written about them for The Times for 20 years across both The Times and The Sunday Times. She knows what makes a spa or wellness experience stand out from the rest and her counsel is regularly sought in her capacity as a luxury hotel and spa consultant
Stella Photi
Stella is founder of specialist tour operator Wellbeing Escapes. Before wellness became a buzzword, Stella spotted a gap in the market and created the first tour operator to dedicate itself to health-focused holidays. Her knowledge of both the wellness consumer and the evolution of the market is exceptional. www.wellbeingescapes.com | Instagram: www.instagram.com/wellbeingescapes
Sarah Camilleri 
As the publisher and founding editor of European Spa magazine, business journalist Sarah Camilleri has a wealth of experience reporting on global developments in wellness travel and hospitality which spans nearly two decades. Recognised as the 'go to' business publication for hospitality and wellness leaders, European Spa magazine delivers exceptional and trusted content covering every aspect of spa development and operation, from business news, spa openings, partnerships and developments to the latest professional spa and beauty products, treatments, equipment and design. www.europeanspamagazine.com | Twitter: www.twitter.com/eurospamag | www.facebook.com/europeanspamagazine | Instagram: www.instagram.com/eurospamag | www.linkedin.com/company/european-spa