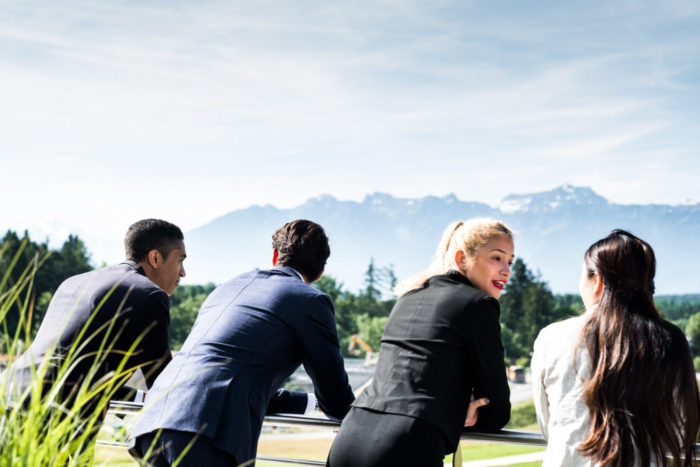 As the year draws to a close, Mason Rose's Maria Pajares sat down with Florent Girardin, Assistant Professor of Marketing at Ecole hôteliere de Lausanne and Studio Black Tomato's Brand Strategist Sophia Kay to discuss everything from hygiene to positivity and the unknowns of 2021.
MARIA PAJARES: When it comes to language and tone, do you think brands need to start 2021 afresh?
SOPHIA KAY:  Language and tone are fundamental to your brand's personality, so to completely drop it in the face of challenge not only undoes some well-established brand recognition, but can be unsettling. Going forward, brands should solidify and strengthen their existing messaging – whether that be speaking with humour, frivolity or confidence – with a greater flexibility, empathy and kindness that respects the current times. It's about starting the year with refreshed messaging rather than feeling the pressure to start completely anew.
MARIA PAJARES: And how does this apply to a brand's marketing/ channel approach?
FLORENT GIRARDIN: The pandemic has not fundamentally modified the way hospitality service providers should use marketing, but it accelerates the already existing trends. I believe that direct digital marketing will become even more important in the future as it allows companies to narrowly segment their market and personalize their messages for their different target segments. In order to cut through, an inspirational/ entertaining message is more important than ever.
MARIA PAJARES: How should hotels manage communication regarding safety and hygiene?
FLORENT GIRARDIN: Of course, hotels will have to reassure their clients on safety issues. However, luxury hotels should not communicate too much about sanitary measures, because 1) it is expected by their clients that everything will be done to guarantee their safety and therefore it is not a good point of differentiation to use in their communication, and 2) sanitary measures do not make clients dream; luxury hotels should make people dream by triggering emotions.
SOPHIA KAY: As Florent suggests, hotels should continue to lead with their 'inspirational' message, whether that be focusing on sustainability, off-grid experiences or your world leading garden-to-plate dining offering. Your hygiene message, for example around sanitisation, should be considered a secondary 'reassurance' message.
MARIA PAJARES: How can brands strike the right balance when it comes to 'positivity'?
SOPHIA KAY: Treating a brand as if they were a trusted thought-leader or expert, it would follow that a cry of positivity be supported with educated reasoning. Positivity needs to be well-informed or risk feeling tone-deaf and out of touch. Brands should find ways to be transparent and speak with humility, sharing their own personal journey of navigating the pandemic.
MARIA PAJARES: What channels should be a priority in conveying this more meaningful message?
FLORENT GIRARDIN: Marketing departments will have to invest heavily to produce meaningful content. I think that less money will be spent on advertisements (buying media space) and more on producing content shared through owned media channels (e.g. YouTube, Facebook, Instagram, TikTok accounts). It costs a lot of money and time to produce high quality and meaningful content, but then it allows brands to reach a substantial audience without buying any media space.
MARIA PAJARES: When thinking about the next year, what hopes do you have for creativity within the hospitality sector?
SOPHIA KAY: I hope after some much needed recovery, an element of fun can return not only to the creative industry but the world of hospitality.  A constant hum of bad news and urge to apologise has created a muted backdrop, which means there is ample opportunity (as we hopefully return to some semblance of normality) to stand out, push boundaries, be playful and have some fun. As an industry that has long existed to inspire escapism, there is a natural momentum to be creatively bolder and bring some light and fun back into our lives.