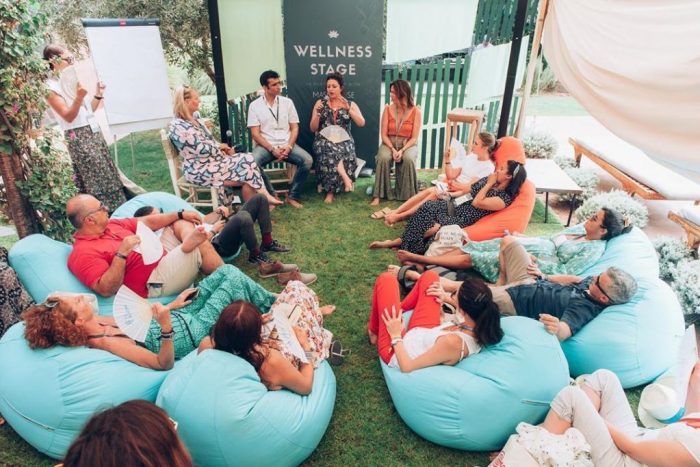 Last year, the Global Wellness Institute valued wellness tourism as contributing around $639.4bn to the $4.2 trillion wider wellness industry. Exploring just a few elements of this through our diverse speaker line-up, here we share some insights from the Mason Rose Wellness Stage from PURE MATTER (September 2019) and a snapshot of the intersection of the wellness, travel and luxury industries.
Our speakers included wellness consultants (specialising in hospitality), wellness travel specialists, a musician and life & business coach, healers and hoteliers commenting on a wide range of topics ranging from wellness in the workplace and overcoming adversity, to environmental & community wellbeing as a concern for the conscious consumer, transformational travel and wellness travel for the whole family.
It has never been more important for businesses to take stock of their team's wellbeing in order for them and, subsequently, their organisations to thrive
Looking after your employees encourages them to deliver your brand image and authentically communicate what your business stands for
Businesses that focus on their people as much as their profit will see revenue rise – today's informed consumer seeks human connection and want to buy into a business they believe in
In a wellness context, caring for yourself is not self-indulgent, it's self-preservation
Today's savvy wellness-seeker wants authentic journeys, grassroots experiences, and to feel re-connected with themselves, with other people, to gain new perspectives on the world and their place in it – in other words, to be truly transformed by their travel
Deep and meaningful treatments and therapies are vital to wellness travel; integrated offerings that are sensitive to the destination and engage with guests in a thoughtful and individual way
Incorporating or developing a wellness offering as a hotel does not need to be complex in order to bring value to guests and the bottom line, but does need to be expertly curated and requires patience and investment
It's paramount to develop a thorough understanding of the guest and their expectations in advance of their arrival, particularly where the focus is wellness and transformation and maintaining engagement beyond the stay / journey results in a high return rate
Parents should involve their children when they plan their wellness travel itineraries – family wellness can foster understanding as well as rejuvenation, skills and memories that last beyond the holiday
Frequently, children lead the learning experience, engaging with their parents through workshops, outdoor activities, etc. Having freedom and space is important –for both children and adults – and creates the opportunity to come together
Children are smarter, better educated, and communicate more now than ever before; social media and the internet have opened up the world, drive ambition and a thirst for knowledge. We don't have to see these as apocalyptic
Wellness is about becoming less insular and less focused on the self – connection with nature and people is essential; as are authenticity, transparency and integrity
Once the trust is there, people are increasingly happy – and seeking – to be taken out of their comfort zone in order to have new experiences, make new connections and discover new parts of themselves
It was interesting to note that the talk on Overcoming Adversity attracted one of the biggest audiences of the stage and at MATTER, proving that human stories and connections are very much driving our interest and conversation around wellness
Speakers:
Tracey Woodward – wellness retail specialist and workplace wellness champion
Giselle La Pompe Moore – healer, personal and business wellness advisor
Dominique Antiglio – Founder of BeSophro
Peta Panos – Founder, Spiritual Quest Journeys
Nikhil Kapur – Co-Founder, Atmantan Wellness Resort
Sonia Ferre, Owner of MasQi, The Energy House
Dietmar Mueller-Elmau – CEO & Owner of Schloss Elmau
Emma Barnett Spitzer – Founder of Essential Escapes and Tots Too, Sandra Hoffman – Founder of Children's Concierge
Jessica Renshaw – Partner, Renshaw Travel
David Leventhal – Founder Playa Viva and Regenerative Resorts
James Boyd – musician and elite business coach
Stephanie Haynes – COO of brand strategists, Lifestyle Capital Partners
Mason Rose's Wellness division builds upon our passion and knowledge for the wellness industry which so often goes hand-in-hand with high-end travel and the luxury market. Through our expansive network and knowledge of media, sales contacts, VIP connections and insider understanding, our mission is to help spread the word for transformational brands, people and experiences in the wellness industry.
Mason Rose is responsible for curating the first dedicated Wellness Stage at pioneering 'unconference' PURE and their inspiring talk series, MATTER, in Marrakech; 2019 marked the third year of our collaboration.
For further information, please contact Jacinta Stevens, Head of Wellness at Mason Rose: +44(0)7201 8050 | jacinta@masonrose.com