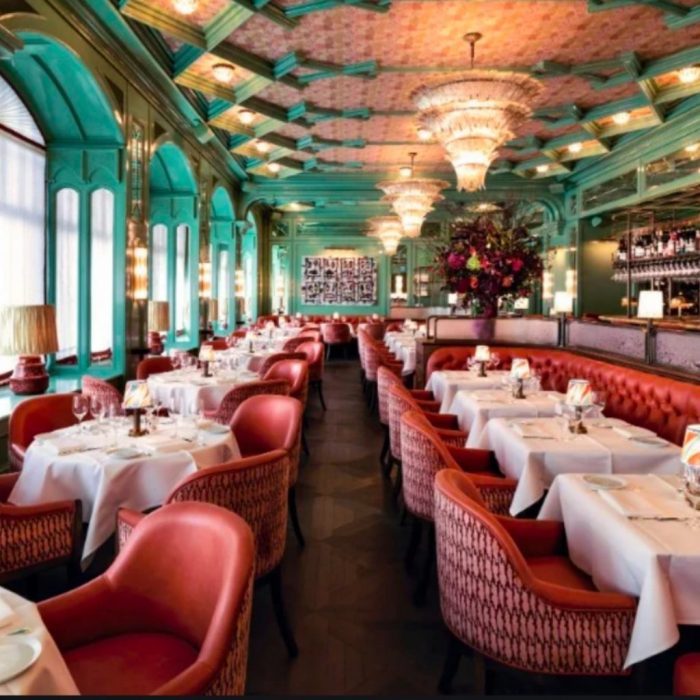 What will happen to hotel spaces after Covid? Hospitality concept specialist, Robbie Bargh the co-founder of Gorgeous Group and interior designer Russell Sage from Russell Sage Studios are renowned for creating inspiring schemes for hotels, bars and restaurants. In Mason Rose's latest insights webinar for hoteliers, MD Maria Pajares and our expert speakers discuss creativity in hospitality, post-pandemic programming and design. They highlight how creative concepts and visionary ideas will be critical to entice back consumers after lockdown and offer a blueprint on keeping the magic alive.

Changing needs: what people will want
As lockdown gradually lifts around the world, consumers have been craving the 'luxury' of walking into a dining room, bar or hotel that looks spectacular – a place that has a vibe and is filled with warm and welcoming people ready to look after them.
"People have missed human contact, connection, going out and feeling excited" RB
Whilst on lockdown, people have discovered small suppliers, butchers, bakers and greengrocers. Over the last 12 weeks, they've prepared things for themselves so they now know what things cost. Foodies, and people who love restaurants have missed the whole experience of being looked after, being served delicious food and drinks and having a social soiree. Having fun with friends now has even more value.
"People were enjoying working from home at first, but this is waning. The idea of not having to do everything yourself is very appealing. Good service is something to value. It allows you to get on with your life" RS

Opportunities for hotels
"The hospitality industry is a critical part of the DNA of our social fabric. Whether in Zurich, NY or London, that 'special magic dust' is what people are looking for." RB
Due to Covid, everyone is going through the same thing in different places. Customers around the world are looking at places they can trust and that offer great service. What hotels can offer is secure and stylish spaces, that are completely controllable. Hotels have always been experts in being adaptable. They are used to rising to a challenge – this is just a new challenge, something new to deal with.
"The style with which people rise to these challenges will be the differentiator" RS
Building a community

Lots of goodwill has been generated by hotels and their surrounding communities over lockdown. Closed hotels have imaginatively kept things going with things like chef delivery boxes and support for healthcare workers.  Whilst international travel is being gradually re-built, there are immediate opportunities to engage with customers on the doorstep and in the neighbourhood.  There is a huge desire for people to walk somewhere and this community audience will become more important than ever before.
Hotels need to be relevant to this local audience in terms of price points, more casual and welcoming service, thoughtfully-simple menus with familiar favourites. This will help to quickly fill bars and restaurants, and boost the buzz. Hotels can genuinely become the place for neighbourhood reunions in a time when they can't necessarily rely on single markets. This local audience may not be a traditional one for some hotels but building community is a great opportunity for hotels to secure a wide and loyal local market.

Keep the magic alive
"Hospitality is not just about chefs and servers, it's about all the connections through the supply chain, music guys, designers, it's a team effort and employs some of the most creative people to create emotional value per square foot." RB
Covid rules around distancing and reduced touchpoints will need to get absorbed into fantastic luxury service expected of our greatest hotels.  Hotels can't be defined by Covid.  People want soul, not just safety. An experience they can talk about when they go home.  Consumers will want the thrill, glamour and excitement – and unexpected delights.
Avoid becoming enforcers, look at ways to communicate the 'new rules' non-verbally
Quiet rules should be in place but not something that defines that experience
Guide guests gently through spaces using interior design rather than signage – for example clever planting, lighting or furniture to keep spaces free
Rethink and simplify the entire customer experience – for example pre-visit emails outlining specials on the menu or streamlining menus
Use technology to do the boring things like contactless payments and focus staff training on creating more of an emotional connection
"Creating theatre, experience and buzz is a 'jigsaw' of people, food, drink, music, lighting, design and process." RB
Start by looking at your audience carefully: what do they want?
How can you tell the story in a compelling way, how can you build the experience – like the way you interact with tables and bring food out
Pre-arrival communication – what can you share before the visit to minimise friction and contact – eg menus, special set menus, pre-visit information about parts of the hotel that are open
Simplified menus, featuring familiar food. Use tone of voice, humour and storytelling within the menu to create personality
Imaginatively repackage experiences: devise a breakfast banquet, set lunch or dinner to minimise decision making
Reduce service steps, but create an emotional connection through other touchpoints
Focus on music, lighting, uniforms to convey personality
How do staff present at the table, what can you do with the table-wear to animate the story

Opportunities to re-think…
Hybrid spaces: think of the theatre as well as the revenue:
eg: – Add a cake boutique to a lounge or a roastery to a coffee shop.
Coffee shop by day, wine bar by night – BURR and Co, part of The Kimpton Fitzroy Russell Square London a specialty coffee shop and café, with a wine and beer focus in the evening. This is eat and drink in or takeaway and grab and go.  Attached to the five-star Kimpton hotel, this is a hotel experience but also a local destination with a stand-alone, independent feel.
– Add a provision store or a Deli bar inside the hotel.
– Build a wine shop into the restaurant – BAURS' Baur Au Lac – a local restaurant in a grand hotel with a drop in food counter and wine boutique next door
– Fitz and Felix a destination bar with a counter for eating and a beautiful state of the art on show grill.
F&B ideas that can be used on different platforms:
eg – Pre-mix boutique-style cocktails in glass bottles for delivery on collection, to use in meetings and events and also in mini-bars
Technology – look at how technology is used – this is a great equaliser for different cultures and languages. Everyone is using tech, including grandmas! Technology has to be integrated into the plan and structure from the start, rather than as a bolt-on at the end. Tech must enhance the experience – anything clunky and intimidating won't work. Look at new delivery methods and how you communicate these to guests. Use seamless / click and collect/ contactless tech for transactional elements – leaving staff to engage with guests on a more personal level with storytelling.
New audiences: think about the next generation of guests who are engaging with hospitality in a completely different way – it's time to be engaging with them anyway, not just because of Covid. How can you use social more effectively as a communications tool. Build relationships, respecting data protection but making integrated connections through social media. Embrace your brand and tell a story through programming and spaces
Building in future planning: Do we need to incorporate social distancing in redesigns? Hospitality budgets have been cut due to less cashflow and confidence, but closed hotels are being refurbished now.  Think about designing adaptable spaces or implementing a staged design to take into account seating and table needs over 6 months/ 1 year. No one wants to design a restaurant completely around social distancing so adaptability is better.
Sustainability: sustainability plays an increasingly important role in consumer purchasing behaviour and decision making. Now is a great opportunity to review purchasing strategies and have a proper sustainable approach to smart purchasing. Work with local, reliable, great niche suppliers to avoid supply chain barriers.  Think about elegance and design – washables rather than disposables – overlaying luxury hotel quality and design to all products used.
"If we can ban single use plastic everywhere that is best – we can make a big difference." RB

Golden rules
Review your offer completely.
Simplify: do basics brilliantly.
Think about economics.
Consider your target audience.
Lighting, music, menu, drink, food.
The best sign is no sign: people need to know what to do without asking.
Training teams is critical.
This is the next golden era – embrace it.
About our speakers:
Robbie Bargh, founder and director of Gorgeous Group, a London-based hospitality concept agency with a global reach. They create exceptional guest experiences in restaurants, bars, hotels, resorts, cruise ships, retail, leisure, commercial and residential spaces to help realise their creative and commercial potential. Since 1999 they have collaborated with independents, brands, operators and owners over five continents and 34 countries.
Areas of expertise: Storytelling, experience design, hospitality concept creation, food and drink trend forecasting, marketing and PR strategy.
Pictured projects include BAUR's at Baur au Lac, BURR and Co, part of The Kimpton Fitzroy Russell Square London and Fitz and Felix a destination bar.
www.gorgeousgroup.com
Russell Sage, founder Russell Sage Studio
Founded over 15 years ago, the award-winning Russell Sage Studio creates and delivers truly authentic, compelling interior schemes, which aim to engage and surprise all who experience them. Whilst Russell is renowned for his inspiring creativity, his enthusiasm for designing extraordinary hospitality and residential experiences, it's also the joy of collaboration and an eye for the smaller details, both front and back of house, that results in the most thrilling interiors. Delivering on time and on budget is key to the studio's ethos. At Russell Sage Studio, long-standing relationships and client satisfaction are paramount. Developing a bespoke story that is perfect for each client, a space that is timeless, beautiful, functional and durable.
Pictured projects include the Belmond Cadogan Hotel, London and BURR and Co, part of The Kimpton Fitzroy Russell Square London and Fitz and Felix.
www.russellsagestudio.co.uk
At Mason Rose, we're delighted to work with some of the most creative and visionary hotels in the world from new openings to Grand Dames. Please get in touch if we can help with sales or PR planning for your hotel: maria@masonrose.com