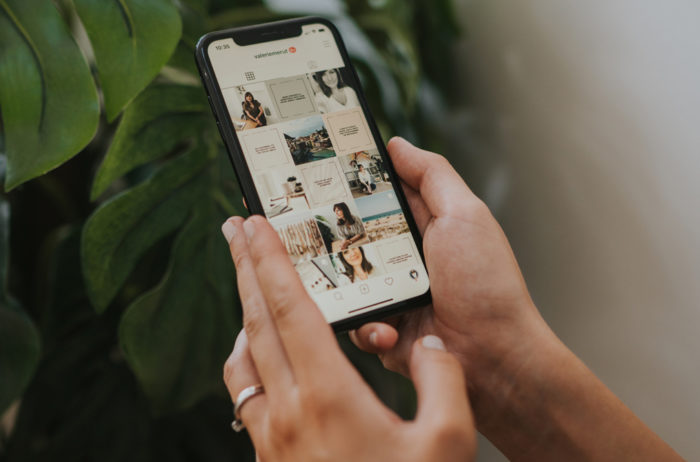 The Social Media giant, Instagram, has been busy. In 2020 alone, they launched over 30 updates to their platform to better user-experience, respond to the increased amount of time spent online as a result of the pandemic, enable people to support small businesses online during these troubled times and, of course, to keep diversifying their offering and grow as a social media platform.
Three of these new features caught our attention for the increased visibility and engagement opportunities they provide to travel and hospitality businesses. Here, we dive into what exactly these 3 new features are, why they're important and how to best utilise them in 2021 to reach your marketing goals.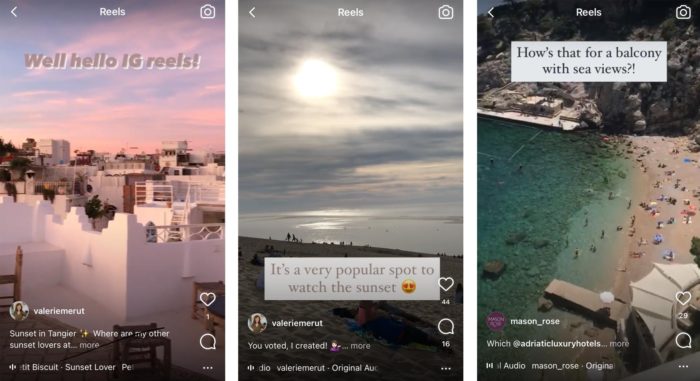 REELS
What is it? Instagram's answer to Tik Tok, reels are 15 to 30-second long videos which you can film directly on Instagram (or you can also upload past videos), as well as add music, effects such as filters, and text, much like you can in Stories. Reels are visible on each account's reels page with an option to share to your main feed and stories (highly recommended!).
Why should you use it? Instagram is pushing reels throughout the platform. You will now find reels at the top of the Explore page, hashtag pages as well as a special Reels Explore page, positioned strategically where the + button to create posts used to be, thus subtly forcing us all to take notice. Whether you like reels or not, they are ubiquitous on the platform, with this comes great discoverability and reach potential for early adopters, as this feature is not yet as widely used as feed posts or stories and so there is less competition for anyone willing to experiment.
How should you use it? You would be remiss to think Instagram Reels are only "dance videos" or videos consisting of miming and pointing to music at disappearing text. Yes, Reels were conceived with an entertaining purpose in mind, but they are already being used in many different ways across the platform, including to educate and inspire.
Suggestions:
Showcase your destination
Share a unique experience available at your resort or through your agency
Allow people to picture themselves at your property by filming simple moments (breakfast with a view, sunset cocktails…etc.)
Note: Reels are currently available in over 50 countries and still being rolled out globally.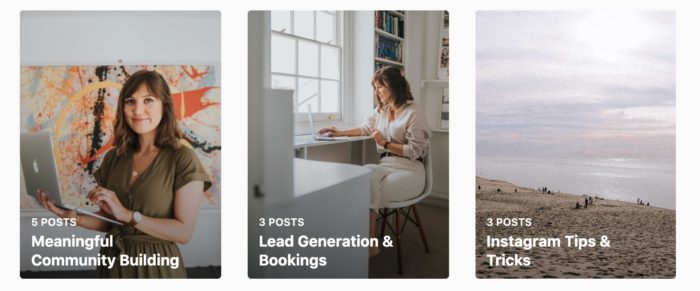 GUIDES
What is it? Guides are essentially a way to curate and collate your content into themed collections. They are similar to Instagram Story Highlights but for feed posts only. There are 3 types of guides: Places (which allows you to recommend places in your city and beyond), Products (recommend your favourite products) and Posts (posts that you have created yourself on your feed or saved from other accounts). You can annotate them and provide titles, sub headers and descriptions to display them in an article-like format, as well as share them. Guides sit on your Instagram page to the left of your tagged photos in their own separate section.
Why should you use it? Because each post in your guide relates back to the original Instagram post, your Guides are easily accessible from your page and can be shared by anyone, your past posts will be given a new lease of life or at the very least, the opportunity to be visible to more people for longer and to keep receiving engagement. Likewise, if you are featured in someone else's guides, your chances to be found by new users will also be greater.
How should you use it? A good starting point is to create guides to highlight your content pillars and the topics or aspects of your business that you want to be known for.
Examples:
Unique experiences
Destination guides
Sustainability aspect of your business
Note: Guides are currently available to all users in Canada, the U.S., U.K., Australia, New Zealand and Ireland. More countries to follow.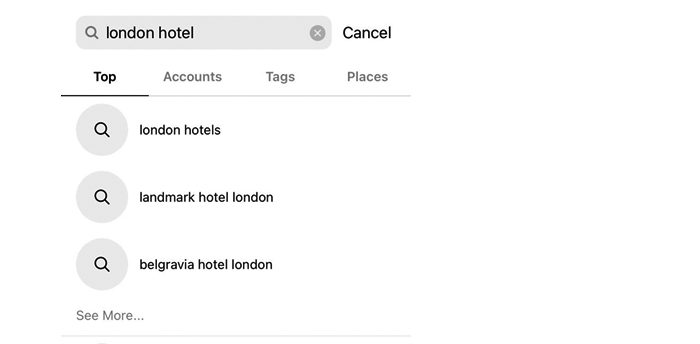 KEYWORD SEARCH
What is it? When searching for keywords on Instagram, people will now see a new option at the top of the search results to view results for that keywords without having to select an account, a hashtag or a location. Upon tapping, you will be presented with a tailored Explore-like page composed of reels (surprise, surprise!) and feed posts. Similarly to Pinterest, you will also be suggested additional keywords at the top, you can also add to your search query to further refine the results you see.
Why should you use it? This is yet another opportunity for your property or travel business to be found on Instagram and therefore to increase your visibility and following.
How should you use it? Although the keyword search does not currently work for every single keyword, you should start trying to organically include keywords that you wish to be found for when posting your captions. Aim for broad general interest topics and keywords for the time being as Instagram keeps refining this new feature.
Note: Keyword search is only available in selected countries at present and will be rolled out to more over the coming months.
For more information on these new features and how you can incorporate them into your business in 2021, please contact Mason Rose's social media consultant Valerie Merut: valerie@valeriemerut.com
Valerie Merut, Social Media Consultant
With a decade of experience working in social media and digital marketing for companies around the world, Valerie is an expert at creating impactful social media strategy and content that reach business objectives and maximise opportunities for tourism and hospitality businesses online. instagram.com/valeriemerut/