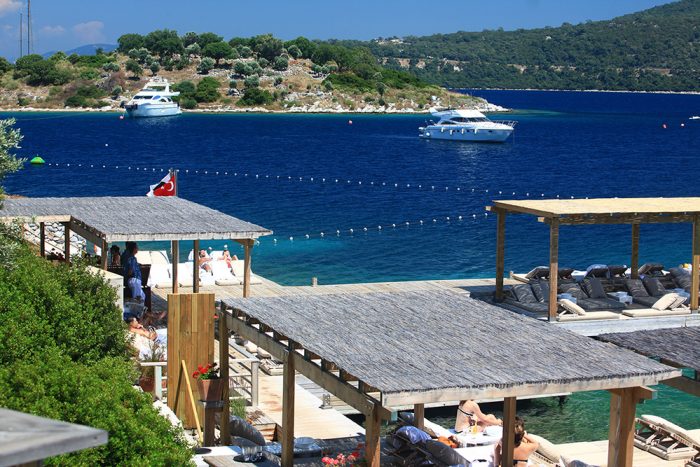 2018 Macakizi Early Booking Offer: Book by 19th March and receive 20% discount, valid for any dates in 2018 season
Planning ahead to 2018? Receive a 20% discount valid for any date in the 2018 season with our Macakizi early booking offer. Overlooking the turquoise waters of the Aegean, Maçakizi is an exclusive boutique hotel and culinary destination with an understated yet luxurious feel. Situated on a peninsula just north of Bodrum, in the lovely village of Türkbükü, the hotel boasts a renowned hip Beach Club with a private wooden deck & shaded terrace, a luxurious and elite venue for sunbathing, swimming and socialising.
Harpers Bazaar says, "By day, those in the know are nowhere to be seen… they are reclining on a giant pillow at Macakizi".
The hotel boasts picturesque hillside accommodation with a minimalistic, modern vibe. A total of 53 rooms and 21 suites await, some with uninterrupted sea views whilst others nestle on the hillside decks and in the gardens, most with either a private terrace or balcony.
Maçakizi has partnered with the French cosmetics brand NUXE to launch Nuxe Spa, a state-of-the-art facility offering an authentic, natural experience.  Five-star face and body treatments using the most innovative French products and techniques, as well as a traditional Turkish Hammam await.
Maçakizi offers a variety of unrivalled settings for private events, such as a big birthday celebration, or why not take the hotel over for exclusive use and invite all your friends? With its own motorboat for half day cruises and day trips with picnics to nearby Greek islands such as Patmos and Kos, Maçakizi really has something for every taste.
Please note that the hotel closes 10th October 2017 and will re-open 26th April 2018 until 1st October 2018. For further information please contact the Mason Rose Leisure team on +44 (0)207 201 8050 or email leisuresales@masonrose.com