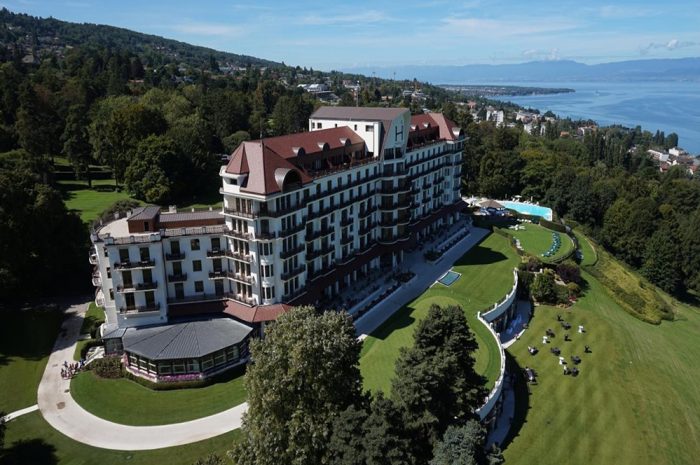 As the leaves start to fall and thoughts turn to new beginnings associated with the arrival of the Autumn season, Evian Resort has curated a series of seasonal wellness weekends combining yoga, meditation, holistic meals and spa treatments that make the most of its rich natural surroundings.
Evian Resort's Hotel Royal has introduced a holistic weekend that encourages guests to hit pause on their busy lifestyles and harmonise mind, body and soul in accordance with the seasonal changes.
Dedicated specialists will guide guests on a journey that focuses on four R's- Rebirth (Spring), Resplendent (Summer), Reducing Speed (Autumn) and Renewal (Winter) – through yoga, meditation, pampering treatments and nourishing vegetarian fare.
Commencing with the Autumn edition, every weekend from 15th August until 31st October, each morning guests can start their day with meditation before a group session of leisurely asanas and pranayamas. Complementing the morning's yoga practice, The Spa Evian Source will provide a tranquil setting fora  series of rejuvenating massages that tune into key seasonal energy points. Contemplative forest walks, focusing on the smells and sights of Autumn, is the afternoon's activity whilst specially-designed vegetarian meals provide the epicurean element to this holistic escape.
For the Winter "Renewal" programme, guests will experience meditative walks through the forests on snow shoes with a pitstop for Snowga (snow yoga)- focusing on Yin Yoga and Prana Yoga to improve kidney function. Treatments such as foot reflexology with a kansu bowl, warming hot stone massages and skin regimens complete the offering.
The two-day Seasonal Yoga Programme starts from €2,450 based on double occupancy and includes two nights at the palace-rated Hotel Royal, two treatments each day, three nourishing vegetarian-based meals each day (non-vegetarian options will be available) and one meditation, yoga session and activity daily. Single occupancy prices also available.
Winter Edition – from November 1st to January 31st 2018
Spring Edition – from February 1st to April 30th 2018
Summer Edition – May 1st to August 14th 2018
For further information please visit www.evianresort.com