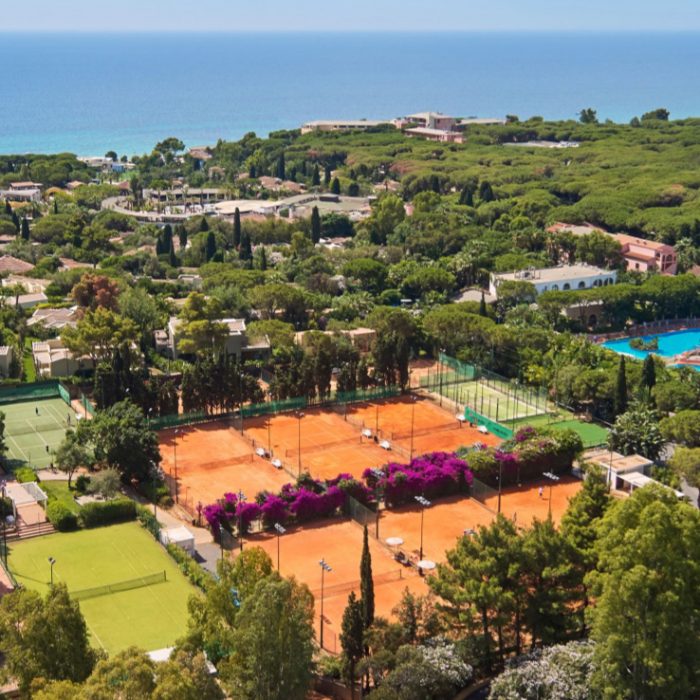 Has Wimbledon given you tennis fever? Whether you're looking to hone your backhand, slice and volleys at an immersive tennis camp or just looking to don a Panama and leave the playing to the pros, we've compiled our favourite tennis holidays around the world.
Forte Village Resort, Sardinia
The exceptional quality of its sporting facilities makes Forte Village a unique resort. It really is the best for tennis fans. What other Tennis Club can offer you thirteen courts, including eleven clay courts, one Wimbledon-style court and a "fast" court, like at the Australian Open?
Forte Village is a benchmark for international tennis thanks to its extraordinary Tennis Academy. Every year the FV Tennis Academy organises its tennis school, calling on the services of Grand Slam champions and winners of Wimbledon and of the most famous tournaments in the world.
Forte Village tennis courses are aimed at players of all ages, both beginners and professionals, with specialist lessons on individual shots and competition techniques. The head of the Tennis Academy is Rocco Loccisano, the established Australian tennis player with Italian roots and former coach to Pat Cash.
Younger tennis players can attend the wonderful Junior Tennis Academy Camp, where they can play and improve their technique in a fun setting.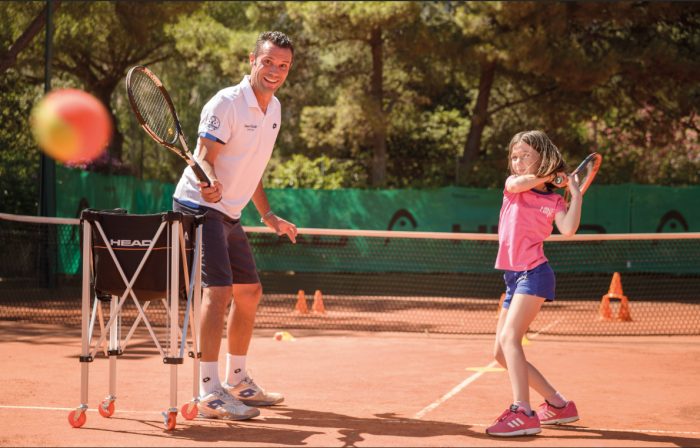 Gstaad Palace, Switzerland
The home of tennis royalty, Switzerland is the ideal spot to enjoy peak tennis season. Perfectly positioned for an unforgettable view of the Swiss Alps, Gstaad Palace provides guests with the opportunity to immerse themselves in the courtside action. An array of tennis holidays and tennis-themed packages are offered from through early September, each providing tennis fans of all ages a unique and one-of-a-kind experience whilst enjoying The Palace's warm welcome and luxurious surroundings.
 A Family Affair: Tennis and Mountain Week: 13 to 19 August
Enjoy a lively six night stay with the family, filled with tennis practices, outdoor activities and a Parents' Tennis Clinic.  Rate: from 4,950CHF (£3,913) package two adults
 Roy Emerson Tennis Weeks: Select dates to September
Experience the pro-lifestyle with a six night stay, in addition to 25 hours of tennis training with tennis legend Roy Emerson and his professional team, complete with a relaxing sports massage. Rate: from 4,200 CHF (£3,320) package price one person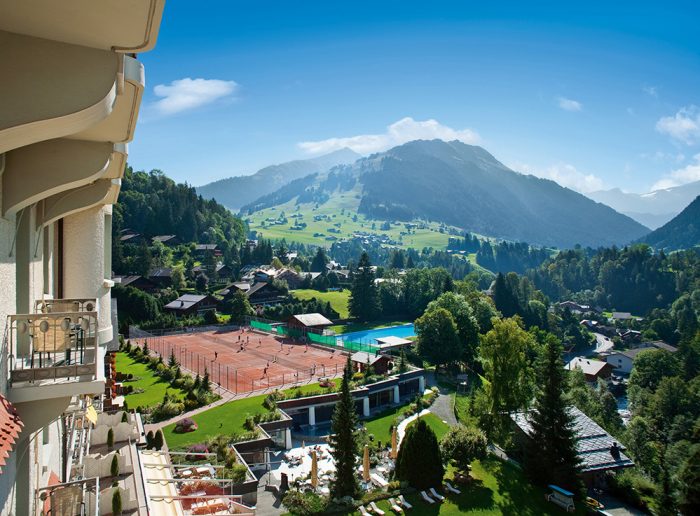 Puente Romano
The Senior Masters Cup returns to Puente Romano Beach Resort & Spa, Marbella in September 2017 and is one of the best tennis holidays for the avid spectator. The three-day Tennis Tournament which will be held from 28th to 30th September, 2017 at Puente Romano Tennis Club. This edition of the prestigious Senior Masters Cup 2017 will feature such tennis legends as John McEnroe, Yannick Noah, Albert Costa, Carlos Moyá, Pat Cash, Sébastien Grosjean and Mats Wilander.
The Tennis Legends Package includes:
Accommodation for 2 people in a Deluxe Junior Suite with breakfast included.
2 tickets with reserved seats for all the matches on Thursday, Friday and Saturday.
Cocktail dinner in the VIP lounge with drinks included from 5:30 pm on Friday and Saturday.
Concert by Yannick Noah in the VIP lounge on the day of the final (30 September).
Rates from €2,287 for 2 people for 3 nights, including VAT.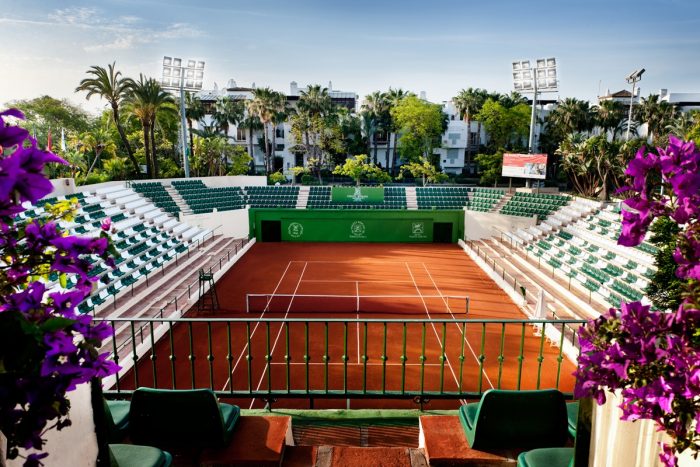 Vila Vita Parc, The Algarve
From novices to aficionados, tennis lovers should head to sunny Portugal for exceptional playing conditions, specialist tuition and plenty of relaxation opportunities. VILA VITA Parc provides the ultimate sporty get away: located on the striking Atlantic coastline, with beautiful subtropical gardens, this much-loved resort offers a host of action-packed activities.
Tennis fans can book private, individual or group lessons with the resort's sparky tennis pros, who are always on hand to help fix your forehand, ace your serve and perfect your practice. There are three courts available for play, two clay and one AstroTurf, and high spec equipment can be rented from the club house.  Afterwards guests can take a blissful trip to the VILA VITA Parc Vital Spa to unwind, sample snacks at Delfina's health bar (one of ten super restaurants) or sip a spirulina shake with a view over the ocean.
Rate: from €210 (£180) a night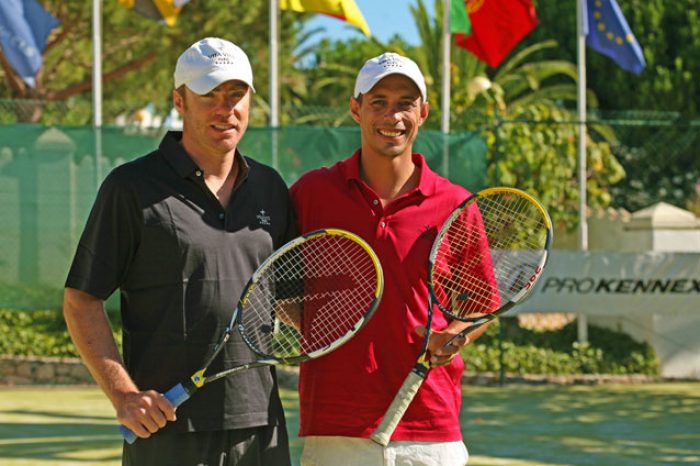 Blue Sky Luxury, Barbados
Brimming with sporting opportunities, Barbados is the ideal island in the Caribbean to combine tranquillity with tennis. For tennis enthusiasts, Blue Sky Luxury offers so many choices with easy court access. There is no better place to simultaneously relish in relaxation and play tennis than the popular Gardenia Villa.
The extensive six-bedroom Gardenia villa is set within 3.3 acres of beautifully landscaped garden, pool and tennis court.  With its elevated position on the sprawling site, Gardenia commands spectacular panoramic views of the West Coast and the crystal blue Caribbean Sea.  The villa blends luxury, comfort and privacy, and built for outdoor living, it is designed with an open-plan layout which allows gentle sea breezes to blow through the rooms. The ground floor also houses an entertainment terrace, complete with a wet bar and gazebo, encouraging guests to take full advantage of the splendid Caribbean sunlight and spectacular views. Guests can relax and have every need taken care of by the staff as they while away the hours sunning themselves by the pool or playing tennis.
From US $2900 per night.